Egypt's Sisi orders Gaza border opened for Ramadan, Palestinians travel
By Nidal al-Mughrabi and John Davison RAFAH, GAZA STRIP (Reuters) - Gazans lined up from dawn on Friday to travel across the border into Egypt after President Abdel Fattah al-Sisi said his country's gateway with the Gaza Strip would be opened throughout the Muslim holy month of Ramadan. Sisi's announcement late Thursday, if fully implemented, would open the Rafah crossing to Palestinians for the longest single period in years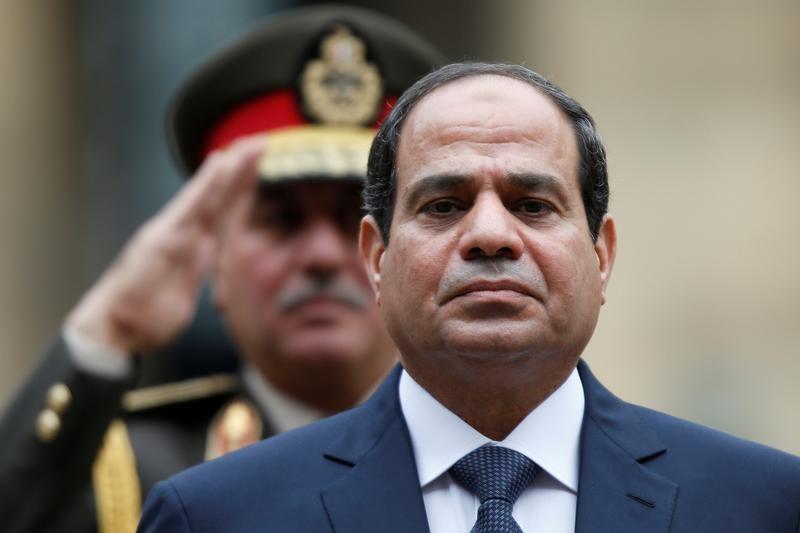 By Nidal al-Mughrabi and John Davison
RAFAH, GAZA STRIP (Reuters) - Gazans lined up from dawn on Friday to travel across the border into Egypt after President Abdel Fattah al-Sisi said his country's gateway with the Gaza Strip would be opened throughout the Muslim holy month of Ramadan.
Sisi's announcement late Thursday, if fully implemented, would open the Rafah crossing to Palestinians for the longest single period in years.
The Egyptian leader's Twitter account said the opening of the crossing would "alleviate the burdens of brothers in Gaza." On Friday the first Gaza passengers who lined up from 5 a.m. were finally let through into Egypt eight hours later, at 1 p.m.
Hamas has denied Cairo pressure but the opening was widely seen in Gaza and Israel as the likely result of a deal to provide Gazans with a lifeline to the outside world in return for the de-escalation of a deadly six-week protest on the Gaza-Israel border.
Israeli troops killed dozens of Palestinians at the 'Great March of Return' protest on May 14, the day that the United States opened its new embassy to Israel in the contested holy city of Jerusalem.
"This is political. I can bet my life on it," said one 34-year-old Gazan as he waited among busloads of passengers at Rafah.
He pointed to the May 13 visit by Hamas leader Ismail Haniyeh to Egypt, which has sought to act as a broker between Israel, Hamas and its Palestinian rivals.
"I believe this is part of a deal Haniyeh made with the Egyptians, who asked him to calm down the situation in Gaza," he said, refusing to give his surname because he feared Egypt would refuse him entry.
"We are not against it. On the contrary, we hope it will also include lifting the Israeli blockade. It would mean the marches were effective."
With Israeli border crossings closed to the vast majority of Palestinians since Hamas seized control of Gaza in 2007, the Egyptian border has become critical to Gaza's economic survival.
Although Hamas controls Gaza, it is not directly in control of the strip's most important crossings, Rafah with Egypt and Erez with Israel. It handed control of those crossings late last year to its rival, the West Bank-based Palestinian Authority, in a reconciliation deal signed in Cairo.[https://tmsnrt.rs/2wP39MO]
Egyptian government spokesmen did not immediately respond to requests for comment on whether Egypt had indeed brokered a deal.
Preaching in Gaza on the first Friday of Ramadan, Hamas leader Haniyeh did not say whether he had reached a deal with Egypt. Instead he sought to present the Rafah opening as the fruit of protests which, he said, had "revived the Palestinian cause and attracted international and Arab support."
"We are witnessing steps, we are witnessing a real beginning for lifting the blockade on Gaza," he said.
But Israel said recent events showed Hamas has never been weaker, short of money and weakened by isolation. Officals say Hamas has been "weaponising" civil unrest after seeing its rockets and attack tunnels blunted by Israeli counter-measures.
"Egypt is very dominant in relations with Hamas," Israel's Justice Minister Ayelet Shaked told Israeli radio. "Hamas controls everything, and they simply understood that they have a lot to lose - both from Israel and from Egypt."
Israel cited security considerations for imposing its closures on Gaza, fearing suicide bombers and gun and knife attacks on Israelis.
The Gaza-Israel border protests were less crowded on Friday than in earlier weeks. Hundreds, instead of thousands, gathered at the border camps, burning tyres as Israelis fired tear gas.
Elsewhere, the first Friday prayers of Ramadan passed peacefuly - including in Jerusalem, where tens of thousands gathered to pray at Al-Aqsa mosque.
(Reporting by Nidal al-Mughrabi, John Davison, Nadine Awadallah and Tom Miles; Editing by Stephen Farrell and Richard Balmforth)
This story has not been edited by Firstpost staff and is generated by auto-feed.
World
Reports suggest that they captured President Alpha Conde and dissolved the government, bust the ground situation remains unclear
News & Analysis
NEW YORK (Reuters) -The price of cryptocurrencies plunged and crypto trading was delayed on Tuesday, a day in which El Salvador ran into snags as the first country to adopt bitcoin as legal tender. Shares of blockchain-related firms also fell as crypto stocks were hit by trading platform outages. But the major focus was on El Salvador, where the government had to temporarily unplug a digital wallet to cope with demand.
News & Analysis
By Joseph White and Sanjana Shivdas (Reuters) -The head of Apple Inc's car project, Doug Field, is going to work for Ford Motor Co to lead the automaker's advanced technology and embedded systems efforts, a hiring coup for Ford Chief Executive Jim Farley.