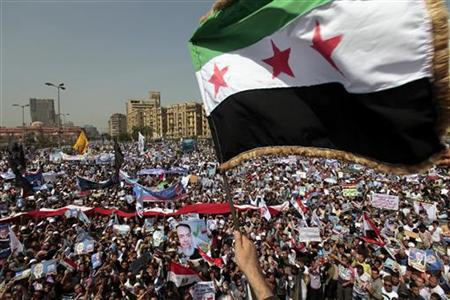 CAIRO (Reuters) - To mark the day Egypt regained control of the Sinai peninsula from Israel, a group of protesters pledged they would this week cover a memorial to Israelis killed in the war with an Egyptian flag bearing the words: "Sinai - the invaders' graveyard."
The gesture will be one of the most public expressions of anger against Israel since the fall of President Hosni Mubarak, marking the emergence of a long-repressed hostility among many ordinary Egyptians.
But while some of the new breed of politicians who emerged after the revolution are only too happy to exploit such defiance, there are still powerful reasons why mainstream leaders are not ready to burn their boats with Israel.
Calls for such a public act of protest would have been unthinkable under Mubarak, for whom the 1979 peace treaty with Israel was a cornerstone of regional policy.
Under him, public antipathy towards Israel - a nation with which Egypt has fought four wars - was kept in check, often brutally. It changed when the anti-Mubarak uprising erupted on January 25 last year. Egyptians now openly voice frustrations and are demanding Egypt's new political class listen.
"After the January 25 revolution, the regime fell and with it everything linked to treaties and protocols," said Saeed al-Qasas, head of the Revolutionaries of Sinai, which vowed to cover on Wednesday the Dayan Rock memorial, a large stone erected in the desert with names of fallen air force personnel.
Egypt's transition to democracy from autocratic rule is transforming the political landscape at home but also promises to shift foreign policy of the Arab world's most populous nation which was the first Arab state to sign a peace deal with Israel.
None of the mainstream politicians emerging in Egypt have said they would abandon the treaty, but the new order promises to make what was often described as a "cold peace" colder still, raising tensions on a sensitive border if mishandled.
Yet, even after handing over power to a new president by July 1, the generals who have ruled since Mubarak's fall are likely to act as guardians of a deal that brings them $1.3 billion U.S. military aid a year.
Egypt, its economy in tatters, also can't afford to alienate the United States or other Western states whose governments and investors are likely to be vital in reviving growth and creating jobs, crucial points to any Egyptian political career.
But Israeli politicians are already fretting over the political changes in Egypt and worry about the rise of Islamists, who swept the parliamentary election and are strong contenders in the presidential vote that starts on May 23-24.
One senior Western diplomat said the army, mainstream Islamists and other leading politicians recognised the benefits of maintaining a deal that kept the border peaceful for three decades.
"But there is zero traction in broader society," the diplomat said, adding that this could encourage Islamists to test how far the boundaries of ties could be pushed.
PUBLIC SENTIMENT
Islamists and their rivals in Egypt's presidential race, the final stage of a turbulent political transition, are already using Israel as a political punchbag to chase votes. They are vowing no repeat of Mubarak's cosy ties with Israel.
"Democracy is about responding to public sentiment and public sentiment has little interest in maintaining a real relationship with Israel," said Shadi Hamid of the Brookings Doha Center.
He suggested Egypt could follow Turkey's example where once-close ties with Israel had worsened sharply after Israeli naval commandos killed nine Turks in May 2010 in a raid on a ship carrying aid to the Gaza Strip.
"What people should be focusing on is how domestic developments in Egypt will alter its foreign policy. I think the model here is probably something resembling Turkey's approach to Israel, that you maintain diplomatic cooperation but there is a lot of anti-Israel bluster and symbolic gestures," he said.
One such gesture may have been a decision this week to scrap a 20-year deal reached in 2005 to export Egyptian gas to Israel. It drew applause among the Egypt public, although both sides said commercial differences not politics were behind the move.
Professor Uzi Rabi at Tel Aviv University said that gas deal decision pointed to a region more "attuned to the street."
"We are in (the midst of) a continuing deterioration in Israel-Egypt relations. One must hope that the interests will overcome the inflammatory direction," he added.
The gas deal had long been criticised in Egypt's opposition media and by the public even when Mubarak was in office. They said the gas was sold too cheaply and benefits were pocketed by Mubarak's associates. The pipeline was sporadically attacked.
But the number of attacks has soared since the anti-Mubarak uprising. The line has been blown up 14 times in that period, halting the flow for much of the time. Officials and former Mubarak associates behind the deal have also been put on trial for corruption.
Islamists were swift to laud the gas deal's cancellation and have been among the most critical of Israel, although such criticism crosses the broad spectrum of Egypt's politicians.
"There is no doubt the peace treaty is unfair to the Egyptian side," Mahmoud Ghozlan, spokesman and a senior figure in Egypt's biggest Islamist group the Muslim Brotherhood, told Reuters, although he said all treaties would be "respected".
He pointed to limitations on troop numbers allowed in Sinai since Israeli completed the pull back in the 1980s from the peninsula it occupied in the 1967 war. He also complained that Israelis were allowed into that area of Egypt with no visa.
DIGNITY
The outspokenness of politicians taps a deep vein of anger against Israel but also reflects a desire since Mubarak was ousted to be more assertive and end what many saw as Mubarak's subservience to policies of the United States and the West. Restoring Egypt's "dignity" is a common refrain in speeches.
"Egypt's next president can't be like his predecessor, he can't be a follower who executes policies put to him from outside," Mohamed Mursi told his first news conference as the Brotherhood's presidential candidate.
The challenge for Egypt's new politicians, keen to win over the public, will be putting the genie back in the bottle as they respond to the popular mood and test the boundaries of how far they challenge ties with Israel.
A miscalculation risks riling U.S. politicians, quick to rally to Israel's defence, and alienating a major donor with the might to sway international investment and support.
"It is not about explicit policies or some kind of master plan the Brotherhood has, but how misperception breeds misperception," said Brookings' Hamid, adding there was a chance that Egypt, Israel or the United States could misjudge events.
Some Israeli officials have shown increasing signs of worry as they have watched Egypt's political drama unfold.
Amos Gilad, a top aide to Defence Minister Ehud Barak, said this month he was "concerned" about future relations with Egypt and said he was "not so sure" the Brotherhood was committed to peace, a break with the usually cautiously optimistic line.
An Israeli newspaper cited Foreign Minister Avigdor Lieberman saying Egypt was more dangerous to Israel than Iran, a country Israelis accuse of building nuclear weapons. Lieberman would not confirm those comments when asked later.
One of Israel's biggest worries is the security vacuum in Sinai where Islamic radicals, some blamed for blowing up the gas pipeline, have gained a foothold as policing of the area collapsed after Mubarak's fall. Israeli Prime Minister Benjamin Netanyahu described it as a "kind of Wild West".
Yet, the Brotherhood, the dominant group in Egypt's emerging democracy for now, may share Israel's concern for the rise of extremism on its border. The Brotherhood has long been branded too pragmatic by more radical Salafis.
"So I think there is potential for a kind of understanding in the Sinai," said Brookings' Hamid, pointing to Gaza nearby where the Brotherhood-inspired Palestinian group Hamas cracked down on hardline Salafi Islamists.
And even the more hostile voices to Israel in Egypt seem to know the "red lines" that shouldn't be crossed over a peace deal that won back the Sinai, which is now scattered with popular Red Sea tourist resorts where Israelis mingle with other visitors.
The Revolutionaries of Sinai had originally wanted to Dayan Rock memorial destroyed, but now said covering it in a flag would suffice. "We will make do with this," said Qasas. "Though we call for its removal."
(Additional reporting by Maayan Lubell and Jeffrey Heller in Jerusalem and Tom Perry in Cairo; Writing by Edmund Blair; Editing by Giles Elgood)
Updated Date: Apr 25, 2012 03:15 AM