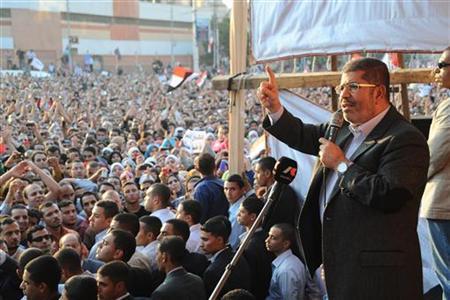 CAIRO (Reuters) - Egyptian President Mohamed Mursi faces a rebellion from judges who accused him on Saturday of expanding his powers at their expense, deepening a crisis that has triggered calls for more protests following a day of violence across Egypt.
Judges in Alexandria, Egypt's second city, threatened to go on strike until it was revoked, and there were calls for the "downfall of the regime" - the rallying cry in the uprising that toppled Hosni Mubarak - during a meeting of judges in Cairo.
Mursi's opponents and supports - representing the divide between newly empowered Islamists and a more secular-minded opposition - have called rival demonstrations on Tuesday over his decree that has triggered concern in the West.
Issued late on Thursday, it marks an effort by Mursi to consolidate his influence after he successfully sidelined Mubarak-era generals in August. It defends from judicial review decisions taken by Mursi until a new parliament is elected in a vote expected early next year.
It also shields the Islamist-dominated assembly writing Egypt's new constitution from a raft of legal challenges that have threatened the body with dissolution, and offers the same protection to the Islamist-controlled upper house of parliament.
Egypt's highest judicial authority, the Supreme Judicial Council, said the decree was an "unprecedented attack" on the independence of the judiciary.
Youths clashed sporadically with police near Tahrir Square, the epicentre of the uprising that toppled Mubarak in 2011, following Friday's violence in which more than 300 people were injured across Egypt. Activists camped out for a second day in the square, setting up makeshift barricades to keep out traffic.
POLARISATION
Liberal, leftist and socialist parties called a big protest for Tuesday to force Mursi to row back on a decree they say has exposed the autocratic impulses of a man once jailed by Mubarak.
In a sign of the polarisation in the country, the Muslim Brotherhood - the group that propelled Mursi to power - called its own protests that day to support the president's decree.
At least three Brotherhood offices were attacked on Friday.
"We are facing a historic moment in which we either complete our revolution or we abandon it to become prey for a group that has put its narrow party interests above the national interest," the liberal Dustour Party said in a statement.
Mursi also assigned himself new authority to sack the prosecutor general - a Mubarak hold over - and appoint a new one. The dismissed prosecutor general, Abdel Maguid Mahmoud, was given a hero's welcome by several thousand judges who attended the session of Egypt's Judges' Club in Cairo on Saturday.
Ahmed al-Zind, head of the Judges' Club, introduced Mahmoud by his old title, in open defiance of Mursi's decree.
The Mursi administration has defended the decree on the grounds that it aims to speed up a protracted transition from Mubarak's rule to a new system of democratic government.
Analysts say it reflects the Brotherhood's suspicion towards sections of a judiciary unreformed from Mubarak's days.
"It aims to sideline Mursi's enemies in the judiciary and ultimately to impose and head off any legal challenges to the constitution," said Elijah Zarwan, a fellow with The European Council on Foreign Relations.
"We are in a situation now where both sides are escalating and its getting harder and harder to see how either side can gracefully climb down."
RIOT POLICE
Following a day of violence in Cairo, Alexandria, Port Said and Suez, the smell of teargas hung over Tahrir Square.
A handful of hardcore activists hurling rocks battled riot police in the streets near the square, where several thousand protesters massed on Friday to demonstrate against the decree that has rallied opposition ranks against Mursi.
Al-Masry Al-Youm, one of Egypt's most widely read dailies, hailed Friday's protest as "The November 23 Intifada", invoking the Arabic word for uprising. "The people support the president's decisions," declared Freedom and Justice, the newspaper run by the Brotherhood's political party.
The ultraorthodox Salafi Islamist groups that have been pushing for tighter application of Islamic law in the new constitution have rallied behind the decree.
The Nour Party, one such group, stated its support for the Mursi decree. Al-Gama'a al-Islamiya, which carried arms against the state in the 1990s, said it would save the revolution from what it described as remnants of the Mubarak regime.
Mursi is facing the biggest storm of criticism since he won the presidential election in June.
Samir Morkos, a Christian assistant to Mursi, had told the president he wanted to resign," said Yasser Ali, Mursi's spokesman. "The president has spoken to him today but the decision to resign is yet to be taken," Ali told Reuters.
Mursi addressed his supporters outside the presidential palace on Friday. He said opposition did not worry him, but it had to be "real and strong".
Mursi is now confronted with a domestic crisis just as his administration won international praise for mediating an end to the eight-day war between Israel and Palestinians in the Gaza Strip.
"The decisions and declarations announced on November 22 raise concerns for many Egyptians and for the international community," State Department spokeswoman Victoria Nuland said.
The European Union urged Mursi to respect the democratic process, while the United Nations expressed fears about human rights. (Additional reporting by Omar Fahmy, Marwa Awad and Reuters TV; Editing by Alison Williams)
Updated Date: Nov 25, 2012 08:54 AM