Egypt sets appeal hearing for Al-Jazeera staff; Amal Clooney joins defence team
The verdict ignited a firestorm of international condemnation and raised concerns about the state of freedom of expression in Egypt. Amnesty International called the trial a 'farcical spectacle' and a 'ferocious attack on media freedom.'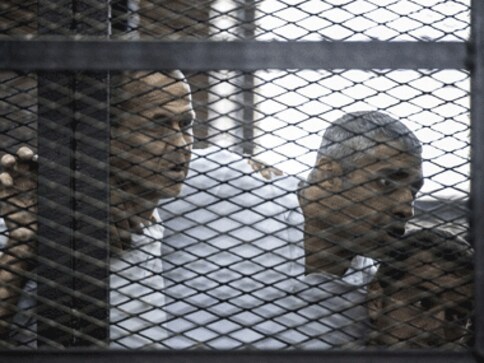 Cairo: A Cairo court has set an appeals hearing for three Al-Jazeera English journalists convicted of terrorism-related charges last June amid widespread international condemnation.
Adel Fahmy, the brother of Mohammed Fahmy, acting Cairo bureau chief for Al-Jazeera English, said the scheduled court date is January 1, 2015.
He said the date is further away than the family had hoped for but the mere fact that it has been scheduled is a relief.
Lawyer Negad Borai, who is representing Mohammed Fahmy, said he expects the Court of Cassation to take one or two sessions to either send the case back to criminal court or uphold the original verdict.
The three journalists — Egyptian-Canadian Fahmy, Australian correspondent Peter Greste and Egyptian producer Baher Mohammed — were convicted last June on charges linked to aiding the Muslim Brotherhood, which the government has declared a terrorist organization following last summer's ouster of then-President Mohammed Morsi.
Mohammed faces 10 years in prison while his two colleagues received seven-year sentences each. The journalists have repeatedly said that they are being punished for just doing their jobs.
President Abdel Fattah el-Sissi told a group of local journalists Tuesday that he is unable to issue a presidential pardon to the imprisoned journalists until after a final verdict. Fahmy's brother Adel said that the family has been hoping for a presidential pardon.
In an apparent reference to the Al-Jazeera case, el-Sissi said he thinks the ideal way to deal with transgressions by foreign journalists would be to deport them, according to a presidential spokesman.
The verdict ignited a firestorm of international condemnation and raised concerns about the state of freedom of expression in Egypt. Amnesty International called the trial a "farcical spectacle" and a "ferocious attack on media freedom."
Amal Clooney, a well-known international barrister, has joined Mohammed Fahmy's defense. In a recent opinion piece in The Huffington Post, Clooney said "it is ironic that the main charge against the Al-Jazeera journalists is that they sought to tarnish Egypt's image--there is little that could tarnish it more than allowing such injustices to persist."
The judge who sentenced the journalists released his reasoning in July, saying they were brought together "by the devil" to destabilize the country. The main evidence cited was footage produced by the journalists critical of the government.
Following the verdict, the Qatar-based Al-Jazeera English network said in a statement that the sentencing defied logic, sense and any semblance of justice.
AP
Sports
Earlier on Monday, Harshada Garud (women's 45kg) became the first Indian to win a gold medal in the event.
First Cricket News
On 13 May 2003, in the final Test of the four-match series, West Indies pulled off an incredible comeback against the mighty Australian side to script history.
India
The two sides discussed ways to combat terrorism at the 13th meeting of the India-Australia joint working group on counter-terrorism that took place in Canberra on Wednesday