Economy, security and expats: There's a lot on Modi's mind ahead of Saudi Arabia visit
Prime Minister Narendra Modi will round up his trip to Brussels and Washington with a stopover in Saudi Arabia on 2 and 3 April, on his way back home
Prime Minister Narendra Modi will round up his trip to Brussels and Washington with a stopover in Saudi Arabia on 2 and 3 April, on his way back home. Modi's visit comes at a time when the Gulf region is in deep crisis, triggered by falling oil prices as well as the Sunni-Shia conflict that has led to direct military intervention in Yemen by Saudi Arabia and its allies. The civil war in Syria has also been a preoccupation. Saudi Arabia, Qatar, Turkey and UAE have long supported the Sunni Opposition and pushed for the removal of Syrian president Bashar al-Assad.
All this has led to instability in the region. Adding to this is the unease in the Saudi Royal family (a long dynasty of octogenarian leaders), where the young deputy crown prince promoted by a doting father King Salman has led to discontent in the royal household with former powerful oligarchs cut down to size.
None of this is good news.
When Modi lands in Riyadh, it will not be a country that has for long been the centre of a stable and prosperous region. An unstable West Asia will directly hit India. New Delhi gets most of its
energy from Saudi Arabia and other Gulf Cooperation Council members. In the last decade, India's political, economic and security relations have taken off with a bang. The Saudi Royal family as the custodians of the holy shrines of Mecca and Medina have a major standing in the Sunni Muslim world and any dissension in the ruling Saud family will add to the already tense situation.
India's relations with Saudi Arabia have undergone a transformation in the past few years. Beginning with King Abdullah's visit to India in 2006 and Prime Minister Manmohan Singh's return visit in 2010, relations between the two countries have improved dramatically. From a past when Riyadh consistently supported Pakistan, (though thousands of Indian workers were in Saudi Arabia even then), and political relations were luke warm, ties are now thriving.
In earlier times, Saudi Arabia had given shelter to people wanted in India on terror charges. Gradually after the 11 September, 2001 terror attacks in the US and the 26 November, 2008 Mumbai terror attacks, the Saudis began to cooperate and hand terror suspects back to Delhi. Riyadh's decision to deport Abu Hamza, an Indian national wanted for the Mumbai terror attacks, was a turning point in ties. Hamza a former Indian Mujahideen operative had joined hands with Pakistan based Lashkar-e-Taiba. He had a Pakistani passport and went into hiding in Saudi Arabia.
Another wanted terrorist Abu Sufiyan was handed over in December 2015, while Abdul Jeddah in February 2016. "These are some examples in which Saudi security agencies have looked after our core interests on security matters," Mridul Kumar, joint secretary (Gulf) in the MEA said at a briefing on Monday. The new areas of cooperation are security, counter-terrorism and defence. In fact, India and Saudi Arabia now have close security and anti-terror cooperation, and have excellent political and economic ties.
Saudi Arabia no longer see's India from a Pakistan prism. The strategic partnership agreement signed during Singh's visit to Saudi Arabia set the framework for cooperation between the two countries. Security, counter-terrorism and defence are the new areas of co-operation. Modi's visit will further consolidate those ties. India buys 20 percent of its oil from Saudi Arabia. Half of the oil comes from the Gulf, while almost 80 percent of gas is also from the region. Saudi Arabia is the fourth largest trade partner and it has over three million Indians working in that country.
Saudi Arabia is also a major investor in India and looking more and more towards investing in joint ventures . Modi's talks with King Salman will also focus on investments.
However, New Delhi is anxious about the economic downturn as well as the Sunni-Shia conflict which has vitiated the entire region and unless the sectarian conflict stops, the region can well become a quagmire which will bring the entire edifice down.
The slowing of the Gulf economy would hit India where it hurts most: In remittances and jobs. There are eight million Indian workers in the area, who send home between $35 and $40 billion each year. Though there has so far been no significant drop in remittances, the fear is that if this continues, many foreign workers will have to leave the region.
States like Kerala, Andhra, Tamil Nadu are heavily dependent on these inflows from their hard working work force. Kerala alone had 2.5 million workers in the region. In the last few years, apart from the blue collared workers, there are large numbers of Indians in well-placed jobs and in business in the region. As of now there has been no major dip in remittances, but if the slow down continues it will certainly affect the flow.
There is fear and insecurity among Indians working in the Gulf.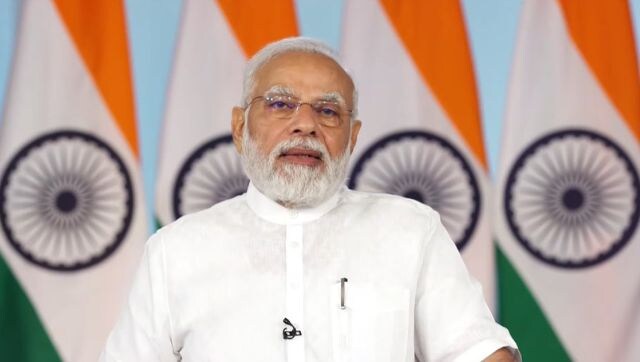 India
Prime Minister Narendra Modi on Monday greeted people on the beginning of Navratri and wished them happiness, fortune and good health.
India
According to the Indian Army, this is part of an effort to align itself to the national sentiment in accordance with the five vows or 'Panch Pran' that Prime Minister Narendra Modi has asked people to follow
Sports
The 36th National Games was inaugurated by Prime Minister Narendra Modi at a glittering opening ceremony