Dutch PM Mark Rutte claims win over 'wrong kind of populism', will Germany, France follow?
Dutch Prime Minister Mark Rutte on Wednesday claimed a dominating parliamentary election victory over anti-Islam lawmaker Geert Wilders, who failed the year's first litmus test for populism in Europe.
Dutch Prime Minister Mark Rutte on Wednesday claimed a dominating parliamentary election victory over anti-Islam lawmaker Geert Wilders, who failed the year's first litmus test for populism in Europe.
Provisional results with over half the votes counted suggested Rutte's party won 32 seats in the 150-member legislature, 13 more than Wilders' party, which took third place with 19 seats. The surging CDA Christian Democrats claimed 20.
Following last year's shock Brexit referendum and Donald Trump's victory in the US, the Dutch vote was being closely scrutinised as a gauge of the rise of populism on the continent ahead of crucial elections in France and Germany.
"This was the evening when The Netherlands, after Brexit and the American elections, said 'stop' to the wrong kind of populism," Rutte told cheering supporters.
"Now of course it's important to unite the country in the coming weeks and months and that we succeed in forming a stable government for the next four years," he added.
Relieved European leaders, fearing the rise of anti-EU sentiment in one of the bloc's founding members, congratulated Rutte, now headed for a third term at the head of the one the Euro zone's largest economies.
A spokesman for EU Commission chief Jean-Claude Juncker hailed it as a "vote against extremists" while one senior European source told AFP on condition of anonymity: "Common sense strikes back."
Foreign Minister Jean-Marc Ayrault of France, where the far-right Marine Le Pen is currently seen winning the first round of the presidential election in April, congratulated Rutte for "stopping the rise of the far-right".
Both France and Germany have elections this year in which far-right candidates and parties are hoping to make an impact.
French President Francois Hollande congratulated Rutte on his election success and his "clear victory against extremism." He also said, "The values of openness, respect for others, and a faith in Europe's future are the only true response to the nationalist impulses and isolationism that are shaking the world."
In Germany, Socialist leader Martin Schulz tweeted. "I am relieved, but we need to continue to fight for an open and Free Europe."
Wilders heeft de verkiezing in NL niet kunnen winnen. Ik ben opgelucht, maar we moeten verder voor een open en vrij Europa blijven vechten.

— Martin Schulz (@MartinSchulz) March 15, 2017
Wilders, who campaigned on radical pledges to close borders to migrants from Muslim nations, close mosques, ban the Quran and take the Netherlands out of the EU, had insisted that whatever the result of the election, the kind of populist politics he and others in Europe represent aren't going away. "Rutte has not seen the back of me," Wilders said after the results had sunk in.
His Party for Freedom clinched 24 seats in 2010 before sinking to 15 in 2012, and Wednesday's total left him with about 12 percent of the electorate, far less than populists in Britain and the United States have scored.
"Those are not the 30 seats we hoped for," Wilders told reporters early on Thursday, adding that he'd "rather have been the biggest party".
Rutte, who for much of the campaign appeared to be racing to keep pace with Wilders, may have profited from the hard line he drew in a diplomatic standoff with Turkey over the past week.
The fight erupted over the Netherlands' refusal to let two Turkish government ministers address rallies in Rotterdam about a referendum that could give Turkey's President Recep Tayyip Erdogan more powers. It gave Rutte an opportunity to show his statesmanship by refusing to bow to foreign pressure, a stance with widespread backing in the nation.
"I mean this is your electoral campaign dream, right? You can't script this if it was a movie," Amsterdam Free University political scientist Andre Krouwel said. "It's really helped Rutte to take the lead and a big lead over Wilders."
German Chancellor Angela Merkel said during a speech in Berlin on Thursday: "I was very glad, and I think many people are, that a high turnout led to a very pro-European result."
She added that it was "a clear signal — and that after days in which the Netherlands had to endure accusations from Turkey that are completely unacceptable, and after days in which we showed it our solidarity."
After boosts in Britain and the United States over the past year and Wednesday's setback in the Netherlands, populism now heads to France for its next test of political viability. Now, it is for Le Pen of the National Front to carry the torch in presidential elections starting next month.
When French, German, Italian and Bulgarian voters cast ballots in the year ahead, they won't be out to mimic Dutch voters. Instead, they'll be driven as much by local issues as global concerns.
The challenge now for candidates like France's Le Pen is to keep up the momentum of her gospel against immigrants, the political elite and European unity. It has resonated so widely that she's likely to come out on top of the first round of presidential voting 23 April, though is much less likely to win the 7 May final round.
And the challenge for Europe's more moderate candidates, like Le Pen's chief rival, independent Emmanuel Macron, is to reconnect with voters alienated by EU bureaucracy and frustrated by economic stagnation. They could also take some lessons from the Dutch.
With inputs from agencies
World
Analysis by Indeed UK found that demand for the UK's short-term visa offer for heavy goods vehicle (HGV) drivers was being driven up by drivers far afield rather than nearby European Union (EU) countries, as was expected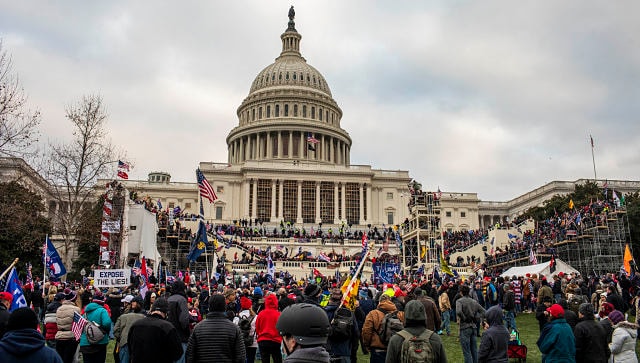 World
The Biden administration, in clearing the documents for release, said the violent siege of the Capitol more than nine months ago was such an extraordinary circumstance that it merited waiving the privilege that usually protects White House communications.
News & Analysis
The company said in a blog post Sunday that those high-skilled workers will help build "the metaverse," a futuristic notion for connecting online that uses augmented and virtual reality