Dutch opposition urges government to honour EU-Ukraine 'No' vote | Reuters
AMSTERDAM Most Dutch opposition parties called on the government on Wednesday to respect the outcome of a non-binding referendum rejecting a treaty between the European Union and Ukraine. In an April 6 referendum, nearly two-thirds of Dutch voters said 'no' to the EU's association treaty on closer political, military and trade relations with Ukraine
AMSTERDAM Most Dutch opposition parties called on the government on Wednesday to respect the outcome of a non-binding referendum rejecting a treaty between the European Union and Ukraine.
In an April 6 referendum, nearly two-thirds of Dutch voters said "no" to the EU's association treaty on closer political, military and trade relations with Ukraine.
Although the vote was not binding, it reflected widespread discontent with EU policy in a founding member state ahead of Britain's June 23 vote on whether it should remain in the bloc.
The treaty has been ratified by all 27 other EU countries and Ukraine itself. Both Dutch houses of parliament have already voted in favour of a law supporting the accord, and it has been signed by Prime Minister Mark Rutte's government.
But Rutte has said the Netherlands will not formally ratify the treaty - all 28 EU states must do so for all of its clauses to have full legal force - in its current form, saying he would need months to formulate an appropriate response.
Rutte told parliament on Wednesday night that he intends to reach an agreement with EU partners by the summer that addresses the concerns of the Dutch voters. "If we fail to do that we will propose not ratifying the treaty," he said.
Elements of the treaty have already gone into effect. Despite the Dutch "no", the European Commission will propose this month going ahead with plans to grant visa-free travel to Ukrainians. [L5N17D0OK] Many Dutch are disillusioned with a number of EU policies including those on open borders.
A majority of the 13 opposition parties rejected the idea of modifying the document and passing it in another form, saying that would violate the spirit of the poll in which 4 million Dutch voters took part.
"It is impossible to have millions of people vote and then to ignore it," said Sybrand van Haersma Buma of the Christian Democratic Appeal. "The CDA sees no other way forward but to repeal the law."
Buma warned the government that ignoring the outcome would further erode the confidence of voters. He said the government is stalling because it doesn't know "what to do...A big problem has been created - no one knows what is going to happen."
(Reporting by Anthony Deutsch; Editing by Mark Heinrich)
This story has not been edited by Firstpost staff and is generated by auto-feed.
World
Their official meeting or reunion took place on Monday (13 September) in Texas, but the two had earlier met at the border last week. They met each other after communicating on social media.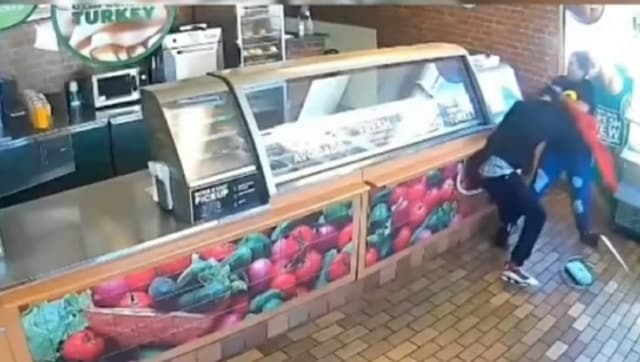 World
The video, captured on 5 September, shows Sotelo fighting off an armed robber, hitting him repeatedly with his own gun.
World
There has been skepticism about the government's enthusiastic adoption of bitcoin since the government announced at a Bitcoin conference in Miami in June