Dozens of Florida hospitals out of available ICU beds: state data
By Maria Caspani and Gabriella Borter (Reuters) - More than four dozen hospitals in Florida reported that their intensive care units (ICUs) have reached full capacity on Tuesday as COVID-19 cases surge in the state and throughout the country. Hospital ICUs were full at 54 hospitals across 25 of Florida's 67 counties, according to data published on Tuesday morning by the state's Agency for Health Care Administration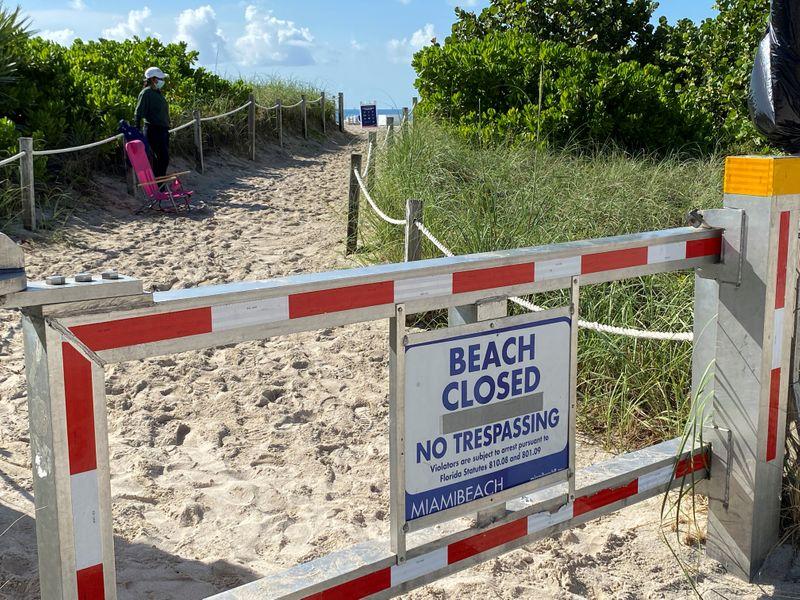 By Maria Caspani and Gabriella Borter
(Reuters) - More than four dozen hospitals in Florida reported that their intensive care units (ICUs) have reached full capacity on Tuesday as COVID-19
cases surge in the state and throughout the country.
Hospital ICUs were full at 54 hospitals across 25 of Florida's 67 counties, according to data published on Tuesday morning by the state's Agency for Health Care Administration. More than 300 hospitals were included in the report, but not all had adult ICUs.
Thirty hospitals reported that their ICUs were more than 90% full. Statewide, only 17% of the total 6,010 adult ICU beds were available on Tuesday, down from 20% three days ago, according to the agency's website.
Florida's coronavirus
cases have soared in the last month, with the state's daily count topping 10,000 three times in the last week. The death rate from COVID-19
rose nearly 19% in the last week from the week prior, bringing the state's death toll to more than 3,800.
All ICU beds are filled at the three hospitals in Clay County, where the population is around 220,000.
Florida Governor Ron Desantis on Monday encouraged state residents to seek care at hospitals if needed, citing concerns that people with life-threatening conditions other than COVID-19
had avoided hospitals earlier in the pandemic to the detriment of their health.
"Hospitals are safe and Floridians in need of treatment shouldn't avoid seeking care," Desantis wrote on Twitter.
In Miami-Dade - the state's most populous county - eight hospitals reported their intensive care units were filled to capacity, including North Shore Hospital with 56 ICU beds. The hospital with the most ICU capacity in the county, Jackson Memorial, reported that its ICU was 91% full.
Miami-Dade County's mayor rolled back reopening plans on Monday in light of the climbing case count, halting indoor dining at restaurants that had resumed business after an initial shutdown aimed at containing the virus' spread.
(Reporting by Maria Caspani, Lisa Shumaker and Gabriella Borter, Editing by Franklin Paul and Bill Berkrot)
This story has not been edited by Firstpost staff and is generated by auto-feed.
Business
By Pete Schroeder WASHINGTON (Reuters) - JPMorgan Chase & Co will resume making political donations to U.S. lawmakers but will not give to Republican members of Congress who voted to overturn President Joe Biden's election victory, according to an internal memo on Friday seen by Reuters. The bank was among many corporations that paused political giving following the deadly Jan
Business
(Reuters) - Fintech company Square Inc is considering making a hardware wallet for bitcoin, Chief Executive Officer Jack Dorsey said in a tweet https://twitter.com/jack/status/1400839179513339905 on Friday. As bitcoin and other crypto-currencies have gained in popularity, many companies have emerged to serve a growing need to protect these assets from online theft. Bitcoin wallets can be stored offline or online at cryptocurrency exchanges, venues where bitcoin can be bought and sold for traditional currencies or other virtual coins.
Business
By Foo Yun Chee BRUSSELS (Reuters) -The European Commission on Friday defined the scope of revised copyright rules adopted last year following criticism from governments, including France and Poland, but EU broadcasters and internet activists said there was a danger of censorship. The revamped copyright directive, the first overhaul in two decades, aimed to provide fair compensation for the bloc's $1 trillion creative industry and its 11.7 million employees. A central provision, Article 17, backed by the creative industry, would force Google-owned YouTube, Facebook's Instagram and other sharing platforms to install filters to prevent users from uploading copyrighted materials