Dozens feared dead, rescuers search for missing after Laos dam collapse
BANGKOK (Reuters) - Rescuers searched in difficult conditions on Wednesday for dozens of people feared dead and hundreds missing after a dam collapsed in a remote part of land-locked Laos, one of Asia's poorest countries, a government official said.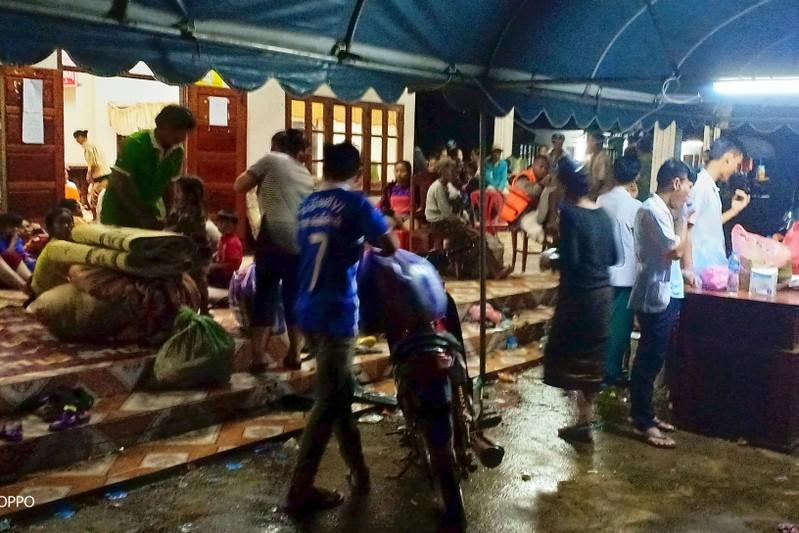 BANGKOK (Reuters) - Rescuers searched in difficult conditions on Wednesday for dozens of people feared dead and hundreds missing after a dam collapsed in a remote part of land-locked Laos, one of Asia's poorest countries, a government official said.
State media showed pictures of villagers, some with young children, stranded on the roofs of submerged houses. Others showed villagers trying to board wooden boats to safety in Attapeu province, the southernmost part of the country.
A senior Lao government official, who declined to be identified because he was not authorised to speak to the media, said dozens of people were feared dead and hundreds remain unaccounted for after the hydropower dam that was under construction collapsed on Monday.
"We will continue with rescue efforts today but it's very difficult, the conditions are very difficult. Dozens of people are dead. It could be higher," the Vientiane-based official told Reuters by telephone.
The once-isolated Southeast Asian country, one of the world's few remaining communist states, has an ambitious dam-building scheme in order to become the "battery of Asia".
Its government depends almost entirely on outside developers to build its planned portfolio of dams under commercial concessions that agree to export electricity to its more developed neighbours, including power-hungry Thailand.
Environment rights groups have repeatedly warned about the human and environmental cost of the rapid pace of dam construction, including damage to the already-fragile ecosystem of the region's rivers.
Attapeu is a largely agricultural province that borders Vietnam to the east and Cambodia to the south.
The dam that collapsed is part of the hydroelectric Xe-Pian Xe-Namnoy power project, which involves Laotian, Thai and South Korean firms. The subsidiary dam, known as "Saddle Dam D", was part of a network of two main dams and five subsidiary dams.
South Korea's SK Engineering & Construction said part of a small supply dam was washed away and the company was cooperating with the Laos government to help rescue villagers near the site.
An official at the firm said fractures were first discovered on the dam on Sunday and that the company had ordered the evacuation of 12 villages as soon as it became clear the dam could collapse.
Brian Eyler, director of the Stimson Center's Southeast Asia programme, said a breach of a saddle dam could be "worse in terms of devastation" than that of a main dam.
"With a saddle dam breaking, it's flushing water into an area that's not used to having water inside it and it will continue to breach until the water can be diverted again, which is one option, or until the reservoir is drawn down to a level below the breach," Eyler told Reuters.
"This is yet another major shock to Laos' plan to become the battery of Southeast Asia," he said.
Tholakhong, a Lao language news site, said on Tuesday water levels at the gauge in one of the affected villages showed a decrease of 79 cm (31 inches).
(Reporting by Amy Sawitta Lefevre in BANGKOK and Fanny Potkin in JAKARTA; Editing by Paul Tait)
This story has not been edited by Firstpost staff and is generated by auto-feed.
Find latest and upcoming tech gadgets online on Tech2 Gadgets. Get technology news, gadgets reviews & ratings. Popular gadgets including laptop, tablet and mobile specifications, features, prices, comparison.
World
By Andy Sullivan (Reuters) - Wednesday night's matchup between Vice President Mike Pence and Democratic challenger Senator Kamala Harris unfolded largely free of the chaos that marred last week's debate between President Donald Trump and former Vice President Joe Biden. Here are a few standout moments from the debate: PACKING THE COURT?
World
WASHINGTON (Reuters) - The United States on Thursday slapped fresh sanctions on Iran's financial sector, targeting 18 Iranian banks in an effort to further shut Iran out of the global banking system as Washington ramps up pressure on Tehran weeks ahead of the U.S. election. In an announcement posted on its website, the U.S
Business
ZURICH (Reuters) - Swiss drugs and diagnostics group Roche is shipping supplies from Germany to help Britain's National Health Service (NHS) fill gaps caused by a logistics glitch at a Roche warehouse in southern England, it said on Thursday. Roche, a main supplier of COVID-19 and other diagnostic tests to the NHS, told UK customers on Wednesday that a switch from an old warehouse to a new automated distribution centre had caused an unforeseen technical issue that hit processing capacity. "We are confident that the plans we have put in place will deliver significant improvements by the weekend to the supply of the tests affected by these logistical issues," Roche said on Thursday, reiterating its timetable from Wednesday.