Dozens dead in US-led strikes on Islamic State-run Syrian prison
US-led coalition air strikes killed nearly 60 people at a Syrian prison run by the Islamic State group, a monitor said on Sunday, as Washington insisted the jihadists remain its only target
Beirut: US-led coalition air strikes killed nearly 60 people at a Syrian prison run by the Islamic State group, a monitor said on Sunday, as Washington insisted the jihadists remain its only target.
The coalition has been hitting Islamic State in Syria and Iraq since mid-2014 but has also been involved in recent confrontations with President Bashar al-Assad's forces, raising fears of the United States being drawn into Syria's civil war.
The White House on Monday accused Assad's regime of preparing a potential chemical attack and warned it would pay a "heavy price", but Defence Secretary Jim Mattis said Washington was determined to keep a strict focus on fighting Islamic State.
Yesterday's strikes hit an Islamic State-run jail in Syria's Mayadeen at dawn, according to the Syrian Observatory for Human Rights, a Britain-based war monitor.
Observatory chief Rami Abdel Rahman told AFP the strikes killed 42 prisoners and 15 jihadists in Mayadeen, a large town in the eastern province of Deir Ezzor.
Most of Deir Ezzor province is controlled by the jihadists and it has been the target of air strikes by both the coalition and the Syrian army and its Russian ally.
The US-led coalition said last week that it had killed Islamic State's top cleric Turki Binali in a 31 May strike on Mayadeen.
The jihadists, who seized control of large parts of Syria and Iraq three years ago, are under pressure in both countries.
US-backed forces are pushing to oust them from their last major urban strongholds, Raqa in Syria and Mosul in Iraq.
But Washington's involvement in Syria has also become increasingly complex.
On Monday, the White House said preparations were underway by the regime for a chemical weapons attack, similar to those undertaken ahead of an apparent chemical attack on a rebel-held town in April.
"The United States is in Syria to eliminate the Islamic State in Iraq and Syria," White House spokesman Sean Spicer said in a statement.
"If, however, Assad conducts another mass murder attack using chemical weapons, he and his military will pay a heavy price."
April's attack on the rebel-held town of Khan Sheikhun was reported to have killed at least 87 people, including many children, and images of the dead and of suffering victims provoked global outrage.
The regime denied any use of chemical weapons.
Washington launched a retaliatory cruise missile strike days later against a Syrian airbase from where it said the chemical attack was launched, the first direct US action against the Syrian regime.
Yesterday's White House statement drew condemnation from Moscow, a key Assad ally, with Kremlin spokesman Dmitry Peskov telling journalists: "We consider such threats against the Syrian leadership to be unacceptable."
Mattis, speaking to reporters on a military plane late yesterday as he headed for meetings in Europe, insisted Washington was not taking sides in Syria's civil war.
US forces will not fire on targets "unless they are the enemy unless they are Islamic State," he said.
"We just refuse to get drawn into a fight there in the Syria civil war, we try to end that one through diplomatic engagement."
Coalition forces on the ground have accused pro-regime fighters of targeting them in recent weeks, as they shot down two Iran-made attack drones and a Syrian fighter jet.
The Pentagon chief highlighted the importance of maintaining communication with Russia, which is also backing Assad's forces with air strikes.
So-called "deconfliction" hotlines are used regularly by the two sides to notify each other where they are operating and avoid accidents.
Such hotlines will only grow in importance if the coalition pursues Islamic State fighters into the Euphrates Valley following their assumed defeat in Raqa, as pro-regime forces also move toward the same region.
"You've got to really play this thing very carefully," Mattis said. "The closer we get, the more complex it gets."
Syria's war began in March 2011 with anti-government protests and after a regime crackdown evolved into a complicated, multi-front war that has killed more than 320,000 people and forced millions from their homes.
First Cricket News
Shubman Gill, Washington Sundar and Avesh Khan have been forced out from the ongoing tour. The Test series is due to start on 4 August.
Entertainment
From 1965's The Dating Show to Sexy Beasts, audiences love to watch daters fall for disguised partners.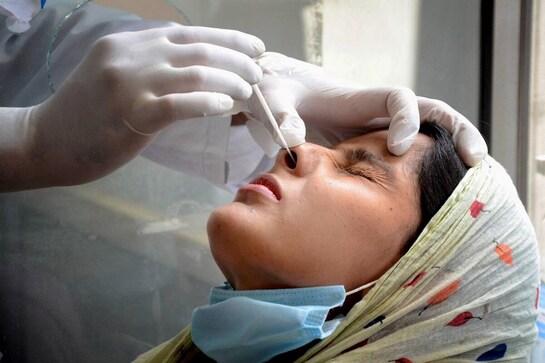 India
The number of active coronavirus cases in the country registered an increase for the fourth consecutive day. With the fresh new cases, India's COVID-19 tally has climbed to 3,16,13,993.