Donald Trump's win feels like a crackling slap, telling women to go back to the kitchens
I remember packaging 'Donald Trump Wins' videos and graphics and telling my co-workers that it is unlikely we would ever use them.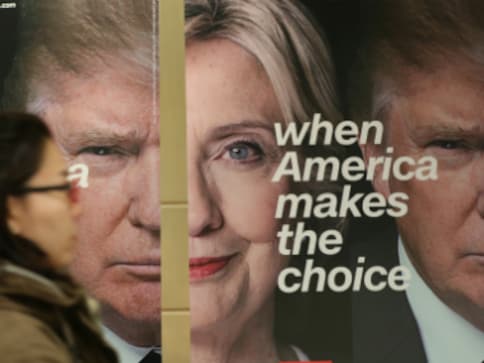 Firstpost produced an eight-hour-long live US election online video broadcast and for the last 10 days, that is all that I have known. I remember packaging 'Donald Trump Wins' videos and graphics and telling my co-workers that it is unlikely we would ever use them.
"Why are you affected?" my editor asked me in jest and laughed, sitting in the middle of the newsroom, palpably excited by the big news day: Narendra Modi's ban on Rs 500 and Rs 1,000 notes and, of course, the American presidential election. Across the busy newsroom, I endeavoured to answer him and mumbled, "It had very little to do with American politics…" He chimed in: "Yes, about the idea…" and the nature of the newsroom is such that it tends to drown conversations with news.
In the final minutes, when it became evident that Donald J Trump would be president-elect, my colleague turned towards me and shook his head. Disappointed. Another had just walked in to takeover from the previous night's shift when AP called it: Donald J Trump is president-elect. I became quiet.
I went to the restroom and cried.
Why are you affected?
Really. Why?
Hillary Clinton running for president in the United States of America has very little to do with Vishnupriya Bhandaram, an Indian living in Mumbai who has never lived in the US and never even visited the country.
Hillary Clinton running for president in the United States of America has everything to do with Vishnupriya Bhandaram, the woman who has had to deal with unwanted sexual advances, molestation, and casual sexism, a woman who is acutely aware of the gender imbalance and institutionalised sexism.
In the lead-up to the results, my colleagues and I would come to work early to catch the debates and push out copies. We watched him make a fool of himself — "Wrong!", "Yuge!", "Bigly", "You're the puppet", "Nasty Woman" became a part of our newsroom banter. Of course, the man didn't have the necessary gravitas to become president? During breaks, my colleagues and I would laugh loudly and whole-heartedly about Trump's late-night tweets. When news of his p****-grabbing comments made headlines, I had written him off, so did many of my colleagues — Trump couldn't become president after this?
Well, now I know why they say: Never say never.
Clinton's candidacy itself was a testament to the growing idea that women will not keep quiet any longer, or deny sexual assault. Clinton's candidacy and campaign absorbed and celebrated the idea of womanhood, the experience of it and reflected an idea that women will not apologise to the world anymore. They will fight like girls, they will be emotional and sensitive and there is nothing wrong about it. Clinton's candidacy also shone a bright light on the power of sisterhood and its collective movements. Michelle Obama and Elizabeth Warren cheered her on.
America is somehow seen as Mecca by most of the world. The American Dream has sold like hotcakes to rest of the world through globalisation. Clinton's candidacy meant that the American Dream now also had a place for its women. As the largest economy lording over everyone else in the world, Clinton's candidacy perhaps became the validation the contemporary women's movement needed. Well, if America finally did it, the win would have definitely given a fillip to the struggle for equality. Women are not stupid; we've known that a Clinton win would not render feminism unnecessary. It's just hurtful in this particular moment because Donald Trump's win feels like a crackling slap, telling women to go back to the kitchens — their 'rightful' place in the American Dream.
Does the world not have any women in charge? (Why are you so affected?) Of course it does. I come from a country that has women chief ministers, had a female prime minister and president, after all. And those women have come a long way and have had to deal with sexist double standards in life and politics.
Clinton's win wouldn't have been the be all and end all for women everywhere. It's just disappointing what her loss means. People still think that women are not to be trusted, that they are emotionally unstable, selfish, agenda-driven... Sure, as the stunned media is slowly recuperating and trying to make sense of this dramatic upset win, there will be more explanations — Trump captured fear and hope, he tapped into the anti-establishment anger etc. And they will be good explanations, sure. But as a woman, who has indoctrinated the motto that hard work, commitment and an educated mind is the way forward, Trump's win is indeed dramatically upsetting. It sends out the same message, that I have spent my entire adult life fighting against — women are judged by different standards; they are less than. It's true in Clinton's case, like it has been in so many non-famous everyday women's lives who are accosted by casual sexism, live and breathe the poisonous fumes of rape culture every day. And because I have a vagina, I feel short-changed by life (society, mainly) in general. 
My social media timeline is full of overnight poll pundits regurgitating how the presidential race was never about gender, it was not about sex and it was Clinton's fault for making it about sex and gender. I get tired of thinking of ways to respond to them. Clinton's loss is about how vehemently blind and deaf people are to gender disparities. This election result is a 'whitelash', but saying that it had nothing to do with her being a woman makes you sexist. You might not want to hear it, but it is.
So why should I be bothered by an election that showed:
The vituperative rhetoric around gender in the world, normalised rape culture, women having to work quadruply hard to be taken half as seriously, the glass ceiling is f******g difficult to break (and men don't have one), sexual assault is no big deal...
You tell me.
also read
World
China's cyberspace regulator said on May 21 that Micron, the biggest US memory chip maker, had failed its network security review and that it would block operators of key infrastructure from buying from the company, prompting it to predict a revenue reduction
First Cricket News
ICC could ask England to host 2024 T20 World Cup as the infrastructure in USA is not up to the mark, said a report.
Explainers
Florida governor Ron DeSantis released a campaign video this week. In one apparently altered image, former US president Donald Trump is seen hugging his bête noire Dr Anthony Fauci, who beams in response. In another, Trump is kissing Fauci on the nose