Donald Trump's scandals reaching Watergate size, scale: Republican leader John McCain
Donald Trump has been lambasted with accusations over the past week. He abruptly fired former FBI Director James Comey and was criticised by John McCain.
Scandals within the Trump administration are reaching the "size and scale" of Watergate, prominent Republican leader John McCain, a staunch critic of US president Donald Trump, has said.
"I think we've seen this movie before. I think it appears at a point where it's of Watergate-size and scale... The shoes continue to drop, and every couple days there's a new aspect," Senator McCain, chairman of the powerful Senate Armed Services Committee, told an audience at a Republican event on Tuesday.
McCain, a former Republican presidential candidate, who lost to Barack Obama in 2008 elections, made the comment at a dinner where he received the International Republican Institute's Freedom Award.
"I've known this guy (Russian Foreign Minister Sergei) Lavrov for 30 years, he's an old KGB apparatchik stooge, and Putin is a murderer and a thug," McCain was quoted as saying by the Daily Beast.
"And to have Lavrov in the Oval Office and be friendly with the guy whose boss... Sent aircraft with precision weapons to attack hospitals in Aleppo, I just think it's unacceptable," said McCain.
Several other Republican lawmakers also expressed concerns over the developments inside the White House.
"Less drama from the other end of Pennsylvania would be a good thing," Senator John Thune told reporters.
"Can we have a crisis-free day?" asked Senator Susan Collins, another Republican Senator.
"I think we could do with a little less drama from the White House on a lot of things so that we can focus on our agenda, which is deregulations, tax reform and repealing and replacing ObamaCare," Senate Majority Leader Mitch McConnell told Bloomberg.
Watergate was a major political scandal that occurred in the US in the 1970s, which ended in the resignation of the then president Richard Nixon.
Trump has been lambasted with accusations over the past week. Last week, he abruptly fired former FBI Director James Comey, which concerned some because of the agency's investigation into Russia and his campaign.
On Monday, a report stated Trump shared highly classified national security information with Russian government officials.
Yesterday, another report surfaced claiming Trump told Comey to end the FBI investigation into former National Security Adviser Mike Flynn.
Find latest and upcoming tech gadgets online on Tech2 Gadgets. Get technology news, gadgets reviews & ratings. Popular gadgets including laptop, tablet and mobile specifications, features, prices, comparison.
World
Georgia, one of five states flipped by Biden after going into Donald Trump's column last time around, hadn't been won by a Democrat since Bill Clinton in 1992
World
How can anyone trust this version of the Republican Party to ever hold the White House again?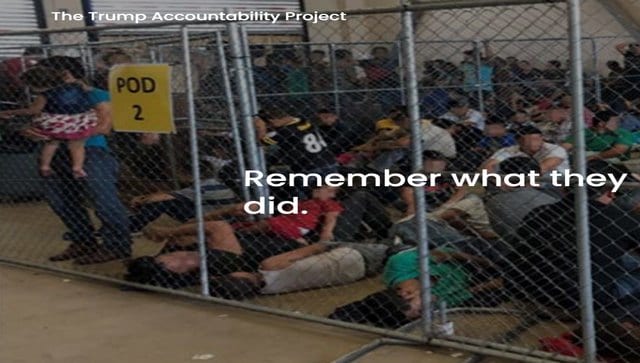 World
The Trump Accountability Project, boosted on Twitter by former DNC press secretary Hari Sevugan, is seemingly looking to blacklist those that worked for the outgoing administration