Donald Trump's remarks on terrorism in Pakistan, trade in China show US policy will play major role in Asia in 2019
Donald Trump announced that he was considering reducing US troops in Afghanistan by almost half.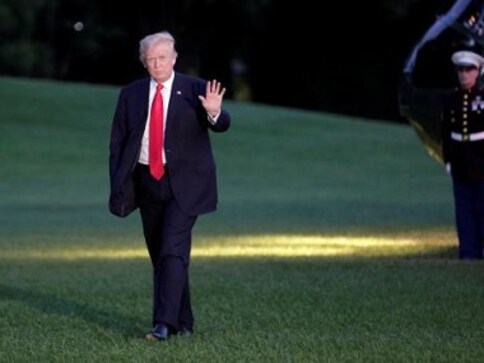 It has been a bewildering time for almost everyone in the power corridors of Washington, as the year ends with another government shut down over the president's pet project of a border wall with Mexico.
It has been even more bewildering for a lot of other countries, accustomed as they have been to a more or less set pattern to US policy, and at the minimum, adequate warning of impending changes. For parts of Asia in particular, it has been a bit like a carnival ride, with an up and down flavour that is probably making a lot of officials sick to their stomach. China, and to a lesser extent Pakistan, have been particularly affected, not to mention the rest of Asia, which is seeing mixed signals from Washington. Some trend-spotting is interesting as the year ends, with a view to estimating what to expect in 2019.
First things first. Early fears that US president Donald Trump was going to turn his back on the rest of the world, particularly Asia, has proved unfounded. In fact, it has turned out to be quite the opposite. Few US presidents have cared to call out Pakistan so publicly as a sponsor of terrorism in a strategy speech which bluntly said "we have been paying Pakistan billions and billions of dollars, at the same time, they are housing the very terrorists that we are fighting. But that will have to change, and that will change immediately."
That gave Rawalpindi a shock, but it assumed that it could nevertheless jolly along US generals as it had in the past, and continue "standard operations" of pushing the Taliban along a military tack. Then came the second shock. The US president announced that he was considering reducing US troops in Afghanistan by almost half. Despite analysts in India warning of death and disaster, what it did was to put the Pakistan Army on a clock. Deliver on the Taliban or else. And so far, at year end, it seems they did.
There has been a virtual breakout of talks between all sides, with some hint of negotiations with Kabul also present. In 2019, expect pressure on Pakistan to increase through various instruments. In recent days, Pakistan has made its first seeming "full disclosure" of Chinese lending to the International Monetary Fund.
More are likely to follow, as Pakistan realises that Trump's obvious impatience with the whole Afghan adventure is not going to lead to a simple 'walk away', but a concentrated twisting of arms using – as he had promised – all instruments of state power. And there's nothing very much that Beijing is likely to do. It's even more tired of the endless Afghan war.
Beijing, meanwhile, has had much on its plate in 2018 which shows no signs of abating. The trade war has temporarily been put on hold, with the White House statement seeming to show that the US was willing to step back from blistering tariffs for a mere 90 days. In return, Beijing seems to have offered some important concessions  on "structural changes with respect to forced technology transfer, intellectual property protection, non-tariff barriers, cyber intrusions and cyber theft, services and agriculture", and all of that to be completed within the stated period.
If even a part of this is implemented, it will offer American farmers entry into the lucrative Chinese market, which means a huge rise in popularity ratings for the US president. The rest of the "structural changes" will hardly be carried out so soon, and both sides know it. Both expect that the trade war will continue, at least till the time of re-election for the president, when he will want deliverables in the form of a a Chinese takeaway.
In 2019, therefore, Beijing will be even more on the look out for sympathy and trade concessions elsewhere. That means both opportunity and danger for New Delhi and Japan. Japan's exports to China are certainly rising, India not so much. The danger, however, is far wider. As Ali Wyne from RAND observes, the Trump effort to de-couple the "inescapable mutuality" between the US and China that Apple CEO Tim Cook referred to is likely to be trouble for everyone. In 2019, hold on to your money. It's going to be a rocky ride.
And what of that favourite country that everyone loves to hate? North Korea fired no missiles at all in 2018, nor did it conduct a nuclear test. That may be because it has now gone into mass production, as the dictator himself had stated in the beginning of the year.
Other reportage indicates an unease in South Korea where there is no real belief that North Korea will ever give up its nuclear arsenal, despite its earlier promise to dismantle the Yongbyon facility. Moreover, there is a huge and vast difference between what North Korea and the US see as "de-nuclearisation". Pyongyang basically wants the US to leave the area, together with its nuclear umbrella. That is not going to happen – not within the lifetime of the young Kim Jong-un anyway. Since patient negotiations are not the president's style, expect a sudden Trumpian tightening of the noose around Kim, and resultant rise in tensions, and just maybe a missile test or two.
And what of India, who is so far seen as one of the "good guys" as long as its economy continues to rise, and it continues to offer a good investment climate? Being nominated as a US partner in the "Indo-Pacific" doesn't come cheap, nor does scaling up defence capabilities, but that's for another story. Suffice to say that the economy is likely to be central to Indo-US relations in 2019 and should be the holy cow for the ruling coalition in the coming elections. That means a bullish market ripe for growth, and not the bovine that's eating plastic on the streets. That's already passé.
Overall, expect a rip tide in 2019 that can carry you out to sea, outside traditional comfort zones.
Explainers
India is expected to overtake China's population sometime around April and only widen that gap by 2050. Experts say that while having a young working population could prove a huge advantage, significant challenges of providing quality healthcare, education and jobs remain
Explainers
Researchers in China have successfully powered unmanned aerial vehicles via high-energy laser beams in an experiment. Here's how they did it and why some remain sceptical of the technology
Explainers
Sarah Huckabee, a former spokesperson for ex-president Donald Trump, banned the gender-neutral term on official documents on her first day in office as Arkansas governor. Here's why the term has become another brick in the culture war divide