Donald Trump's presidency: Bureaucrats are pushing back against the White House
Though we may forget it, the vast and labyrinthine US federal government is made up of people. Now that Donald Trump has taken office, we can't put a finer point on this.
Though we may forget it, the vast and labyrinthine US federal government is made up of people. Now that Donald Trump has taken office, we can't put a finer point on this. Without the people populating these offices, the government ceases to function. "Resistance" is becoming a mandate in parts of the federal bureaucracy that view the Trump administration as an existential threat.
It must be said that this administrative dissent is as varied as resistance on the streets. It is important to scrutinise the various means and motives behind acts of dissent in the belly of the beast. We must engage in this critical analysis to understand how these coalitions may unite and how the inner turmoil might affect external movements.
First, we must discuss the false parity between the dissent from Congressional Democrats and dissent from federal officials. It is Democrats' mandate to block the nominations and legislation that constituents would take issue with. This is how they get and keep their jobs. Most recently, Senator Elizabeth Warren's attempts to protest Senator Jeff Sessions' nomination for Attorney General were stymied when her bureaucratic dissent met with bureaucratic muzzling.
Warren was censured for reading a letter from civil rights activist Coretta Scott King calling Sessions' nomination detrimental to any progress black Americans had and might make. The letter had been sent to the Senate and admitted into the record when Sessions was first up for a federal judgeship in 1986. This censure outraged many progressives. Warren will be likely lionised for this show of defiance and re-elected to Congress for "dissenting."
True bureaucratic dissent, where people face consequences for speaking their conscience, has presented itself in many forms over the past few weeks. Sometimes, procedures, like filing complaints, can slow mandates to pull funding. Departments that might be on the chopping block are already putting measures in place to protect their funding for as long as possible. In this case, officials are body-blocking their departments. They are doing the best they can to continue their work for as long as possible. Departments that serve the public, like the ones responsible for facilitating federal funding or domestic violence prevention initiatives, are likely to incorporate these tactics.
Sometimes, agency members signal to the public that dissenters exist within the government. We are seeing this through the many rogue social media accounts that have popped up. This is a riskier move though, because it breaks with formal bureaucratic methods of resistance. The government has become a very leaky boat. Alternate social media accounts for the US National Park Service, the Environmental Protection Agency, the Department of Justice, and other federal agencies have popped up. Tweets from these informal social media accounts range from facts about climate change to more obvious and partisan shows of resistance to the Trump administration.
It has been reported that some officials are using encrypted text apps to communicate their dissent to one another. Republican members of Congress are playing whack-a-mole here as well, attempting to curb this communication to monitor dissent more closely.
In the State Department, a formal dissent channel was established in response to the internal swell of opposition to the Vietnam War. President Nixon grew frustrated when he was unable to plug the innumerable leaks from the department during this tumultuous period, and thus created the channel to formalise bureaucratic opposition. The channel, in effect, is a steam vent for frustration and dissent within the ranks.
The Secretary of State must read and respond to the dissenters within 90 days. People who dissented formally were to be protected from reprisals, though this cannot always be guaranteed. Employees must curry favour to rise in the ranks, so dissent might be met with subtle retaliation. During the Obama administration, 51 members of the State department signed on to a cable formally dissenting to the US decision not to intervene on behalf of anti-regime forces in Syria.
Until the Muslim ban, this was the most popular internal dissent cable since the channel had been established. Even during the Iraq war, only a handful of officials expressed their dissent through these formal channels. One resigned in protest. Most state officials realise that their jobs and promotions are at risk when they express dissent formally. People might not be formally dismissed for dissenting, but could be squeezed out. And usually, it's for almost nothing. Very few dissent memos have had any impact on the policies they concern.
This is the lens through which we should view the most recent dissent memo regarding the travel ban. The cable rolled like a snowball from embassy to embassy, attracting signatures from State Department officials around the world. More than 1,000 employees signed the memo claiming that the ban would adversely affect the US.
In the past, despite the private hatred for rebellion in the ranks, reactionary administrations have begrudgingly accepted dissent in order to manage it. The Trump administration seems to be changing tack. Trump's press secretary Sean Spicer has indicated that officials in the State Department should not feel free to express their dissent. According to Spicer, department officials "should either get with the program or they can go."
We will see if bureaucrats fall into line or continue to express dissent in large and small ways. Aside from purging entire departments and hiring sympathetic people, the Trump administration cannot do much in the face of this defiance. In fact, he probably would be best served by publicly expressing people's right to dissent. If he continues with this ham-fisted approach, he might have a revolt of the pen pushers on his hands.
World
America now joins a handful of countries, including Australia, Canada, Germany, India, Nepal, New Zealand and Malta, in allowing its citizens to designate a gender other than male or female on their passports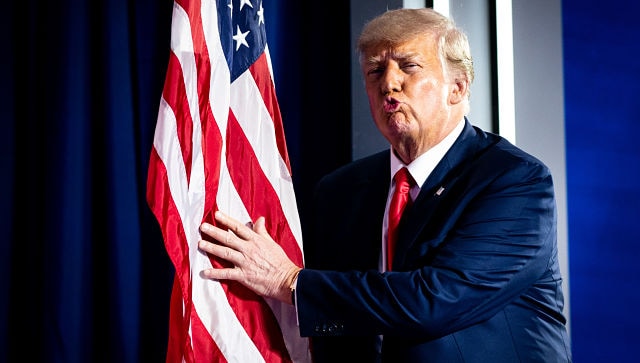 WorldT20
In interviews Thursday, the hackers, who are affiliated with Anonymous, a loose hacking collective, said the effort was part of their "online war against hate."
World
The agreement between Iran and the world powers related its controversial nuclear programme has been moribund since former US president Donald Trump walked out of the deal in May 2018