Donald Trump's Paris Climate Accord tirade shouldn't be allowed to derail India-US bilateral ties
There is a clear difference between Modi and Trump on the Paris Climate pact. However, that doesn't mean one issue should be allowed to derail one of the most important bilateral relationships
There has understandably been a lot of heartburn in India over US president Donald Trump's epic rant against emerging economies like India and China during his infamous Paris Climate Accord speech on Thursday.
Trump, while justifying his move to pull out of the 2015 pact involving 195 nations, was particularly harsh on India. His words were wrong, demeaning and offensive, and his posturing has the potential to undo a decade-old concerted and considerable effort from both sides to develop a strategic partnership that complements the close trade and people-to-people ties.
Trump, delving deep into his trademark American victimhood narrative, complained that "India makes its participation contingent on receiving billions and billions and billions of dollars in foreign aid from developed countries" and indicated (not in as many words) that the American economy and its people are being ripped off by such leeching nations.
He also expressed outrage that while India can "double is coal production by 2020, we're supposed to get rid of ours". The half-truths, falsity and exaggerations in Trump's comments have been discussed earlier, and acquire significance considering Prime Minister Narendra Modi is likely to visit the US later this month. The timing has also raised widespread speculation about a possible deterioration of India-US ties, and whether or not the visit will even go through.
India must guard against such a possibility; international ties are not contingent on such oscillations. I'd argue that Trump's vitriol was directed more at his base and critics rather than against India. The trouble with the US president is that he's perpetually in campaign mode, forever talking to his base to ensure the media witch-hunt against him doesn't translate into mood swing. What Trump doesn't seem to understand (or care for) is that regardless of whether his political posturing is arising out of domestic compulsions, his words will carry international ramifications. A bull in china shop has more nuance.
The American president was well aware of the domestic and global backlash that his announcement would trigger and he also knew well enough that he was giving his political rivals and fiercely adversarial media yet another chance to crucify him.
Therefore he needed some ballast to justify his strange and illogical decision, and India, which made its joining of Paris Accord incumbent on aid from developed nations, came as a handy example.
But we shouldn't read too much into it. For a country as large and aspirational, India's foreign policy cannot remain reactive or impulsive, as it has often been in the past. Our geopolitical moves must be the calm execution of a well-thought out, visionary plan, and under that construct, getting irked at Trump's shenanigans isn't an option.
In the last few decades, India has spent too much diplomatic resources to grow strategically close to the US for the ties to be snapped at the altar of a maverick president. Our policy must allow for American domestic turbulence and make space for external repercussions of that turbulence.
It's easy to take umbrage at Trump's invective rhetoric — a mixture of exaggeration and falsehood — but India would do well to remember that the same US president, just days ahead, identified India as a victim of terrorism and completely ignored Nawaz Sharif at a summit in Riyadh.
During that speech at the Arab Islamic American summit last month, Trump had said, "The nations of Europe have also endured unspeakable horror, so too have nations of Africa and South America, India, Russia, China, Australia have all been victims," adding, "Every country must ensure that terrorists do not find any sanctuary on their lands", though he didn't name Pakistan.
The symbolism of these words and actions weren't lost on anyone. This was a more unequivocal message on Pakistan's role in cross-border terrorism than what Barack Obama managed in two tenures.
Instead of being ruled by heat of the moment, India should have a clear-headed policy that focuses more on a transactional relationship than one driven by ideology. Besides, there are far too many structural hedges that underwrite the stability of Indo-US ties, that even Trump, with all the callousness at his command, may find difficult to negate.
As Carnegie India director C Raja Mohan writes in The Indian Express, India and the US have an "annual trade at more than a 100 billion dollars — and a deepening cooperation on bilateral, regional and global issues… The Indian diaspora has steadily grown in its influence in American domestic politics — it has sent five men and women to the House of Representatives in the 2016 elections. California has also elected Kamala Harris to become the first ever Indian-American senator. This contingent of six from the Indian diaspora is the largest ever to be elected to the US Congress."
There is a clear difference between Modi and Trump on the Paris Climate pact. However, that doesn't mean one issue should be allowed to derail one of the most important bilateral relationships, one that may potentially rewrite the future global order. In dealing with Trump, India needs to unlearn the well-established protocols involved with earlier US presidents and be flexible in approach.
Also, while Trump may have led the US to flip on its promise, American businesses, policymakers and city-states have announced their intention to follow the spirit and letter of the pact and provide the inherent stability in Indo-US ties. Fortunately, unlike many other heads of State, Modi has so far refrained from criticising Trump while making it clear that he will stick to the accord. He understands the import of the larger relationship.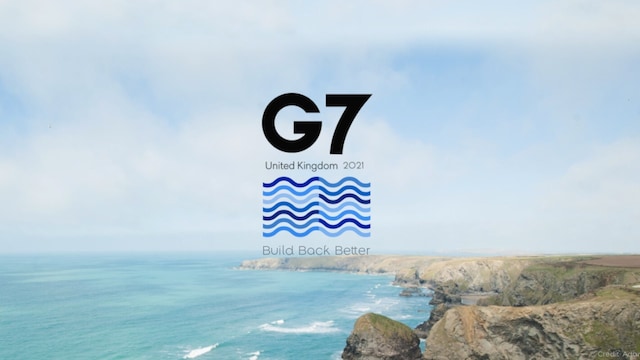 science
A trillion dollars a year spread across these seven economies would translate to about two percent of their pre-pandemic GDPs, the report calculated.
Entertainment
"No better person to build momentum for further change," British Prime Minister Boris Johnson said about David Attenborough, who has been appointed 'people's advocate' at the November global summit.
Arts & Culture
Many people don't know yet how to respond to widespread environmental and public health crises as well as ethical quandaries that pop up in decisions about where we live, the food we eat, what species' genes we modify, and what environments we want to conserve.