Donald Trump's Afghanistan policy presents India a chance to increase sphere of influence in South Asia
Donald Trump's policy on terror carries no equivocation on Pakistan and is a clear reinforcement of India's argument.
At one level, Donald Trump's policy on Afghanistan and South Asia isn't really that different from Barack Obama's. As a candidate, Trump promised to pull out American troops at the earliest and end its longest and "unwinnable" war. But as he said from Fort Myer, Virginia, on Monday, things look very different from behind the Oval Office desk. So instead of a pullout, which he admitted was his original instinct, he has decided that more US soldiers will descend on Afghan soil.
But the similarity doesn't end here. Trump's grand strategy is to stabilise Afghanistan so as to prevent it from becoming another Iraq — which sounds awfully like what Obama and George W Bush before him intended to do, and he plans to do so by eventually bringing Taliban to the negotiation table.
"Military power alone will not bring peace to Afghanistan or stop the terrorist threat arising in that country. But strategically-applied force aims to create the conditions for a political process to achieve a lasting peace," said Trump.
He wants to achieve a goal that is political through a route that is military, by "killing all terrorists". And has decided that threatening Pakistan against nurturing a bread basket of jihadists and urging India to increase its capacity-building role in Kabul would be the key tenets of this strategy.
Again, not much different from what administrations before him had tried to do. American's clear tilt towards India as a strategic hedge in a troubled South Asia started with Bush and it was taken forward by Obama. Wariness about Pakistan's duplicity had permeated successive US administrations, even if they had been unable to stop Islamabad's various rent-seeking practices.
For instance, during a joint news conference in 2011 with Pakistan's then foreign minister Hina Rabbani Khar, then secretary of state Hillary Clinton had said that Pakistan can't expect to rear snakes in its backyard and hope that it only bites its neighbours.
The broad strokes indicate that Trump's Afghanistan strategy is not nearly as "dramatically different" as he touted it to be.
And yet at the macro level, Trump's approach is indeed radically different than Obama or Bush's before him. And it is here that India has been presented with an unprecedented opportunity to increase its sphere of influence in South Asia.
Before we get to that, let's look at the point of departures. Trump's address clearly brought out the essential difference between him and Obama. Whereas Obama — a politician, statesman and an intellectual — subscribed to America's role as a global security provider and 'democracy evangelist', Trump — a tycoon who runs an intercontinental business empire through laser focus on balance sheets — sees efforts to "use American military might to construct democracies in faraway lands or try to rebuild other countries in our own image" as a complete waste of time, energy, money and "American lives".
What this means is that despite his grand strategy of strengthening Afghanistan, Trump has redefined 'victory' and set for himself much smaller goals, and consequently has more chance of achieving those goals than Obama or Bush administrations before him. He has also shifted some of the responsibilities that the US had traditionally set or itself, to others.
Trump is clear that Afghanistan people will have to "take ownership of their future", "govern their society" and "carry their share of military, political and economic burden" to "achieve an everlasting peace" because the US is "not nation building again" and will limit its role only to "killing terrorists."
The dissonance that arises is that what constitutes a "strong Afghanistan" that won't fall prey to forces of instability? And if that happens, will America's greater purpose of not letting Afghanistan become another Iraq, be served? Trump claimed to have an answer.
For him, "victory will have a clear definition — attacking our enemies, obliterating ISIS, crushing Al-Qaida, preventing the Taliban from taking over Afghanistan and stopping mass terror attacks against America before they emerge. We will ask our NATO allies and global partners to support our new strategy, with additional troop and funding increases in line with our own. We are confident they will."
So the key point that emerges is that while Trump wants a stable Afghanistan, he won't (at least doesn't plan to) go beyond the self-set parameters. At the heart of this 'new' policy is Trumpian realism, which manifests itself in his comments that "we must address the reality of the world as it exists right now". By accepting the reality and eschewing grand notions of American exceptionalism, Trump hopes to live up to his billing as a "problem solver."
Why is this an opportunity for India?
Trump's policy is guided by a nativist impulse that wants to cut losses in a 'bad deal'. This tunnel vision forces Washington to seek greater help from "NATO allies and global partners". This is not a bad approach. But there is a problem. India, a key player in South Asia and a force for stability, is not a treaty ally of the US. It's not a coincidence that Trump heaps oodles of praise on India, calling it the linchpin of US South Asia strategy.
"Another critical part of the South Asia strategy for America is to further develop its strategic partnership with India, the world's largest democracy and a key security and economic partner of the United States."
This is classic Trumpian transactionalism. By elevating India's bilateral status to a non-declared ally (at least a strategic partner), Trump hopes to bind India with a moral responsibility for sharing its burden in Afghanistan. Just to press the point — in comments that once again reflect his barter approach — he reminds India that it makes "billions of dollars in trade with the US" while urging it to "do more" in the "area of economic assistance and development."
Trump is at fault here. India's relationship with Afghanistan goes deep and is not incumbent on what the US president wants it to do. New Delhi's relationship with Afghanistan (long before Pakistan became a buffer state) is underwritten by social, cultural, economic and security ties.
As Afghanistan's Ambassador to India Shaida Abdali pointed out during a recent Brookings India lecture on India-Afghanistan Strategic Relations, India "is the biggest regional donor to Afghanistan and fifth largest donor globally with over $3 billion in assistance". And these cover a wide network of infrastructure development areas. New Delhi has built "over 200 public and private schools", sponsors "over a 1000 scholarships", hosts over "16,000 Afghan students", and has assisted in the construction of critical infrastructure including roadways, highways, dams, electricity lines and even the Afghan Parliament building. It also trains Afghan military officers.
Even so, allowing for Trump's limited understanding of the traditional and dynamic imports of India-Afghanistan relationship, New Delhi can still make a virtue out of necessity.
India can increase its foreign aid and commit more in capacity-building efforts. A transactional US president can sell it to his electoral base by claiming that he has "forced India to do so". This may make Trump amenable for a greater Indian role in South Asia and limit Pakistan's subversive influence. This quid-pro-quo also carries a lot of intangible benefits.
Already, New Delhi is being seen for all purposes as a strategic US partner. True, this is likely to increase Pakistan's anxiety, but little that India does will not induce Pakistan's 'strategic anxiety' — a chronic condition that its generals have sold well to the world so far.
Trump's policy on terror carries no equivocation on Pakistan and is a clear reinforcement of India's argument. His focus on more action and less diplomacy is also good news for India because it reduces the chance of Indo-Pakistan hyphenation.
Pakistan has been firmly cubbyhole into a problematic corner. Trump has not only put Islamabad on notice for running with the hare and hunting with the hound, a senior official has indicated to US media that sanctions may be imposed on Pakistani officials with ties to terrorists. Clearly, this US president is willing to walk the talk, unlike earlier ones.
India is now being recognised as a clear force for the good, a sponsor of democratic values and stability. This isn't a tacit endorsement, but a loud one that has huge implications for India in South Asia where it jostles for influence with a mercantile China. The Narendra Modi government must play its cards well.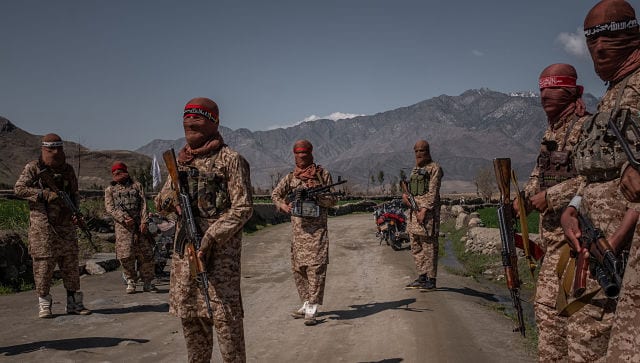 World
It is being suggested that India has reached a fork in the road in Afghanistan and must either sup with the Taliban or pack its bags and leave
World
Over nearly two hours on Saturday, Trump revisited his touchstones of grievance, leveling allegations of fraud that election officials and judges have systematically refuted or brushed aside.
India
The heart of the conflict is an unresolved border issue — a 164.6-kilometre long inter-state border, which separates Assam and Mizoram. This border is shared by three districts of South Assam — Cachar, Hailakandi and Karimganj — and three districts of Mizoram — Kolasib, Mamit and Aizawl