Donald Trump unveils plan to 'annihilate Islamic State' and experts raise question of human rights violations
President Donald Trump instructed the Pentagon to 'annihilate' the Islamic State in Syria in a bid to prevent escaped foreign fighters from returning home, Defence Secretary Jim Mattis said Friday.
President Donald Trump instructed the Pentagon to "annihilate" the Islamic State in Syria in a bid to prevent escaped foreign fighters from returning home, Defence Secretary Jim Mattis said Friday. The move to encircle, then kill as many jihadists in place as possible — rather than letting them exit a city and targeting them as they flee — reflects an increased urgency to stop battle-hardened jihadists bringing their military expertise and ideology back to European capitals and other areas.
The president has "directed a tactical shift from shoving the Islamic State out of safe locations in an attrition fight to surrounding the enemy in their strongholds so we can annihilate Islamic State," Mattis said .
"The intent is to prevent the return home of escaped foreign fighters," he added.
Mattis also dismissed talks of the militarily offensive plan probably instigating human rights violations in the battle zone.  The New York Times quoted him as saying, "I want to emphasise here there has been no change to our rules of engagement, and there has been no change to our continued extraordinary efforts to avoid innocent civilian casualties."
However, Trump's idea of shifting the war from one that of attrition to planned offensive in Syria has its critics.
An analysis piece in Germany's Deutsche Welle quoted experts as saying that believe the the shift in strategy can lead to mounting civilian death toll and displacement of people.
The new plan is in sharp contrast with the restraint applied by the Barack Obama administration during the early days of the civil war. Such a strategy was slammed by many as micro-management by Washington. As The New York Times op-ed noted, the Obama era doctrine emphasised on reducing or even avoiding civilian deaths in at least countries where the US was not in direct conflict.
"The rules required that a target had to pose a threat to Americans and that there be near certainty that no civilian bystanders would die," noted the article. The article further added that while the shift has formally been announced only now, it has been visible on ground zero since Trump took over as president from Obama.
While civilian death toll rose by three time in March as compared to January, the strategy helped push the Islamic State out of the 55 percent of the total land it once controlled in 2014.
However, Trump's strategy to finish Islamic State once for all may have other implications as well.
It is being reported that the US is supporting the Kurdish rebel group YPG in North Iraq, in its fight against the Islamic State. Kurds have been fighting for an independent Kurdistan in north Iraq, Syria and South of Turkey since the last four decades.
However, the strategy to back Kurds strained ties with traditional ally and NATO member Turkey, which is facing a long-standing Kurdish independence struggle.
Experts fear such a strategy may lead to a new ethnic civil war after the Islamic State is defeated.
"The Americans are talking about tactics, but the strategy is based on the US relying on a Kurdish militia to so-called 'liberate' nearly purely Sunni and Arab areas in the name of fighting IS. The US is laying the groundwork for long-term ethnic warfare in Syria as the Kurds pursue a land grab of Arab territory," Khaled Yacoub Oweis of the German institute of International and Security Affairs told Deutsche Welle.
Experts unanimously believe that the Trump strategy will intensify the conflict and that no one can offer a definitive time of an end to this six-year-long war.
With inputs from AFP
Find latest and upcoming tech gadgets online on Tech2 Gadgets. Get technology news, gadgets reviews & ratings. Popular gadgets including laptop, tablet and mobile specifications, features, prices, comparison.
World
In a statement posted on the group's Telegram communications channel early Friday, Islamic State claimed two of its men blew themselves up in Tayaran Square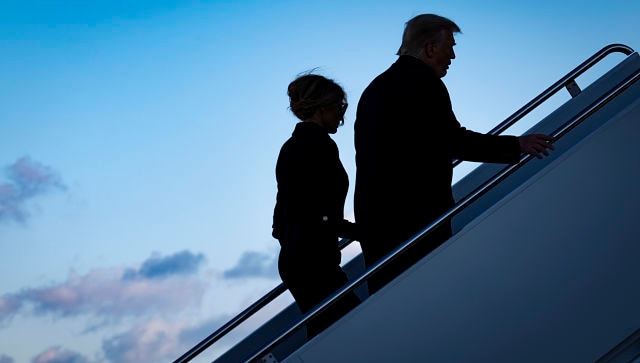 World
Democracy in the US will limp back to functionality, but the events set a terrible precedent that will encourage demagogues and dictators worldwide to undermine democracy and suppress will of the people
World
In one sign of how much she may be involved in legislative campaigns, Harris has been in touch with mayors around the country to preview Biden's coronavirus relief package