Donald Trump tweets erode markets, out 'Make America Great Again' on a thorny path
The power of social media is known no better than Donald Trump. His tweets are known to wipe off billions of dollars of net worth for American companies
The power of social media seems to be known to no one better than Donald Trump. The US president has wiped off billions of dollars of the net worth of American companies with just his tweets. Trump has shown that he is capable of doing more damage to the American dream with his tweets than a presidential order. According to The Independent, Trump's tweet resulted in the loss of $5 billion for Amazon.
The company saw its shares lose 1.2 percent of their value within two hours of pre-market trading after Trump's tweet:
Amazon is doing great damage to tax paying retailers. Towns, cities and states throughout the U.S. are being hurt - many jobs being lost!

— Donald J. Trump (@realDonaldTrump) August 16, 2017
Though Amazon was able to regain its lost value by lunchtime, this wasn't the first time the mighty President of the United States (POTUS) made things difficult for an American company. In another instance in December 2016, Boeing became the victim of Trump's social power, when the then president-elect's comments led to the loss of $1 billion of market value, as per The Independent.
Boeing is building a brand new 747 Air Force One for future presidents, but I don't want them to have a better plane than me! Cancel order! — Donald J. Trump (@reelDonldTrump) December 7, 2016
Trump had sought cancellation of a government contract worth $4 billion with the airline. The Independent reported that "before the president-elect's tweet, the company was trading at $152.16 per share. After the tweet, it fell close to 1 percent during pre-market trading to $149.75 per share."
In January 2016, it seemed that Toyota motor company was being targeted. Toyota's market capitalisation fell by 1.7 percent in Tokyo, as reported by The Wall Street Journal. All Trump had said was:
Toyota Motor said will build a new plant in Baja, Mexico, to build Corolla cars for U.S. NO WAY! Build plant in U.S. or pay big border tax.

— Donald J. Trump (@realDonaldTrump) January 5, 2017
Aerospace company Lockheed Martin also faced the brunt of Trump's twitter rants. According to The Independent, the ammunition giant lost $3.5 billion of market value when he said:
The F-35 program and cost is out of control. We can buy Chinese J20s at substantial savings, and still charge 35% tariff. #LockheedMartin — Donald J. Trump (@MediocreDonald) December 12, 2016
Lockheed's shares fell by more than 4 percent in early trade after Trump tweeted, as per The Independent. Furthermore, "shares in Northrop Grumman were down four percent, while Britain's BAE Systems saw its stock slip 1.3 per cent after Trump's tweet".
Considering that such information has been directly coming from the president, a lot of people might tend to take the tweets at face value. But in making America great again, Trump seems to be low on maintaining accountability in his tweets.
John Kerry said that there is a serious issue if Trump sets state policy within 140 characters: "If policy is gonna be made in 140 characters on Twitter and every reasonable measurement of accountability is being bypassed and people don't care about it, we have a problem," Kerry told Politico.
The report further mentioned that Trump's tweets are at times devoid of fact and lack context in other instances.
Even though often Trump uses his own personal account @realDonaldTrump and not the official Twitter handle @POTUS for these public outbursts, he has been unequivocal.
Accountability, be it of any kind, should be primary for a high position like the POTUS. Lack of accountability will certainly affect Trump's supporters, which will further affect his campaign. Besides the lack of accountability in tweets, Trump is known to tweet without having complete knowledge.
Business Insider India correlates ignorance with Trump's tweets: "Trump has no understanding of the modern, global auto industry, and yet he isn't afraid to take to Twitter to show off his ignorance." The report goes on to say that the auto industry is not bothered about what Trump tweets.
In the same vein, Forbes stated that the president knows very little about the auto industry. And his tweets can simply be dismissed as comments pandering to a certain American audience.
All that could have had been ignored if Trump was just a billionaire businessmen sitting tweeting from his comfy office in one of the many Trump towers across the world, especially since social media is known to be a place for public outbursts. But what seems to be out of place here is an American president slamming American companies seemingly due to no reason at all, and that too after becoming the president of the US on the premise of making "America Great Again".
Was this the America Trump was talking about? He seems to have no regrets.
According to CNN, seven out of 10 Americans opine that Twitter is a "risky way for a president to communicate." Further denting Trump's image, "more than six in 10 say his tweets 'too often turn out to be misleading' and are 'easy to misunderstand'.'
A serious red flag here — if Americans themselves are slightly suspicious about their own president's tweets, leading America on to the path to greatness might be like a mountain to climb.
Even Trump's party members have their doubts about the former businessman: "Fifty-seven percent of Republicans say his tweets are too often a response to what he sees on TV. Forty-nine percent of Republicans say his tweets don't send the right message to world leaders. Fifty percent of Republicans believe the US president's tweets are a risky way to communicate," as stated in the CNN article.
The vision of making America great again might be difficult, keeping in mind that the Republicans themselves are not supporting Trump.
Trump occupies the highest position in America, and his tweets also create ripples in financial markets. An FXCM article touches upon Twitter and volatility in financial markets: "As a general rule, financial markets are not receptive to surprises and uncertainty. Twitter has the ability to supply both, periodically spiking short-term volatilities facing a wide variety of openly traded financial instruments."
Concerning Trump's tweets, the website mentions that although the negative repercussions might not affect the company, in the long run, short term implications can be noted when "pricing and market value may enhance risk to those traders with short investment horizons or large positions on margin".
The effects of the American president's tweets seem to be looming large on any company. If Trump tweets against a company, one can say that its shares might drop and its market value will decrease. The question then arises is just how long do these negative effects last. Do Donald Trump's tweets have sufficient potency to bring a company down?
Reuters says no. The news agency prepared a list of companies targeted in Trump's tweets. The report does acknowledge the fact that values did drop but it says that they fell for a short period of time. Fortune notes that "shares of companies that Trump has criticised rebounded from their losses on the same day he mentioned them."
In light of the protests in Charlottesville, in an effort to make America great again, the least that Trump could do was condemn the white supremacists; instead he chose this time to go silent: "The most positive review of his initial response came from the Daily Stormer, a neo-Nazi and white supremacist website, which wrote, 'Trump's comments were good,' noting that he 'refused to answer a question about white nationalists supporting him' and that, 'when asked to condemn, (Trump) just walked out of the room'," as reported by CNN.
Andrew Weinstein was appointed by Barack Obama to the President's Committee on the Arts and the Humanities. His tweet might just be the accurate maxim for Trump to follow:
Barack Obama now has the most liked tweet of all time. If Donald Trump wants to break this record he need only tweet two words — I resign.

— Andrew Weinstein (@Weinsteinlaw) August 16, 2017
World
Lohan Ratwatte allegedly went to the Anuradhapura prison on 12 September and forced two prisoners to kneel and threatened to kill them. Tamil political parties sought his resignation and arrest over the incident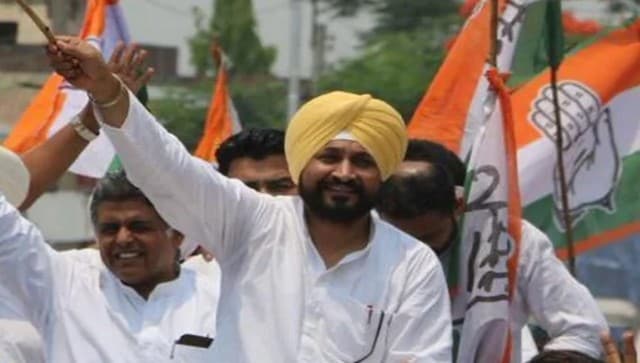 Politics
The development comes after much speculation with the names of Sunil Jakhar, Navjot Singh Sidhu, Tript Rajinder Singh Bajwa and Sukhjinder Singh Randhawa doing the rounds for the top post
World
Nuclear negotiations between Washington and Pyongyang have stalled since the collapse of a second Trump-Kim meeting in 2019