Donald Trump threatens government shutdown if Congress won't fund Mexico border wall
US President Donald Trump revved up supporters on Tuesday with a defense of his response to a white supremacist-organized rally
Phoenix: US President Donald Trump revved up supporters on Tuesday with a defense of his response to a white supremacist-organized rally in Virginia and a promise to shut down the US government if necessary to build a wall along the border with Mexico.
Under fire for saying "both sides" were to blame for the violence between white supremacists and left-wing counter protesters in Virginia on 12 August, Trump accused television networks of ignoring his calls for unity in the aftermath.
"I didn't say I love you because you're black, or I love you because you're white", Trump said. "I love all the people of our country."
Police used pepper spray to disperse crowds after protesters threw rocks and bottles outside the convention center where Trump spoke, police said.
Adopting a glib tone, Trump said many reporters ignored his condemnation of white supremacists, including the Ku Klux Klan.
"I hit 'em with neo-Nazi, I hit 'em with everything KKK? We have KKK. I got 'em all," he said.
Government Shutdown
Funding for the border wall has flagged in the US Congress as many lawmakers question whether Trump's main promise during the 2016 presidential election campaign is really necessary.
But with a budget battle looming, Trump said he would be willing to risk a politically damaging government shutdown in order to secure funding for the wall.
He visited the border region in Yuma, Arizona, earlier on Tuesday.
"If we have to close down our government, we're building that wall", Trump said. "We're going to have our wall. The American people voted for immigration control. We're going to get that wall."
With thousands of supporters cheering him on, Trump also weighed in on another racially charged issue, hinting he would pardon former Maricopa County Sheriff Joe Arpaio.
World
Posted by South Carolina State Parks on Facebook, the intriguing image has gone viral. As per the park, it might be the result of a genetic mutation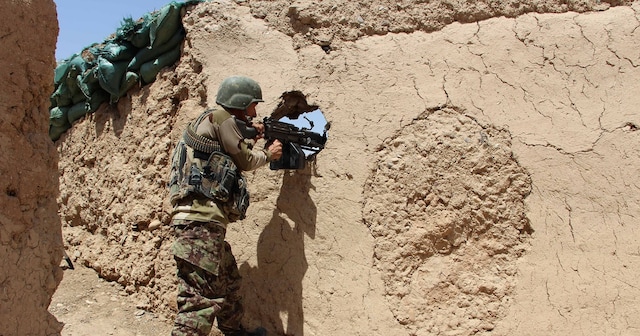 World
The situation in the city is a more acute version of what is happening in cities across the country after the Taliban seized around half of Afghanistan's 400-odd districts
Sports
Giannis Antetokounmpo was an easy choice for the MVP honour after collecting 50 points, 14 rebounds and five blocks in a 105-98 Game 6 victory over Phoenix. He had at least 40 points and 10 rebounds in three of the six games in this series.