Donald Trump temper tantrums intensify as White House is gripped by Robert Mueller anxiety
Trump's foul mood intensified after three back to back meetings between his lawyers as they scramble to come up with written answers for Robert Mueller about alleged collusion between the Trump campaign and Russia in 2016.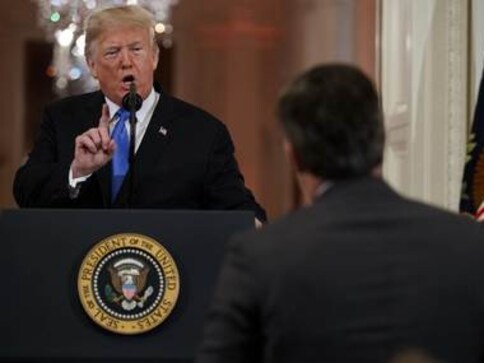 New York: Why is Donald Trump raving and ranting the way he is this week? To those who claim this is par for the course, Trump obsessives are saying no, it's become much worse after Democrats flipped the House in the midterms and news swirls that Trump's son Donald Trump Jr. may be on indictment watch as early as next week. Trump Jr. has reportedly told friends in recent weeks that he believes he could be indicted. Is this the tension that's getting to Trump? Most likely yes. First, he snapped at a CNN reporter, next day he cut off the reporter's access into the White House, then he claimed people are disguising themselves and voting twice over and now he's getting after Robert Mueller in a weird Twitter rant before another weekend comes along.
Trump's foul mood intensified after three back to back meetings between his lawyers as they scramble to come up with written answers for Robert Mueller about alleged collusion between the Trump campaign and Russia in 2016. Meanwhile, Trump's opponents in the House and Senate are going to attempt to tie must-pass legislation to assurances that would prevent the new acting attorney general Matthew Whitaker from interfering with the Mueller investigation.
As the season's first snow blanketed the East Coast and temperatures went below freezing, Donald Trump is on the boil. Political junkies are watching the meltdown closely for signs of Mueller anxiety. It's no big secret anyway - Trump has been snapping at reporters with "stupid question, very stupid question" when asked any question remotely linked to the new acting attorney general, hastily appointed last week.
Is it possible that Robert Mueller has notified the White House of some next steps? "Folks are preparing for the worst." say insiders in Trump's incredibly leaky White House, on background.
Mueller's silence is adding to the sense of anticipation, so too is the timing. Almost every Friday, especially around any holiday season is prime time for Mueller suspense. By now the White House knows that the only thing worse than a talking Mueller is a silent Mueller. A growing body of media reports are suggesting that Mueller's quiet period that began several weeks before the 2018 midterm elections is going to become a full blown knockout punch.
Earlier this week, Mueller sparked a red alert via a new court filing saying prosecutors are not ready for former Trump campaign aide Rick Gates to be sentenced because he is continuing to cooperate with "several ongoing investigations." Mueller's team has asked for time until mid-January for the next update.
Too many signs point to Trump running scared from the full force of Mueller gunpowder. Never before has Trump had someone as stoic and lethal as Mueller tailing him, the lame duck version of Trump's presidency has come too soon for his liking and the racist rant that he uncorked before the elections and the migrant caravan scare he whipped up did not deliver. What's worse, even right wing news networks have begun complaining about troops at the border being separated from their families during holiday season - all for an "election stunt".
Nothing's going right for Trump right now although he claims it's a "very hot White House".
A person's who's mostly divided the world into winners and losers is being haunted by the prospect of being relegated to "lame duck" category with two years to go before another election.
Trump's level of specificity in his latest attacks are unusual. See the Twitter explosion below:
The inner workings of the Mueller investigation are a total mess. They have found no collusion and have gone absolutely nuts. They are screaming and shouting at people, horribly threatening them to come up with the answers they want. They are a disgrace to our Nation and don't...

— Donald J. Trump (@realDonaldTrump) November 15, 2018
....care how many lives the ruin. These are Angry People, including the highly conflicted Bob Mueller, who worked for Obama for 8 years. They won't even look at all of the bad acts and crimes on the other side. A TOTAL WITCH HUNT LIKE NO OTHER IN AMERICAN HISTORY! — Donald J. Trump (@realDonaldTrump) November 15, 2018
What does he know that the rest of America does not? A more potent question: How bad is it that Trump has largely abandoned his pet dog whistle: immigration.
Here's a chilling way to frame Trump's current state, heard on prime time telly: "Anxiety is something all humans feel when pushed against the wall. The difference for Trump is not just the anxiety that we know he may be feeling but what he knows he has done which he knows Mueller knows about and we don't…"
World
Once confirmed, 50-year-old Eric Garcetti will succeed Kenneth Juster, who was the US envoy in New Delhi till January 2021
World
The planned celebration will be the largest event of Biden's presidency and is designed to demonstrate the nation's victory over the virus as COVID-19 cases and deaths drop to levels not seen since the first days of the outbreak.
World
Kushner, the son-in-law of former President Donald Trump and one of his top advisers during his administration, has also been the subject of numerous controversies, whether for his financial dealings and potential conflicts of interest or for the administration's widely criticised handling of COVID-19.