Donald Trump targets India for 'taking away jobs from Americans' ahead of 'Super Tuesday'
Trump vowed to bring the jobs back if elected as he tried to consolidate his position ahead of 'Super Tuesday' showdown.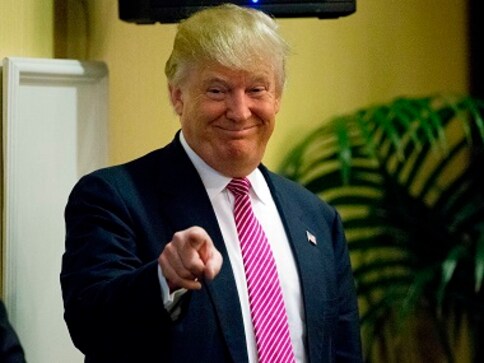 Columbia: Donald Trump, the controversial Republican presidential frontrunner, today again blamed India and China among other countries for taking away jobs from Americans and vowed to bring them back if elected as he tried to consolidate his position ahead of "Super Tuesday" showdown.
The 69-year-old real estate tycoon, who became a politician only last summer, has been drawing crowds numbering in thousands across the country. He hopes to "seal the deal", in Super Tuesday by winning Republican primary in all the 11 states.
Super Tuesday refers to one or more Tuesdays early in a presidential primary season when the highest number of states hold primary elections.
Addressing a crowd of roughly 5,000 people, a big by US primary election standard — inside the hanger of a local airport here, Trump sold the dream of "making America great again" by promising to bring back jobs from countries like India, China, Japan and Mexico, building the wall on US-Mexico border, "knocking the hell out ISIS", and repealing and replacing Obama care.
Every promise of his drew a thunderous applause with people cheering "USA, USA" and "Trump, Trump". People lapped on to every word he said from the makeshift stage with his Trump plane in the background.
Trump had earlier added India to the list of countries that he believes is taking away jobs from the locals in the US. Trump has been regularly singling out China, Japan and Mexico and occasionally Vietnam for taking away American jobs.
"They are taking our jobs. China is taking our jobs. Japan is taking our jobs. India is taking our jobs. It is not going to happen anymore, folks!" Trump told to thunderous applause from the audience.
Rishu Patel, a Grade 7 student said in Millington,"(Trump) will make us safe". Rishu and his father Jitu Patel were probably only Indian-Americans at the rally.
Tennessee has around 25,000 Indian-Americans, majority of them living around Nashville and Memphis, which has one of the
oldest Hindu temples built some 20 years ago.
One of his die-hard supporters, Mark, who works in the IT sector was of the view that Indian-Americans are not taking away the jobs in his sector.
"They bring in quality and diversity," he said, displaying a banner which read Trump supporters are silent majority.
In his 40-minutes speech, Trump reiterated his promise of building a wall along the US-Mexico border. New Jersey governor Chris Christie who endorsed Trump yesterday also spoke at the rally. Trump is a strong leader and is the best among others in the fray, Christie said.
Hundreds of people came to the Trump rally hours in advance. The venue was full hours before he arrived. Latest polls indicate that Trump is leading in 10 of the 11 states, except for Texas where he is giving a tough fight to his main rival and Texas Senator Ted Cruz.
"We might even win Texas," Trump said, as he continued to lash out on Cruz and described him as a liar. "We can be better than ever before," Trump said.
PTI
World
Witnesses who haven't testified yet aren't taken off the table, says Rep. Adam Schiff
World
The House select committee investigating the 6 January attack on the US Capitol continues to reveal its findings of a year-long investigation
World
John Eastman said the agents took his phone as he left a restaurant last Wednesday evening, the same day law enforcement officials conducted similar activity around the country as part of broadening probes into efforts by Trump allies to overturn the election