Donald Trump says Mexico border wall plan has never changed or evolved, contradicts John Kelly's 'not fully informed' remark
Donald Trump on Thursday insisted that his view on building a wall along US-Mexico border has not changed and Mexico would pay for it 'directly or indirectly'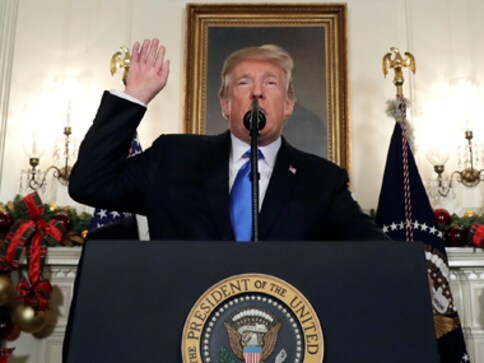 Washington: Donald Trump on Thursday insisted that his view on building a wall along US-Mexico border has not changed and Mexico would pay for it "directly or indirectly", contradicting remarks by his chief of staff that the president's opinion on the barrier had "evolved".
Trump's comments came after Retired General John Kelly told members of the Congressional Hispanic Caucus on Wednesday that parts of the border do not need a wall — and that Trump did not know that when making campaign promises.
He said that the president has evolved in his thinking on the wall.
However, Trump hit back on Twitter, saying, "The Wall is the Wall, it has never changed or evolved from the first day I conceived of it. Parts will be, of necessity, see through and it was never intended to be built in areas where there is natural protection such as mountains, wastelands or tough rivers or water."
President Trump bashed the North American Free Trade Agreement and promised that Mexico would pay for his proposed border wall.
"The Wall will be paid for, directly or indirectly, or through longer term reimbursement, by Mexico, which has a ridiculous $71 billion-dollar trade surplus with the US. The $20 billion-dollar Wall is 'peanuts' compared to what Mexico makes from the US. NAFTA is a bad joke!" Trump said in another tweet.
Kelly had earlier said the president's views on a number of issues including wall and his South Asia policy has evolved.
"There's been an evolutionary process that this president has gone through...And I pointed out to all the members that were in the room that they all say things during the course of campaigns that may or may not be fully informed," Kelly told Fox News about his meetings with lawmakers earlier in the day.
"He has evolved in the way he's looked at things. Campaign to governing to different things and this president has been very very flexible in terms of what is within the realm of the possible," Kelly said.
When asked if Mexico will pay for this wall, Kelly said, "We have some ideas on how things like visa fees, renegotiation on NAFTA and what that would mean to our economy. So it one way or another it's possible that we could get the revenue from Mexico but not directly from their government."
Kelly said Trump has changed the way he looks at various things.
"He has changed the way he's looked at a number of things. He has adjusted the way he's looked at the South Asia strategy, Afghanistan. He is very definitely changed his attitude towards the darker issue than even the wall," he said.
Kelly said he told the lawmakers that "there has been an evolutionary process that this president has gone through" as a campaign.
During his election campaign, Trump said his administration will build a massive border wall with Mexico to keep out illegal migrants and claimed that the cost of constructing the controversial structure would be reimbursed by Mexico.
Trump said his wall would cover 1609 km with natural obstacles taking care of the rest.
India
If Indian-Americans wish to stop being the punching bags for the political divide in America, they need to stand up for their community, have pride in their heritage, their culture, and for themselves
World
The case before the International Court of Justice comes as hopes fade of reviving a landmark deal, which former US president Donald Trump withdrew from in 2018, that sought to tame Iran's nuclear ambitions
World
US District Judge Aileen Cannon empowered the newly named special master, Raymond Dearie, to review the entire tranche of records taken in the 8 August, 2022, search of Mar-a-Lago and set a November deadline for his work