Donald Trump says Iran not 'living up to spirit' of nuclear deal; calls it a 'terrible agreement'
Iran is 'not living up to the spirit' of the nuclear deal struck with world powers, US President Donald Trump said on Thursday.
Iran is "not living up to the spirit" of the nuclear deal struck with world powers, US President Donald Trump said on Thursday, warning America would set out its position on that soon.
Trump's administration has been publicly tightening the noose on Iran over the deal, which was negotiated by the five permanent UN Security Council members plus Germany to roll back Tehran's nuclear program in return for the easing of sanctions.
"It was a terrible agreement," said Trump, who has regularly blamed his predecessor Barack Obama for securing it. "That was a bad one, as bad as I've ever seen negotiated."
"Iran has not lived up to the spirit of the agreement, and they have to do that," Trump said in a joint news conference in the White House with Italy's visiting Prime Minister Paolo Gentiloni.
"We're analysing it very, very carefully and will have something to say about it in the not-too-distant future."
Iran under US pressure
Trump on Tuesday ordered a review of the deal led by his National Security Council. It will decide whether suspending sanctions "is vital to the national security interests of the United States."
Although the State Department admits Iran has so far stuck to its side of the bargain, Secretary of State Rex Tillerson on Wednesday called the pact a failure and warned Iran risked becoming another North Korea: a hostile, nuclear-armed state.
He said Iran is "the world's leading state sponsor of terrorism" and highlighted its military support of Syrian President Bashar al-Assad, Houthi rebels in Yemen and militias in Iraq and in Lebanon.
"Iran's provocative actions threaten the United States, the region, and the world," Tillerson said.
Pentagon chief Jim Mattis reinforced that tone during a visit to Saudi Arabia, when he said Iran was the source of many problems in the Middle East.
On Thursday, the US ambassador to the UN, Nikki Haley, followed up by calling Iran the "chief culprit" in conflicts in the Middle East and urged the UN Security Council to make handling the country a "priority."
Iran's ambassador to the UN, Gholamali Khoshroo, hit back by accusing the United States of waging a "misleading propaganda campaign" against his country.
Foreign Minister Mohammad Javad Zarif wrote on Twitter that "worn-out US accusations can't mask its admission of Iran's compliance" with the nuclear deal.
Deal still intact
Iran has long insisted its nuclear program has no military purpose. But world powers were not convinced and the accord provided for regular inspections of facilities.
Thus far, Trump has made no steps to tear up the deal, as he had threatened to do when campaigning to become president.
And Tehran has given no indication of wanting to ditch the deal, properly known as the JCPOA, or Joint Comprehensive Plan of Action.
But Iranians in their day-to-day lives have not seen as much advantage from the eased sanctions as they had hoped.
Disappointment over their continued economic stagnation has created an opening for conservative candidates in May 19 elections who are opposed to Iranian President Hassan Rouhani, a relative moderate who helped oversee the nuclear deal's conclusion.
US military might
In the US, Trump has backed down from a number of policy positions he took on the campaign trail, as the political novice embarked on a steep learning curve since taking office in January.
After calling NATO "obsolete," he now endorses it as a "bulwark" of international security.
And he has softened an aggressive trade stance vis-a-vis China as he realised how key Beijing was to reining in nuclear-armed North Korea.
At the same time, Trump, who has appointed several generals to his administration, has not shied away from exercising American military might.
Trump ordered a multiple missile strikes on a Syrian air base suspected of being the launch point for an April 4 chemical attack on civilians that killed at least 87 people.
And last week his generals dropped, for the first time in combat, the biggest non-nuclear bomb in the US arsenal on a complex in Afghanistan used by the Islamic State group.
Both those showy displays of force could be seen to be sending ominous messages to Iran – or at least a warning that there's a new sheriff in town.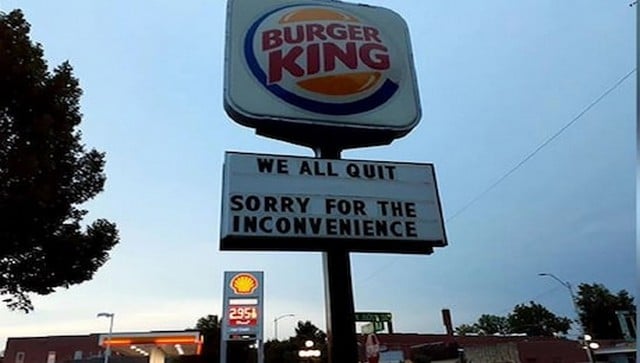 World
Put up by disappointed workers trying to send a message to the management, the sign reads "we all quit" and "sorry for the inconvenience"
World
The toll in western Germany's Rhineland-Palatinate state, home to the badly hit Ahrweiler county, rose to 98. Belgium confirmed 27 deaths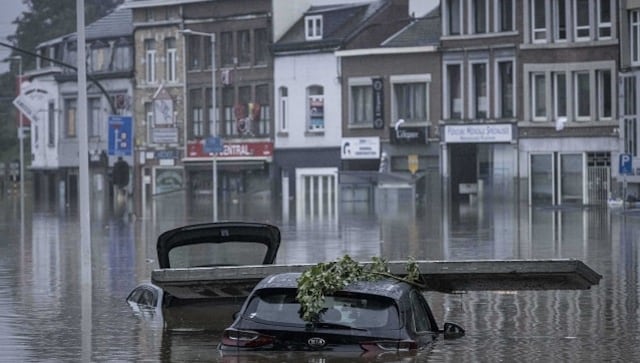 World
Angela Merkel says her 'heart goes out' to flood victims as search continues for dozens missing in disaster