Donald Trump on verge of winning US Presidential Elections
The results came as a shock for the Clinton Campaign which not only spent more money than that of Trump, but also had a much better ground game in the key battleground States
Washington: Donald Trump appeared to be on the verge of wresting back White House for the Republican Party from the Democrats after a gap of eight years, which could be turning point in American history.
At around 12:00 pm (IST), Trump, 70, was just 6 votes short of reaching the magical figure of 270 electoral college votes.
As per BBC projections, Trump had 264 electoral college votes as against 215 for Hillary Clinton. In the process, Trump bulldozed Clinton in a number of key battle ground States including Florida, Ohio, Michigan, Iowa and Wisconsin.
The results came as a shock for the Clinton Campaign which not only spent more money than that of Trump, but also had a much better ground game in the key battleground States. "It's people's revolt against Democratic and Republican establishments," said former New York Mayor Rudy Giuliani, a close aide of Trump told reporters around midnight.
The Wall Street Journal said the path to the White House for Clinton has become much narrower. "Trump has won Iowa, Ohio and Florida, backing Mrs. Clinton into a corner in Wisconsin, Michigan and Pennsylvania — and she currently trails in all three. Even if she wins them, and New Hampshire, we still look headed for a tight race somewhere around 269-269," The daily reported.
The Washington Post said the race to White House depends on three states of Michigan, Minnesota, Pennsylvania and Wisconsin.
As per Post's calculations Trump had 244 electoral college votes and Clinton had 215. Trump, according to most survey polls is already in the lead in Pennsylvania, generally considered a Democratic stronghold.
With inputs from PTI
World
In an apparent continued effort to drive a wedge between Washington and Seoul, Kim also used his speech at a rare exhibition of weapons systems on Monday to stress that his military might isn't targeted at South Korea
World
It is unclear if the Saudi royal family was aware of the fake furs or was deceived by a supplier. The Saudi Embassy in Washington declined to respond to the matter, as did a spokesperson for Trump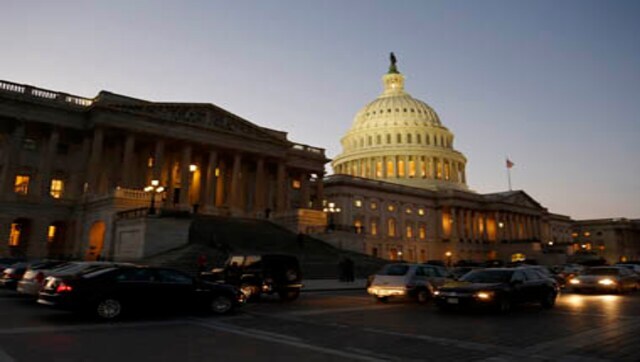 World
The breakthrough — which temporarily defers the crisis by adding another $480 billion to the allowable debt total — came with an estimated 11 days to go until the country would no longer have been able to borrow money or pay off loans for the first time in its history