Donald Trump meets Kim Jong-un: China crosses fingers as rising bonhomie may draw North Korea closer to US
In case, if there is no agreement between the US and North Korea, China would prefer the status quo to remain in the region as it can neither afford a unified and nuclear Korea nor it can adjust to a unified, denuclearised but developed Korea that would invariably be closer to the western alliance.
Every state appreciates docile neighbours and it is especially true for major powers. China is no exception. It has enjoyed North Korean docility in the last seven decades and maintained its only formal military alliance with it. Therefore, it's strikingly difficult for China to watch, with bated breath, Donald Trump and Kim Jong-Un's upcoming meeting in Singapore to unravel their mutual hostility.
North Korea has remained a captive market for China's civil and military goods and a major source of its seafood imports. China has also used North Korea as an alarm button, pressing once in a while, to shape the regional security narrative in East Asia. Every time the US forces conducted a military exercise near China's assumed red lines, both China and North Korea have protested and threatened with retaliatory measures.
Therefore, China feels left out of this regional-security shaping event, even though Kim visited China twice in the run-up to the summit and used a Chinese aircraft to arrive in Singapore. Chinese fears have a firm foundation. China and North Korea are uncomfortable allies since 1950. Historically, both states have remained adversarial and even during Kim's first presidential term, their bilateral relations soured when Kim killed his uncle, Jang Song-thaek and other officials, deemed to be pro-China in their approach.
China would prefer North Korea to agree to a conditional denuclearisation, different from what Americans are seeking. Mike Pompeo, the US national security adviser, has sought for a complete, verifiable and irreversible denuclearisation (CVID) of North Korea, while Kim seeks denuclearisation of the entire Korean Peninsula. If Kim insists on the US stoppage of its nuclear submarine patrols in the region and removal of nuclear bombers from Guam and 28,500 American troops from South Korea, then that would be the optimum option for China.
In case, if there is no agreement as mentioned above, China would prefer the status quo to remain in the region as it can neither afford a unified and nuclear Korea nor it can adjust to a unified, denuclearised but developed Korea that would invariably be closer to the western alliance. In addition, if the US and both Koreas sign a trilateral declaration to supersede the 1953 armistice agreement and end the state of war in the peninsula without China's involvement, China would consider it to be a grave insult.
Nevertheless, the complete denuclearisation doesn't seem to be happening because Kim would require an iron-clad guarantee from Trump to not end up later as the Libyan dictator. Rather, he may prefer a stepwise process in which gradual denuclearisation is done while sanctions on his country begin to unravel.
This would include extending the duration of the suspension of missiles and nuclear tests, limiting and eventually eliminating fissile material inventory, shutting down the main nuclear facility at Yongbyon and limiting or ending the missile production. Kim may also agree to allow independent IAEA inspectors to enter the country and verify whether North Korea has implemented all its commitments.
Despite that, a successful meeting between Trump and Kim, without China's direct involvement creates problems for China's East Asian policy. The success in the meeting and implementation of agreements may take a longer duration and the US can use this period to pry Kim away from China towards the western coalition. This would become a reverse-Nixon moment for China and array a number of American allies on its southern periphery.
Another Chinese concern is its relative isolation in the region which Trump seems to be aiming for. There are only three nuclear powers who overtly consider America to be their adversary, namely, China, Russia and North Korea. Trump has already advocated bringing Russia back into G-7's fold in the Quebec Summit last week. If he is able to dial down the hostility between the US and Russia and conclude a denuclearisation agreement with Kim, Trump would moderately defang China's foreign policy in the Indo-Pacific.
Russia has always looked towards Europe and America for investments and development partnership. Therefore, if it is able to reduce its hostility with the American alliance, Putin would happily veer Russia towards reduced reliance on China.
Similarly, North Korea has already achieved successful development of missiles and nuclear weapons. Therefore, Kim understands that mortal threats to his regime have reduced considerably, even though his conventional military capabilities and military materiel inventory reflect much to be desired. His enhanced sense of security has led him to focus upon other crucial things, economic development being the foremost among them.
North Korea needs an enormous amount of financial investment in its infrastructure and industries. It also needs to negotiate trade facilitation agreements with developed countries, especially South Korea, to enhance its economic situation in the region. Moreover, there are even smaller countries in ASEAN that have achieved phenomenal economic growth without undergoing substantial political reforms. Kim has realised that this model may work and it's his rare chance to fix the economy.
Therefore, despite initial hiccups, Chinese suspicion and near-unanimous distrust in the democratic Indo-Pacific, Kim has finally arrived in Singapore to meet the American president. It is also Kim's first trip this far from North Korea and therefore, his paranoia of personal security is understandable.
For Kim, even the idea of a meeting with Trump has opened up a stream of potential meetings with his neighbours, Japan being one of them. The Japanese Prime Minister, Shinzo Abe, has sought to meet Kim and discuss the kidnapping of Japanese personnel and security-related issues. In turn, Abe has promised to provide financial assistance to North Korea as per the Pyongyang declaration.
In conclusion, the upcoming Trump-Kim meeting in Singapore on Tuesday is a China's nightmare that has come true. The Chinese government has not been involved in shaping the agenda of the meeting. It is also not assured that Kim will not harm China's interests during his negotiations with Trump. Furthermore, the possibility of losing China's only formal military ally to its major adversary is rather possible.
It would be tough in Beijing to sleep tonight.
The author is an Adjunct Research Fellow at the Griffith Asia Institute, Griffith University.
Find latest and upcoming tech gadgets online on Tech2 Gadgets. Get technology news, gadgets reviews & ratings. Popular gadgets including laptop, tablet and mobile specifications, features, prices, comparison.
World
Islamist militants, or armed criminal elements closely associated with them, are believed to have collected some bounty money, the officials said. Twenty Americans were killed in combat in Afghanistan in 2019, but it was not clear which killings were under suspicion.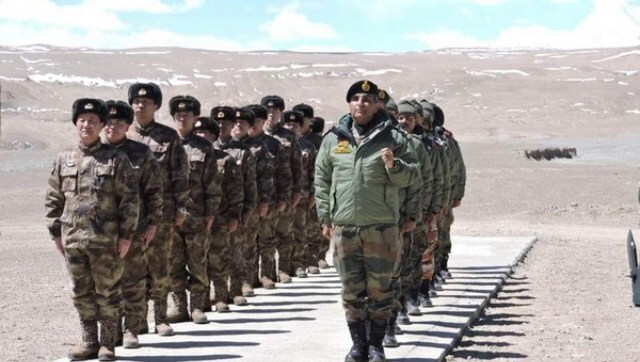 World
Beyond the short-term objectives, as Sino-Indian relationship turns unambiguously adversarial and hostile, India must appropriately reset its national security and foreign policy strategies.
World
Analysts and sector specialists said that the latest move by the Trump government is not expected to have much impact on the Indian tech sector which has a significant presence in the US.