Donald Trump is next US President: Shocked Clinton shies away, markets fall, Russia rejoices
Donald Trump stunned America and the world by defeating Hillary Clinton in a close race to become the 45th president of the United States on Wednesday. This evoked varied emotions from around the world with Mexicans grieving after the announcement and Russians rejoicing the result.
Right up to the moment results started trickling out revealing the trends of the US presidential election 2016, Republican candidate Donald Trump was only treated as an underdog, uncouth and unfit candidate before the flamboyance of former US secretary of state and Democrat nominee Hillary Clinton.
True to his name and perhaps now befitting his outlandish sense of arrogance or may we call it confidence, Trump on Wednesday stunned America and the world by defeating Clinton in a close race to become the 45th President of the United States. The incredible piece of history evoked mixed emotions from around the world with Mexicans grieving after the announcement and Russians rejoicing the result.
The Republican mogul defeated his Democratic rival, plunging global markets into turmoil and casting the long-standing global political order, which hinges on Washington's leadership, into doubt.
"Now it is time for America to bind the wounds of division," Trump told a crowd of jubilant supporters in the early hours of Wednesday in New York.
"I pledge to every citizen of our land that I will be president for all Americans."
During a bitter two-year campaign that tugged at America's democratic fabric, the tycoon resorted to scorched earth campaign tactics hitting Clinton inside out and often leaning on extremes when he aired his views on contentious issues. He pledged to deport illegal immigrants, ban Muslims from the country and tear up free trade deals.
His message appears to have been embraced by much of America's white majority, disgruntled by the breath and scope of social change and economic change in the last eight years under their first black president, Barack Obama.
Trump openly courted Russian President Vladimir Putin, called US support for Nato allies in Europe into question and suggested that South Korea and Japan should develop their own nuclear weapons.
The businessman turned TV star turned-politico — who has never before held an elected office — will become commander-in-chief of the world's sole true superpower on 20 January.
The results prompted a global market sell-off, with stocks plunging across Asia and Europe and billions being wiped off the value of investments.
Although he has no government experience and in recent years has spent as much time running beauty pageants and starring in reality television as he had been building his property empire, Trump at 70 will be the oldest man to ever become president.
Minutes before the election result was declared, Hillary Clinton refused to concede defeat. However, Clinton called Trump soon after it became clear that the celebrity businessman had won enough states to capture the White House. But she made no public appearance before supporters who had gathered under the glass ceiling of New York's Jacob K Javits Convention Center planning to celebrate what was expected to be her historic victory.
Legacy of ashes
Clinton had been widely assumed to be on course to enter the history books as the first woman to become president in America's 240-year existence.
Americans have repudiated her call for unity amid the United States' wide cultural and racial diversity, opting instead for a leader who insisted the country is broken and that "I alone can fix it."
If early results hold out, Trump's party will have full control of Congress and he will be able to appoint a ninth Supreme Court justice to a vacant seat on the bench, deciding the balance of the body.
So great was the shock that Clinton did not come out to her supporters' poll-watching party to concede defeat, but instead called Trump and sent her campaign chairman to insist in vain the result was too close to call.
"I want every person in this hall to know, and I want every person across the country who supported Hillary to know that your voices and your enthusiasm mean so much to her and to him and to all of us. We are so proud of you. And we are so proud of her," chairman John Podesta told shell-shocked supporters.
"She's done an amazing job, and she is not done yet," he insisted.
The election result was also a brutal humiliation for the White House incumbent, Obama, who for eight years has repeated the credo that there is no black or white America, only the United States of America.
On the eve of the election, he told tens of thousands of people in Philadelphia that he was betting on the decency of the American people.
"I'm betting that tomorrow, most moms and dads across America won't cast their vote for someone who denigrates their daughters," Obama said.
"I'm betting that tomorrow, true conservatives won't cast their vote for somebody with no regard for the Constitution," he said.
His bet appears to have been flat out wrong, and America's first black president will be succeeded by a candidate who received the endorsement – albeit unsought and unacknowledged – of the white supremacist Ku Klux Klan.
Trump's shock victory is just the latest evidence that globalization has eroded faith in liberal political leadership.
From Britain's vote to leave the European Union to the rise of far-right populists and nationalists in continental Europe, opposition to open trade and social and racial tensions are on the rise.
Market turmoil
Share markets collapsed on Wednesday and the dollar tumbled against the yen immediately after Trump's win.
Share markets collapsed Wednesday and the dollar tumbled against the yen and the euro as Donald Trump won the US presidency #Elections2016 pic.twitter.com/YVnspO1BHd

— AFP news agency (@AFP) November 9, 2016
However, as expected, Moscow's stocks ticked up Wednesday on news of Donald Trump's victory. Russia's dollar-denominated RTS index gained 1.2 percent while the ruble-denominated Micex went up 1.0 percent.
US stocks are also expected to open lower too, though by far less than earlier predictions. European markets have also opened lower. Carsten Brzeski, chief economist at ING Germany, said markets faced "chaos and turmoil" in coming days because of uncertainty about what economic program Trump would follow.
"A win for Trump is riling financial markets that had not expected this outcome a mere 12 hours ago," said Kathleen Brooks, a research director at the foreign exchange trading firm City Index in London.
However, Lu Zhengwei, chief economist at the China Industrial Bank in Beijing said, "The policies Trump is going to introduce will be softer than what he claimed before. Investors may have already imagined the worst-case scenario."
South Korea's trade ministry held an emergency meeting to review prospects of U.S. trade policies after the presidential elections.
Top officials from Japan's central bank and finance ministry met Wednesday to discuss how to cope with the gyrations in financial markets.
World reacts
European Commission President Jean-Claude Juncker congratulated Donald Trump and said that only be cooperating closely can EU and US continue to make a difference.
Congratulations @realDonaldTrump. Only by cooperating closely can EU&US continue to make a difference in dealing w/ unprecedented challenges pic.twitter.com/6ic39caqiB

— Jean-Claude Juncker (@JunckerEU) November 9, 2016
Turkey's justice minister said a change of presidents in the United States won't make a big difference to the "deep-rooted" relations between the two countries, AP reported.
Bekiz Bozdag told the state-run Anadolu Agency on Wednesday: "In essence our relations are relations between two states and we hope that under the new presidential term the Turkish-U.S. relations will be much better. That is our expectation."
Bozdag noted that Republican presidential candidate Donald Trump's win came despite intense campaigning in favor of his rival Hillary Clinton.
Prime Minister Narendra Modi too tweeted his good wishes to Trump.
Congratulations @realDonaldTrump on being elected as the 45th US President.

— Narendra Modi (@narendramodi) November 9, 2016
We appreciate the friendship you have articulated towards India during your campaign, @realDonaldTrump.

— Narendra Modi (@narendramodi) November 9, 2016
We look forward to working with you closely to take India-US bilateral ties to a new height. @realDonaldTrump

— Narendra Modi (@narendramodi) November 9, 2016
On the other hand, Russia's lower house of parliament is applauding the election of Trump as the next US president. State news agency RIA-Novosti says Vyacheslav Novikov, a member of the foreign affairs committee from the governing United Russia party, addressed the State Duma on Wednesday morning.
Novikov said that "three minutes ago, Hillary Clinton acknowledged her defeat in the US presidential elections and just a second ago, Trump began his speech as president-elect. I congratulate all of you on this." The chamber, where the pro-Kremlin party holds an overwhelming majority, then broke into applause, the report said.
Hungarian Prime Minister Viktor Orban congratulated U.S. Republican presidential candidate Donald Trump on his election victory on Wednesday, with the words "What a great news. Democracy is still alive" posted on his Facebook page.
Japanese President Shinzo Abe too congratulated Trump on his election as US president and vowed that the countries will maintain their close relationship. "I express my heartfelt congratulations on your election as the next president of the United States," Abe said in a statement.
With inputs from agencies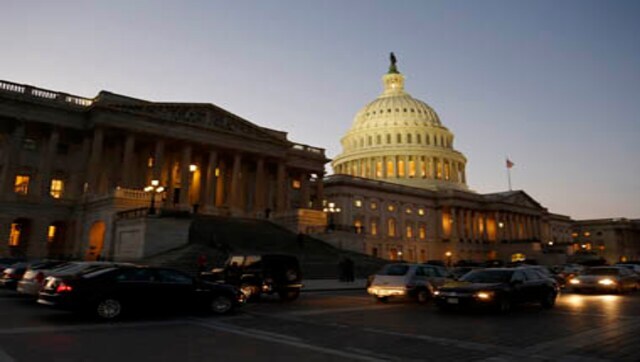 World
The breakthrough — which temporarily defers the crisis by adding another $480 billion to the allowable debt total — came with an estimated 11 days to go until the country would no longer have been able to borrow money or pay off loans for the first time in its history
World
US military said that the statement from the Russian Defense Ministry about "the interaction between our two Navy ships is false."
World
Russia is set to host the Taliban and other Afghan factions for talks Wednesday in a move that reflects Moscow's efforts to expand its clout