Donald Trump is Mr 38%: US president's popularity has been sliding ever since he got elected
Donald Trump is not a popular man.
Donald Trump is not a popular man.
According to a report in The New York Times, not only did Trump win as the least popular candidate in the polling era, but he entered office with the lowest approval rating of any incoming president.
Which is shocking.
Unless you know him, have heard about him, read about him, come across one of his tweets, or happen to be near him.
However, in the past, US presidents seemed to enjoy overwhelming approval in the early days of their administration: Barack Obama's ratings were in the high 60s immediately after he took office and his predecessors George W Bush and Bill Clinton also polled in the high 50s.
Trump seems to be the exception to the rule. His honeymoon period in office — although he's had plenty of those as a private citizen — seemed to last for only a few weeks.
The best Trump ever did polling wise is in first days after he took office, when his approval and disapproval rating were locked in an eye-to-eye battle: 45 percent.
Which means 10 percent of people polled seemingly had no feelings toward him either way or simply hadn't made up their minds.
Be it the resignation of Michael Flynn as the National Security Advisor, the repeated failures to repeal Obamacare, the political disaster of having fired James Comey as FBI director, having Attorney-General Jeff Sessions appear before the US Senate and engage in verbal jiu-jitsu to defend his boss, Nazis invading Charlottesville, the Las Vegas shooting and the indictment of former Trump campaign manager Paul Manafort by the FBI, every successive bump in the road has seemed to drain a little more support from Trump.
How low can he go?
Only time will tell.
Meanwhile, grab the popcorn and strap in.
There are only 1,167 days left in his term.
Data for chart: Gallup
Politics
The 57-year-old former Bengal BJP chief is the candidate from Habra which falls under the Barasat Lok Sabha constituency of North 24 Pargana district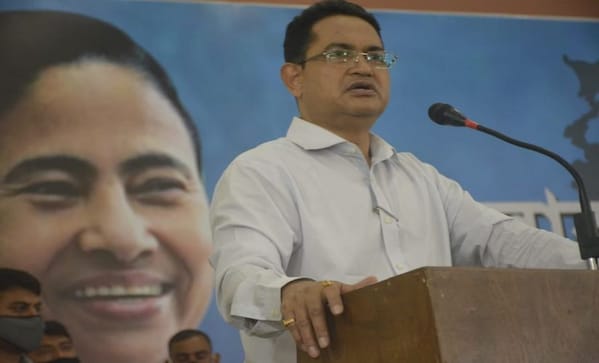 Politics
Humayun Kabir joined the TMC in February after quitting the police. A decorated officer, Kabir was the Police Commissioner of Chandannagar and has held many senior positions within the force
World
She was the founder of the Mama Sara Obama Foundation, which provided food and education for orphans in her rural Kogelo village