Donald Trump-Imran Khan's Twitter war exposes shaky foundation of bilateral ties, underlines challenges of Afghan crisis
That Imran would respond to Trump's tweet is not surprising. After all, he has been known for his not-so-charitable views on Pakistan's post-9/11 alliance with America.
The bitter Twitter spat between US president Donald Trump and Pakistani prime minister Imran Khan has not only exposed the extremely shaky foundations on which their bilateral relationship stands, but also underlined the challenge of stabilising Afghanistan amidst talks of negotiated political solution to the Afghan crisis. Imran must have realised that misplaced bravado comes with a cost.
Trump said in a Fox News interview that Pakistanis "don't do a damn thing for us," even though the US has given Pakistan billions of dollars in aid. Imran took to Twitter to "put the record straight," and asked the US to do soul-searching to get to the reasons for its failures in Afghanistan. Shireen Mazari, Pakistan's minister for human rights, also jumped in the fray and accused Trump of suffering "from perpetual historic amnesia." After an exchange of undiplomatic tweets between the two leaders, the US suspended $1.66 billion in security assistance to Pakistan, sending a strong signal of American frustration with Pakistani policies. It would be a miracle if the rocky relationship between US and Pakistan could be stabilised any time soon.
Trump chose to up the ante at a time when the US is engaged in direct talks with the Afghan Taliban. Washington acknowledges that the role of Pakistan's security establishment would be crucial in any Afghan peace process. There is near unanimity in all branches of the US government that Pakistan's security establishment is capable of bringing the Afghan Taliban to the table to talk to the Kabul government directly as well to squeeze them to agree to a compromise deal. Under concerted American pressure, Pakistan has been forced to cooperate in the US-led efforts, albeit unwillingly.
Only last month, Islamabad released a number of high-profile Taliban prisoners, including Mullah Abdul Ghani Baradar. This move is widely interpreted as a US-directed measure directed at encouraging the Afghan Taliban to show seriousness in the peace talks. US secretary of state Mike Pompeo  roped in Zalmay Khalilzad as special envoy for peace talks with the Afghan Taliban. The newly-appointed Khalilzad has already held two rounds of talks with the representatives of Afghan Taliban in Qatar.
Therefore, Trump's recent tweet was not a sudden move; it seems to be well-thought strategy to further pressurise Pakistan's security establishment to deliver on Afghan front. Trump taunted Pakistan for sheltering Osama bin Laden and suggested that the presence of world's most-wanted terrorist in a high-security zone was known to Pakistani establishment. One can only wonder the timing of revisiting the past by raking up this old issue other than to embarrass Pakistan's security establishment. And Pakistan fell into the trap. Pakistan's foreign office had to issue a public statement that it was Pakistan's intelligence cooperation that provided the 'initial evidence' to trace bin Laden.
It was not the first time that Trump accused Pakistan of playing a double game. Ties between the Cold War-era allies strained after Trump, while announcing his South Asia policy in August 2017, lambasted Pakistan for providing safe havens to "agents of chaos" that kill American soldiers in Afghanistan and warned Islamabad that it has "much to lose" by harbouring terrorists. Trump was equally stringent in his New Year tweet in which he accused Islamabad of being deceitful.
The tempering down of hostility these past months may have prompted Pakistani foreign minister to claim that Washington was keen to 'reset' ties with Islamabad. But Trump's latest outburst has shattered the myth that bilateral ties could get back on track without Pakistan changing its Afghan policies. Trump's message is clear. His administration would further toughen its stand towards Pakistan's security establishment.
That Imran would respond to Trump's tweet is not surprising. After all, he has been known for his not-so-charitable views on Pakistan's post-9/11 alliance with America. Before becoming prime minister, he frequently spoke in a harsh anti-American tone. In January, he wrote: "We became a US proxy for a war against the Soviet Union when it entered Afghanistan and we allowed the CIA to create, train, and arm jihadi groups on our soil and a decade later we tried to eliminate them as terrorists on US orders."
Thus, prime minister Imran responding to Trump's tweets is a continuation of candidate Imran's trademark anti-US rhetoric: "Instead of making Pakistan a scapegoat for their failures, the US should do a serious assessment of why, despite 140,000 Nato troops plus 250,000 Afghan troops and reportedly $1 trillion spent on war in Afghanistan, the Taliban today are stronger than before."
But Imran has got his facts wrong. The answer to his question is not difficult, if one is not in Islamabad or Rawalpindi. The reasons behind the prolongation of Afghan war can be traced as much to American ineptitude and ethnic disunity in Afghanistan as to Pakistan's not-so-secret support to the Afghan Taliban and the Haqqani Network. Imran replied, "No Pakistani was involved in 9/11 but Pakistan decided to participate in the US war on terror". He must be aware that Pakistan chose to be on America's side, because the US left General Pervez Musharraf very few options.
Pakistan continues to be obstinate when it comes to Afghan Taliban. Rawalpindi has taken no serious steps to address the core American concerns: that Pakistan tolerates extremist groups which use violence against Pakistan's neighbours. Pakistan's civilian and military leadership has made numerous promises of cooperation, but they have not resulted in ground action.
There is no doubt that Trump's South Asia policy has brought US-Pakistan relationship to a historical low. It is even worse than what it looked like in the 1990s when Pakistan was under stringent American sanctions. But Islamabad cannot blame anyone for recent American hostility. Trump's demand for compliance is not unusual. While Pakistan suffered a great deal from terrorism by Islamist and jihadist elements, Rawalpindi has also enabled terrorist groups that frequently target Pakistan's two neighbours: Afghanistan and Pakistan.
After years of dithering, Pakistan's security forces have taken tough action against those terrorists that threaten the Pakistani State. But what about the Afghan Taliban, Haqqani Network, Lashkar-e-Taiba and all other violent outfits whose main focus is not Pakistan, but its neighbours?
The accusations and counter-accusations have squeezed the space to find common ground. Pakistan's diplomatic and military officials have been consumed by issuing demarche after demarche to their American counterparts, to no avail. What they need is the opposite: address US concerns.
Just days before his Twitter war with Trump, Imran emphatically justified his innumerable U-turns on critical national and international issues. If he hopes to bring peace and tranquility to the volatile borders by engaging cooperatively with estranged neighbours—Afghanistan and India—then he must convince the generals in Rawalpindi to make a 'genuine' U-turn in Pakistan's Afghan policy. Because the U-turn taken by Musharraf immediately after 9/11 attacks was only a tactical move to prevent American fury from wiping out Pakistan's strategic investment: the Taliban.
World
Shehbaz Sharif accused Imran Khan of ruining the country's economy and called him the the biggest liar on the face of the earth who has injected poison into society to dangerously polarise the electorate after he was toppled from power in April.
World
In 2012, the US had designated Afghanistan as a Major Non-NATO Ally (MNNA). Through this, the defence and economic ties between the two countries were maintained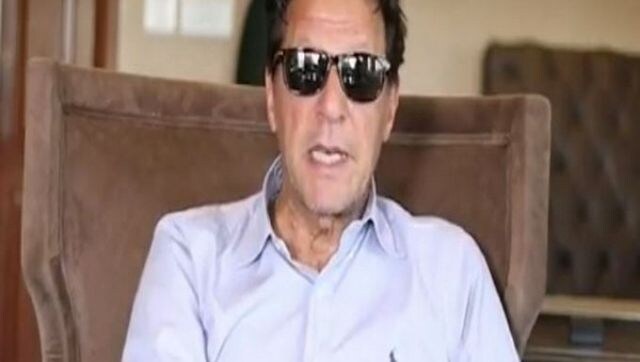 World
Imran Khan said that the only reason for PDM leaders to come to power is to "continue with their corrupt practices"