Donald Trump has warned Pakistan strongly, but his backing for India will hinge on US interests
US president Donald Trump has just issued an unambiguous public rebuke to Pakistan.
US president Donald Trump has just issued an unambiguous public rebuke to Pakistan. "We can no longer be silent about Pakistan's safe havens for terrorist organisations, the Taliban and other groups that pose a threat to the region and beyond," he said.
This will not make Pakistan swerve away from such groups. It might become more operationally circumspect, but it is adept at playing both sides. On the other hand, this clear US positioning may make Pakistan more defiant, even if not immediately.
Battle lines
The bottom line is that battle lines are being drawn. Trump spoke of engaging in "battle" but did not specify against whom. "I will not say when we are going to attack, but attack we will," he said.
This is an unsettling statement for two reasons. On one hand, Trump ignored the China-Russia-Iran-Pakistan axis that has become evident over the past few months. On the other, he highlighted the conflict between India and Pakistan, saying that "Pakistan and India are two nuclear-armed states whose tense relations threaten to spiral into conflict. And that could happen."
Trump committed the US "to further develop its strategic partnership with India." Many Indian strategists count on this partnership, but they must be cautious about the pronouncements of a president who is not known for consistency.
Afghan focus
The speech on Monday night (Tuesday morning in India) focused primarily on Afghanistan. Trump said India must spend more on development there. For its part, the US will commit more troops to fight the Taliban, Al Qaeda, and other groups based in the Af-Pak region.
The problem in all this is geography. Afghanistan is landlocked, and there is a limit to the volume of air transportation. So, to reach Afghanistan, either the US or India need to cross Pakistan.
The real battle lines are that other regional powers, namely China, Russia and Iran, are on Pakistan's side. In fact, the real reason for retaining US troops there is Afghanistan's location, not to speak of its mineral wealth.
Conditional support
Trump's commitment of support for India has also been made in the context of that geostrategic reality. In his 26-minute speech, he did not mention China, leave alone Doka La or Kashmir.
Even his invitation for India to play a role in Afghanistan as an ally of the US was more to do with telling India that it must spend more there than about participating in strategic planning for south Asia—leave alone what he called the "the broader Indo-Pacific region."
Trump said plainly that "India makes billions of dollars in trade with the United States, and we want them to help us more with Afghanistan, especially in the area of economic assistance and development."
Choke points
A retired US major general who has coordinated US supply lines through Pakistan in the past observed soon after Trump's combative speech that it might actually lead Pakistan to "shut the gates" for the supply lines from Karachi to the US troops in Afghanistan.
In fact, those supply lines do not just cross the length of Pakistan, they cut across the China-Pakistan Economic Corridor, in which China is investing tens of billions of dollars. China and Russia both intend to use that corridor to reach the Arabian Sea. The route for Russia would need to go through Afghanistan.
One can be sure that there will be a coordinated response to Trump's speech from China, Russia, Iran and Pakistan. The intent of all four will be to get the US to leave Afghanistan, or at least minimise its involvement in that country.
The US does not have a happy record of maintaining strategic advantage after a 'surge' in troops. Whether or not its current plans for Afghanistan succeed, India should build strategies to promote its own security and strategic interests.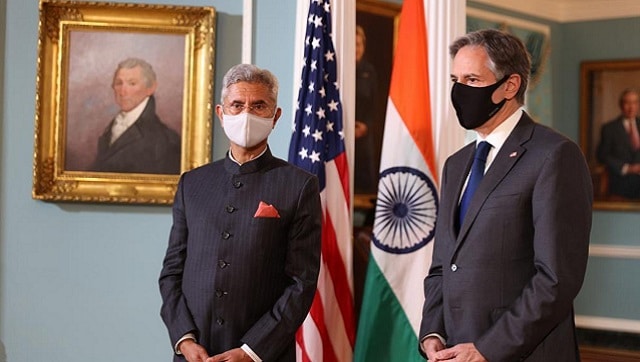 World
US Secretary of State Antony Blinken's two-day visit to India has garnered a lot of attention especially since it has come amid US withdrawal from Afghanistan, which has ramifications on India's own security
World
Since early May, violence has surged across several provinces including in Kandahar after the insurgents launched a sweeping offensive just days after the US-led foreign forces began their final withdrawal
World
The Taliban have for weeks launched withering assaults on the outskirts of Kandahar, stirring fears that the insurgents were on the verge of capturing the provincial capital