Donald Trump has helped China replace US in Islamabad, offered Beijing free control of Pakistan's 'terror infrastructure'
After committing $55 billion for CPEC, Chinese state-owned companies are now moving in to spend another $100 billion in the region, showing Donald Trump that the $2 billion US aid is peanuts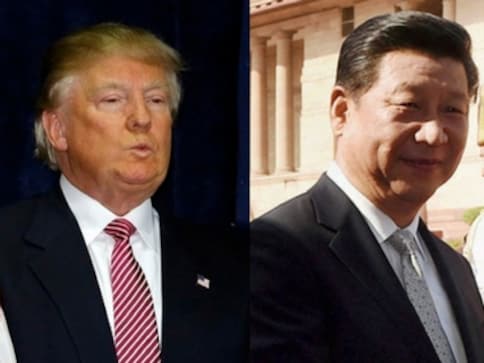 Donald Trump "the mentally stable genius" president of the United States of America has thrown Pakistan into the lap of Xi Jinping and given Beijing a golden opportunity to further increase its influence in Pakistan by "freezing" $2 Billion military aid to the Islamic republic.
In Pakistan, "Beijing is fast replacing Washington DC... they (China) will move quickly to fill in this vacant space... they have done this in past", said a high-level source in the diplomatic community in New Delhi, adding that Washington DC is rapidly losing space to Beijing at the military headquarters in Rawalpindi.
Currently, China supplies 63 percent of Pakistan's all military hardware while the US share has come down to 19 percent. Five years ago, both the countries were on equal footing, competing with each other.
According to the Stockholm International Peace Research Institute (SIPRI), military hardware purchases by Rawalpindi has turned China into the third largest exporter of arms worldwide. Pakistan tops the list accounting for 35 percent of China's military exports with Bangladesh coming a close second.
China quickly supplied the J-7, JF-17, and JF-31 multi-role fighter aircrafts and set up there manufacturing facilities in Pakistan after Washington DC stopped the supply of F-16 fighter aircrafts to Pakistan following intense lobbying by New Delhi in Capitol Hill.
Now there are reports that Pakistan Air Force is in talks with China to buy 30 to 40 of the new Shenyang FC-31 stealth fighter jets, which is likely to give it an edge over the Indian Air Force.
Pakistan Air Force also operates four Chinese-origin ZDK-03 (KJ-200) AWACS Airborne Warning And Control System. Wuhan-based China Shipbuilding Industry Corporation (CSIC) will provide the Pakistan Navy with eight modified diesel-electric advanced Yuan-class attack submarines, four of which will be built by the Karachi Shipyard and Engineering Works (KSEW) and will be fitted with air-independent propulsion (AIP) systems.
There are reports that Pakistan Navy personnel have made sojourns on board the advance Shang-class nuclear attack submarine, which docked in Karachi.
Some analysts say it's only a matter of time before Pakistan acquires a nuclear-powered attack submarine on lease from China.
Pakistan Navy has four Chinese frigates and has ordered four more improved F-22P Zulfiquar-class frigates from China Shipbuilding Trading Corporation.
The Chinese foreign ministry spokesman was very quick to defend Islamabad from the charges made in a tweet by US president Donald Trump. Spokesperson Lu Kang's comments that "China defends countries that make anti-terrorism efforts in a just and fair way" is contrary to its posture at United Nations where Beijing has blocked Massod Azhar being declared as a terrorist.
The fear of Islamic terrorism (in Pakistan) influencing the pro-freedom movement in Muslim majority Xinjiang province in China is forcing Beijing to have a cosy and cordial relationship with the likes of Masood Azhar and Hafiz Saeed, who have never looked at and spoken about the atrocities committed on Uygur Muslims in the Xinjiang province.
This clearly indicates that Beijing is slowly and steadily moving in to take "control and nurture" the "terror infrastructure" in the region.
Successfully bringing together the two acrimonious neighbours and a possible agreement to extend the CPEC from Pakistan into Afghanistan has raised the hackles of Pentagon which saw Kabul drifting into the arms of Beijing.
After committing $55 billion for CPEC, Chinese state-owned companies are now moving in to spend another $100 billion to set up mining and manufacturing industries in the region, showing Trump that $2 billion per year aid is peanuts.
China is turning Gwadar into a de-facto military base at a very fast pace by building infrastructure and housing facilities for its forces.
China's People's Liberation Army (PLA) does not want to dock submarines and ships at Karachi which it is too busy, unsafe and is turning into a hotbed for terrorists.
Two fast patrol boats have been supplied to Pakitan Navy by China and two more will join soon to protect Gwadar.
This strategically important base will increase close cooperation between the two militaries and further expand the Influence of PLA on Pakistan's armed forces personnel.
It's also important to note that soon after Trump announced the withdrawal of military aid to Pakistan, for the first time in Pakistan, the ruling and opposition politicians and the military spoke in one voice.
The response from Nawaz Sharif, Pakistan Foreign Minister Khwaja Asif, Imran Khan of Pakistan Tehreek-e-Insaf (PTI) and Pakistan Army chief General Qamar Bajwa was unanimous and clear that Pakistan does not want "aid" from Trump, and as an alternative, it will go to Jinping for "help".
The statement by Bajwa that "Pakistan will not seek resumption of aid but expect honorable recognition of our contributions, sacrifices and unwavering resolve in (the) fight against terrorism for peace and stability in the region" has now sealed the fate of Americans.
There are reports that General Joseph L Votel, Commander, US Central Command (CENTCOM), and an unnamed senator from the US failed to influence the Pakistan Army chief in a long telephonic conversation as Pakistan army remained on very high alert against any misadventure by the Americans.
The statement by Pakistan Defense Minister Khurram Dastgir saying intelligence and military cooperation with the United States has been suspended after it froze military assistance, means that now Pakistani air bases cannot be used by the CIA to launch drone strikes on militants.
The ISI has also reduced cooperation with CIA as Langley perceives it is a very unreliable partner.
Recently United States Principal Deputy Assistant Secretary, Alice Wells, and senior officials from the US National Security Council (USNSC) got a cold reception in Islamabad.
Wells' Pakistan visit, first from a senior US government official following the US president's Twitter outburst against Pakistan earlier this month, turned out to be a complete failure as the visitors were told that Islamabad and Rawalpindi do not need US dollars.
Besides, with the central bank of Pakistan allowing yuan to be used for bilateral trade and investment activities, the Chinese Yuan is likely to replace the US dollar for transactions in the strategic CPEC.
"Pakistan is standing up and saying no to Uncle Sam as there is full financial and military support from a new emerging superpower (China)," said a high-level military official summing up the whole scenario in the region.
Now Jinping is all set to replace Trump as the Big Daddy in both Islamabad, the political capital of Pakistan, as well as its military capital Rawalpindi.
World
The meeting between Rawat and Wang holds significance as it took place amid the chill in bilateral ties over the two-year military standoff in eastern Ladakh
World
Every Pentagon war game has shown the PLA beating America with its biggest arsenal of longest-range missiles
World
As former President Gen Pervez Musharraf fights for his life, a look at the history of Pakistan where democracy often worked under the guidance of the military