Donald Trump fires fresh salvo, calls Republican delegate system rigged
Donald Trump called the Republican party's delegate system as rigged, after his rival Ted Cruz swept all of Colorado's 34 delegates over the weekend.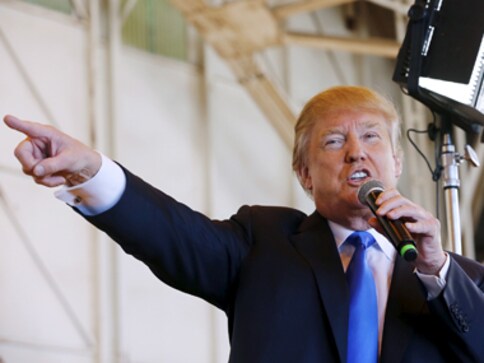 Washington: Republican presidential front-runner Donald Trump has described the party's delegate selection rules as "rigged and disgusting", after his rival Ted Cruz swept all of Colorado's 34 delegates over the weekend.
"Honestly, I do wonder. I'm millions of votes ahead, which they don't even mention, they don't even talk about. They talk about delegates. And I'm hundreds of delegates ahead but the system is rigged, folks. It's a rigged, disgusting dirty system," Trump, 69, told his supporters at a rally in Albany in New York.
"It's a dirty system and only a non-politician would say it," Trump said expressing his anger and deep frustration over the current system.
Colorado Republicans cancelled their presidential preference poll since it would not affect their unbound delegates. The 37 delegates were instead selected at the state convention. However, the party leadership rejected Trump's allegations.
"It's the same process they used four years ago. I mean, it's no different. Some states use a primary system to bind delegates. Some states use a caucus system to bind delegates. And some states use a convention system to bind delegates," Reince Priebus, chairman of the Republican National Committee,
told Fox News in an interview.
Priebus said the rules were developed well in advance and a transparent system has been followed for the primary system.
While Trump has 743 delegates to Cruz's 545, political pundits believe that if the real estate tycoons fails to reach the 1,237 pledged delegates, the Texas Senator has the organisational advantage to win the party's nomination at the Cleveland Convention in July.
World
Raisi's ascendancy comes at a sensitive time for the region, as Iran and world powers resumed indirect talks in Vienna to resurrect Tehran's tattered 2015 nuclear deal which granted Iran sanctions relief in exchange for curbs on its nuclear program
World
Joe Biden is pushing leaders of the G-7 nations to call out China over allegations of forced labour targeting Uyghur Muslims and other ethnic minorities
India
Monoclonal antibodies are targeted towards countering a specific antigen, which is nothing but a foreign element that the immune system recognises to be a threat