Donald Trump donates part of his salary to education dept, says will always put students' needs first
President Donald Trump has decided to donate his second quarter salary to the US education department to help American students get access to high quality education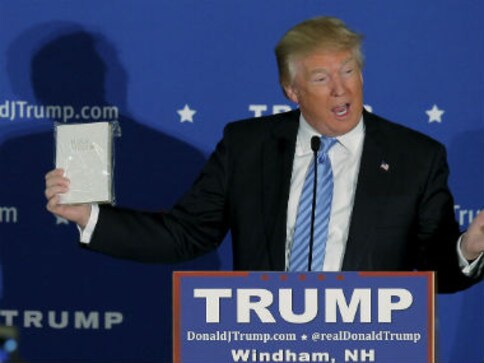 Washington: President Donald Trump has decided to donate his second quarter salary to the US education department to help American students get access to high quality education, the White House said on Wednesday.
"In this quarter, the president will be donating his salary to the Department of Education", White House Press Secretary Sarah Sanders told reporters at her daily news conference on Wednesday.
She presented a check of $100,000 to the Education Secretary Betsy Devos.
Trump's salary in first quarter was donated for restoration of two projects at a national battlefield.
Other donors donors quickly stepped up to bring the total donation over $ 260,000 to the education department.
Devos said Trump is committed to nation's students and to reforming education in America so that every child, no matter their zip code, has access to a high-quality education.
"He and I have had many conversations about how best to put students' needs first, and ensure we are setting them up for a lifetime of success. There's much work to be done, but we are certainly on the right track, thanks to the president's leadership", she said.
"Ivanka Trump and I hosted a Summer
reading event at the Smithsonian's National Museum of American History, where the focus was on getting young girls, age six to ten, excited about learning science, technology, engineering, and maths."
"It was fun to see their eyes light up as they got to explore, create, and experiment in a collaborative environment", Devos said.
She said the department has decided to use Trump's second-quarter salary to host a STEM-focused camp for students at the Department of Education.
"We want to encourage as many children as possible to explore STEM fields in the hope that many develop a passion for these fields", she said.
Trump, a real estate tycoon, had announced during his election campaign that he would not take salary if he wins the presidential elections. But under the US law, the president has to take their salary.
Hence, he decided to donate all his salary for charity purposes.
World
Few could have imagined that Oz, the celebrity doctor and star of numerous appearances on Oprah Winfrey's TV show, could potentially make history as being the first Muslim elected to the US Senate
World
US president Joe Biden laid the blame for the Buffalo incident and others not just on 'wackos' who commit hate crimes, but also those who 'fill their brains with false ideas'
World
Tesla CEO Elon Musk in a tweet today said that he voted for Democrats in the past 'because they were (mostly) the kindness party'