Donald Trump cancels 12 June summit with North Korea's Kim Jong-un; cites 'tremendous anger and open hostility'
US President Donald Trump is canceling the planned June 12 summit with North Korea's Kim Jong Un, citing the 'tremendous anger and open hostility' in a recent statement from North Korea.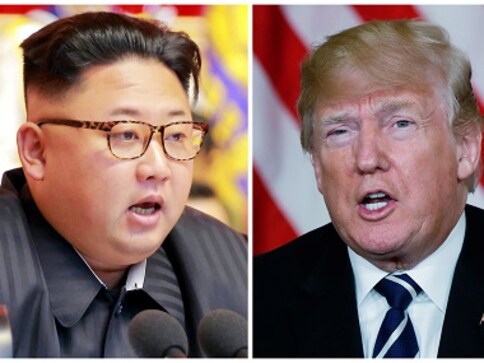 Washington: US president Donald Trump has cancelled the planned 12 June summit with North Korea's Kim Jong-un, and cited "tremendous anger and open hostility" in a recent statement from North Korea.
In that statement which Trump is referring to, the North Korean government referred to Vice President Mike Pence as a "political dummy" and said it is just as ready to meet in a nuclear confrontation as at the negotiating table.
In parallel, Trump is also telling Kim 'do not hesitate to call me or write' if the North Korean leader changes his mind regarding the summit.
Trump says in his reply: "This missed opportunity is a truly sad moment in history".
Trump says in a letter to Kim released Thursday by the White House that based on the statement, he felt it was "inappropriate, at this time, to have this long-planned meeting".
The US president says the North Koreans talk about their nuclear capabilities "but ours are so massive and powerful that I pray to God they will never have to be used."
On the other side, North Korean media too stepped up their rhetorical attacks on South Korea and joint military exercises with the United States, warning Tuesday that a budding detente could be in danger.
State media unleashed three strongly worded commentaries slamming Seoul and Washington for the maneuvers and demanding Seoul take action against defectors it claimed were sending anti-North Korea propaganda leaflets across the border.
The official media had until recently taken a relatively subdued tone amid the North's diplomatic overtures to its neighbors, including a summit with South Korea's president last month and plans for leader Kim Jong-un to meet Trump in Singapore on 12 June.
That first changed last week, when it lashed out against the maneuvers, cut high-level contacts with Seoul and threatened to "reconsider" the Trump summit.
World
The North Korean missile tests came as Chinese Foreign Minister Wang Yi was in Seoul
World
On Monday, the state-run Korean Central News Agency reported that the tests of the new missiles showed they can hit targets 1,500 kilometers (930 miles) away.
World
Japan's coast guard says they landed outside Japan's Exclusive Economic Zone in the waters between Japan and the Korean Peninsula.