Donald Trump cancels Christmas holiday party after skipping correspondents' dinner; US president continues 'war on tradition'
Since taking office in January 2016, US president Donald has not only continued — and in some ways expanded — the wars of his predecessors, but even opened up a new front: A war on tradition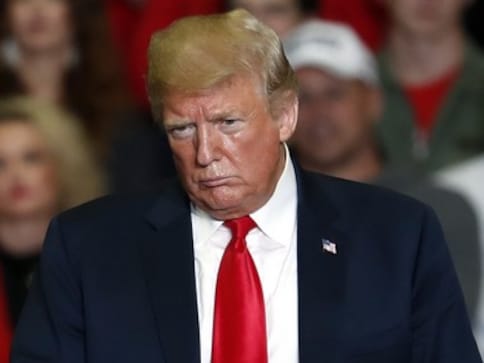 You're a mean one, Mr Grinch Trump
You really are a heel
You're as cuddly as a cactus, you're as charming as an eel, Mr Grinch Trump
You're a bad banana with a greasy black peel!
Since taking office in January 2016, US president Donald Trump has not only continued — and in some ways expanded — the wars of his predecessors, but even opened up a new front: A war on tradition. The latest example of this war occurred Thursday, when the Grinch the Donald cancelled the White House holiday party for the press, Fox News reported.
No Christmas party for press
As per the report, the yearly Christmas dinner was a "significant perk" for those covering the White House. Washington reporters, anchors and commentators, and New York media executives would regularly fly for the exclusive gathering. As per the report, the biggest benefit was getting your photo taken with the president and first lady in front of the White House Christmas tree, as per the report.
RIP comedy
To be fair, this isn't as much the president's fault, but a response to Trump. In November, the White House Correspondents' Dinner that broke with a decades-long tradition: comedians have been headlining the event since the early 1980s — the gala itself dates back to 1921 — taking shots at both the Commander-in-Chief and the news media, followed by a 'rebuttal' from the president. Till 2017, every president from both parties attended the event, except for Ronald Reagan in 1981, when he was recovering from being shot.
Presidents traditionally attend the dinner. But Trump, who has a contentious relationship with journalists, skipped this year's event for the second straight year. The White House has not said whether Trump will attend next year.
Rips into the Fed
Unlike his predecessors, Trump has made a habit of openly critiquing the Federal Reserve. In an interview with Fox Business Network (where else?), Trump attacked the Federal Reserve chairman Jerome Powell. "My biggest threat is the Fed. I put a couple of other people there I'm not so happy with too but for the most part I'm very happy with people."
Earlier in November, Trump twice criticised the US central bank, saying it was raising interest rates so swiftly that it threatened the country's economic health. While past US presidents have criticized the central bank, but the recent run of invective was unusual even for Trump: He called the Fed "crazy," "loco," "ridiculous," and "too cute".
Intelligence? No thanks
According to a report in the Washington Post, Trump has declined to participate in a practice followed by the past seven of his predecessors: He rarely if ever reads the President's Daily Brief, a document that lays out the most pressing information collected by intelligence agencies from hot spots around the world. Trump prefers to rely on an oral briefing of select intelligence issues in the Oval Office rather than getting the full written document delivered to review separately each day, according to three people familiar with his briefings, as per the report.
Hypes GDP report
In July, Trump talked up the economic growth report ahead of its release, yet again diverting from the tradition of presidents refraining from comment, and predicted "the numbers would be strong." "Somebody actually predicted today 5.3 [percent growth]" he said during a rally at a steel plant here. "I don't think that's going to happen." But, he continued, "if it has a 4 in front of it, we're happy. If it has like a 3, but it's a 3.8, 3.9, 3.7, we're OK," he said.
Rescinds invite to Super Bowl winners
In June, Trump rescinded his invite to the American football franchise Philadelphia Eagles to celebrate their Super Bowl title at the White House on Tuesday. Trump reportedly made his decision after learning that very few players of the NFL franchise were going to visit the White House. African-American players from the Eagles decided to boycott the visit after Trump's frequent Twitter tirades against players taking a knee during the national anthem to draw attention to racial injustice and police brutality.
Table for one
This time, it was the first lady who defied tradition. Melania caused a stir by arriving alone at her husband's State of the Union address in January. According to a BBC report, Melania's office told reporters the reason she was not with her husband was because she was accompanying the White House's special guests of honour. However, the move only heightened rumours of a rift between Melania and the president, who had not been seen together since a report broke that he paid off a porn star to keep mum about an alleged affair, as per the report.
Skips year-end presser
In December 2017, Trump left the White House without holding an end of year press conference, the first time in 15 years such a press conference hasn't taken place. While this isn't something that is set in stone, most recent commanders-in-chiefs have held a formal press conference in December to greet the press and promote the accomplishments of the administration. CNN's Jeff Zeleny reported that Trump "wanted to hold a news conference, but aides prevailed on him not to."
Iftar dinner? Nah
In June 2017, the president decided to do away with decades of precedent by forgoing the annual Iftar dinner, a bipartisan tradition that formally began with Bill Clinton in the 1990s but has conceptual roots tracing as far back as under Thomas Jefferson in 1805. Even though Trump decided to revive the dinner this year, several Muslim groups ended up boycotting the dinner, citing the president's 'anti-Muslim' rhetoric.
Pardon me...
In November, Trump followed the annual Thanksgiving tradition, and used the power of his office to save a pair of meaty turkeys (not Michael Cohen or Paul Manafort) from the holiday table. Trump jokingly warned a 39-pound bird named Peas and a 41-pound companion named Carrots that, while they are free to live, they may still have to answer to Democrats, who assume control of the House in January and have promised to investigate the president's actions and business dealings. It's good to know there are some lines even Trump, for all his bluster and bravado, will not cross. Yet.
With inputs from agencies
World
The counter-attack comes as the White House faces increasing pressure since the disclosure that a handful of sensitive government documents had been found sitting in Biden's former private office and at his Delaware home
World
Given the sharp differences between the ruling Democrats and the opposition Republicans, who enjoy a majority in the House of Representatives, not handling the issue on time might result in the United States defaulting on its debt commitment, which has never happened in the past
World
Even if nothing comes of the new special counsel investigation into President Joe Biden's team's mishandling of classified documents, politically it has effectively let former Donald Trump off the hook for hoarding secret papers