Donald Trump calls latest Pyongyang ICBM missile launch reckless, dangerous
The ICBM test carried out by North Korea is a reckless and dangerous action by its authoritarian regime, says the US President Donald Trump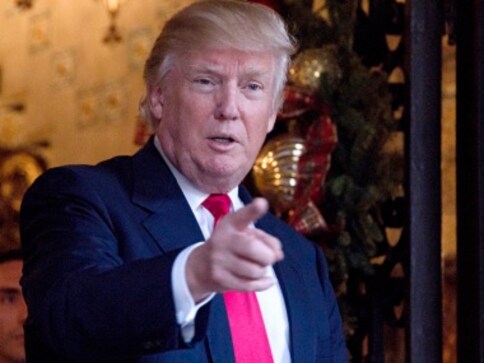 Washington: The intercontinental ballistic missile (ICBM) test carried out by North Korea is a reckless and dangerous action by its authoritarian regime, says the US President Donald Trump, asserting that Pyongyang has further isolated itself in the international community.
North Korea on Friday launched an ICBM for the second time in a month, the Pentagon has said, a day after US Congress voted to impose new tougher sanctions against Russia, Iran and Pyongyang.
"North Korea's test launch today of another intercontinental ballistic missile—the second such test in less than a month—is only the latest reckless and dangerous action by the North Korean regime," Trump said hours after Pyongyang carried out the provocative action.
The United States condemns this test and rejects the regime's claim that these tests—and these weapons—ensure North Korea's security, he said, adding that in reality, they have the opposite effect.
"By threatening the world, these weapons and tests further isolate North Korea, weaken its economy, and deprive its people.
"The United States will take all necessary steps to ensure the security of the American homeland and protect our allies in the region," Trump said.
The North Korean ICBM tests carried out around 10.41 am EST was launched from Mupyong-ni and travelled about 1000 km before splashing down in the Sea of Japan, the Pentagon Spokesman Navy Capt. Jeff Davis said.
This was North Korea's 12th missile test this year and second ICBM in less than a month.
The provocative North Korea ICBM test comes in less than 24 hours of the Senate passing a bill to impose tough sanctions on Russia, North Korea and Iran.
Subsequent to the North Korean ICBM launch, chairman of the joint chiefs of staff, General Joseph Dunford, and Commander, US Pacific Command, Admiral Harry Harris called the South Korean Joint Chiefs of Staff Chairman, General Lee Sun Jin.
"During the call, Dunford and Harris expressed the ironclad commitment to the US-Republic of Korea alliance. The three leaders also discussed military response options. Harris joined Dunford in his Pentagon office to make the phone call," Joint Chief of Staff Chairman's spokesman Navy Capt. Greg Hicks said.
Meanwhile the South Korean and US militaries conducted a second combined training event to exercise assets countering North Korea's missile launch/nuclear test, a media release said on Saturday.
This exercise once again utilised the Army Tactical Missile System (ATACMS) and the Republic of Korea Hyunmoo Missile II, which fired missiles into territorial waters of South Korea along the East Coast on 5 July.
The ATACMS can be rapidly deployed and engaged and provides deep-strike precision capability, enabling the South Korea-US alliance to engage a full array of time-critical targets under all weather conditions.
"The missile North Korea just tested probably put US West Coast in range," Congressman Brad Sherman, who is ranking member on the foreign affairs asia and the pacific subcommittee, said in a tweet.
"Now is the time to ramp up sanctions. China cannot have it both ways; it cannot do business as usual with the US and subsidising North Korea," he said.
"But we need to be ready to talk too, and ready to accept a freeze, something far less than denuclearisation for the foreseeable future," Sherman added.
World
South Korea's Defense Ministry said it believes North Korea hasn't acquired the technologies needed to launch a hypersonic weapon.
World
Officials say a North Korean who crossed the DMZ in 2020 crossed it again to go back. His life in the South seems to have been one of poverty and isolation.
World
North Korea issued a statement berating the Biden administration for imposing fresh sanctions over its previous missile tests and warned of stronger and more explicit action