Donald Trump backs separate States for Israelis and Palestinians; Benjamin Netanyahu stresses on Israel's security
For the first time since taking office, President Donald Trump endorsed a two-state solution as the best way to resolve the conflict between Israel and the Palestinians as he met at the UN with Israeli Prime Minister Benjamin Netanyahu.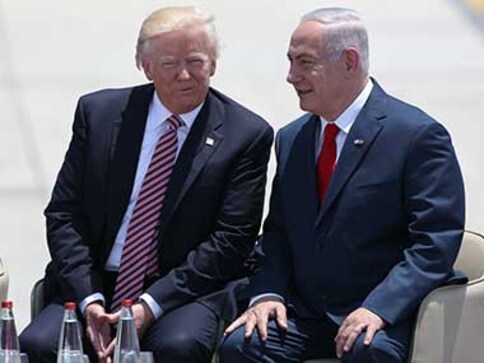 For the first time since taking office, President Donald Trump endorsed a two-state solution as the best way to resolve the conflict between Israel and the Palestinians as he met at the UN with Israeli Prime Minister Benjamin Netanyahu.
Trump told reporters that he believes that two states — Israel and one for the Palestinians — "works best." He has previously been vague on the topic, suggesting that he would support whatever the parties might agree to, including possibly a one-state resolution, which might see the Palestinian territories become part of Israel. "I like (a) two-state solution," Trump said Wednesday as he posed for photographs with Netanyahu. "That's what I think works best. That's my feeling. Now, you may have a different feeling. I don't think so. But I think two-state solution works best."
Later, Trump told a news conference that reaching a two-state solution is "more difficult because it's a real estate deal" but that ultimately it "works better because you have people governing themselves." He added that he would still support Israel and the Palestinians should they opt for a one-state solution, though he believed that was less likely. "Bottom line: If the Israelis and Palestinians want one-state, that's OK with me. If they want two states, that's OK with me. I'm happy if they're happy." In his earlier comments, Trump said his much anticipated but still unreleased Mideast peace plan could be presented in the next two to four months but was not specific as to timing.
Trump has been heavily criticized by the Palestinians for a series of moves that they say show distinct bias toward Israel, starting with his recognition last year of Jerusalem as Israel's capital. The Palestinians also claim the holy city as the capital of an eventual state. Earlier this year, Trump followed up on the recognition by moving the U.S. Embassy in Israel from Tel Aviv to Jerusalem, a step that was widely protested by Palestinians and others in the Arab world. His administration has also slashed aid to the Palestinians by hundreds of millions of dollars and ended U.S. support for the U.N. agency that helps Palestinian refugees. The Palestinians reacted cautiously to Trump's remarks, noting that a two-state solution has long been the goal of peace efforts, including a broader Arab-Israeli plan that would see Arab states all recognize Israel if the Palestinians got an independent state.
Nabil Abu Rudeineh, the spokesman for Palestinian President Mahmoud Abbas, said the Palestinians remain committed to their demand for a state based on the borders before the 1967 Mideast war and with East Jerusalem as its capital. "Peace requires a two-state solution, where the state of Palestine is based on the '67 boundaries with East Jerusalem as its capital," he said. "This is the Arab and international attitude, and all final status issues need to be solved according to the international resolutions and the Arab Peace Initiative." Trump and his national security team have defended their position, saying that decades of attempts to forge Israeli-Palestinian peace have failed. He said Wednesday that the embassy move would actually help peace efforts by recognizing the reality that Israel identifies Jerusalem as its capital. But he added that Israel would have to make concessions to the Palestinians in any negotiations.
"Israel got the first chip and it's a big one," Trump said. "By taking off the table the embassy moving to Jerusalem, that was always the primary ingredient as to why deals couldn't get done. Now that's off the table. Now, that will also mean that Israel will have to do something that is good for the other side." Netanyahu thanked Trump for his support and his decision to withdraw from the Iran nuclear deal and said US-Israel relations have never been better than under his administration. On Tuesday, Trump lashed out at Iran in his annual address to the UN General Assembly, accusing its leaders of corruption and spreading chaos throughout the Middle East and beyond. He also vowed to continue to impose sanctions on Iran. "Thank you for your strong words yesterday in the General Assembly against the corrupt terrorist regime in Iran," Netanyahu said. "They back up your strong words and strong actions."
Meanwhile, Netanyahu said on Wednesday that Israel must retain security control in any peace deal with the Palestinians, Israeli media reported, after Trump's comments supporting a two-state solution to the conflict.
Speaking to Israeli journalists after meeting Trump in New York on the sidelines of the UN General Assembly, Netanyahu reiterated his stance that Israel must control security west of Jordan to the Mediterranean -- which includes the occupied West Bank. "I am willing for the Palestinians to have the authority to rule themselves without the authority to harm us," Netanyahu said, according to Israeli newspaper Haaretz. "It is important to set what is inadmissible to us: Israel will not relinquish security control west of Jordan. This will not happen so long as I am prime minister and I think the Americans understand that." As in the past, Netanyahu did not specify whether he could support full Palestinian statehood in a peace deal or some lesser form of autonomy. A key Israeli government minister and Netanyahu rival said after Trump's comments that a Palestinian state was out of the question.
"The president of the US is a true friend of Israel," Education Minister Naftali Bennett of the far-right Jewish Home party said on Twitter. "However, it must be emphasised that as long as the Jewish Home party is part of Israel's government, there will not be a Palestinian state which would be a disaster for Israel."
The Palestinian leadership cut off contact with Trump's administration after he recognised the disputed city of Jerusalem as Israel's capital in December. Trump has also cut more than $500 million in Palestinian aid. Palestinian leaders accuse his White House of blatant bias in favour of Israel and of seeking to blackmail them into accepting his terms. Trump has nevertheless spoken of wanting to reach the "ultimate deal" -- Israeli-Palestinian peace. He said Wednesday he would present his plan before the end of the year.
With inputs from agencies
World
This decision sparked a contentious debate in Israel over reform measures that Netanyahu claims will restore the balance between the executive and legislative arms of government but that detractors claim will erode judicial independence
World
Israel is a "strong and vibrant nation," said Benjamin Netanyahu, adding, "we have built up a powerful state that will not allow our enemies to inflict the very pain, suffering and devastating loss our people experienced during the Holocaust"
Explainers
Prime Minister Benjamin Netanyahu has announced a slew of measures to 'strengthen Jewish settlements' including making it easier for citizens to obtain guns. Over 200 Palestinians were killed last year – the worst in 16 years – and experts have warned that 2023 could be even more deadly