Donald Trump assures full support to Japan after North Korea tests ballistic missile
US President Donald Trump on Saturday assured its 'great ally' Japan of America's full support after North Korea in an apparent provocation test fired a ballistic missile, which was denounced by the visiting Japanese Prime Minister Shinzo Abe as 'absolutely intolerable.'
Washington: US President Donald Trump on Saturday assured its "great ally" Japan of America's full support after North Korea in an apparent provocation test fired a ballistic missile, which was denounced by the visiting Japanese Prime Minister Shinzo Abe as "absolutely intolerable."
"I just want everybody to understand and fully know that the United States of America stands behind Japan, it's great ally, 100 percent," Trump said in a brief statement during a joint news conference with Abe. He did not elaborate.
His comments came after Abe denounced the North's missile launch - the first after Trump became the US President - at a hastily organised joint briefing at Mar-a-Lago in Florida.
The news conference lasted for less than three minutes.
"North Korea's most recent missile launch is absolutely intolerable," Abe told reporters. "North Korea must fully comply with the relevant UN Security Council resolutions."
The two leaders were talking to reporters after spending the day at a golf course and discussing US-Asia engagement.
"During the summit meeting that I had with President Trump, he assured me that the US will always [be with] Japan 100 percent, and to demonstrate his determination as well as commitment, he is here with me at this joint press conference," Abe, who spoke via a translator, said.
In a statement, the US Strategic Command said it detected a North Korean launch of a medium- or intermediate-range ballistic missile. It occurred near the northwestern city of Kusong and the missile was tracked over North Korea and into the Sea of Japan.
The North American Aerospace Defence Command determined the missile launch from the North did not pose a threat to North America, the statement said.
Earlier in the evening, Trump told reporters that he and Abe had a great time together. "We got to know each other very, very well."
Trump and Abe arrived at Mar-a-Lago Friday evening from Washington DC aboard Air Force One.
The White House said Trump "enjoyed hosting" Abe on the golf course. It described the retreat as "both relaxing and productive."
"They had great conversations on a wide range of subjects, and the President looks forward to further discussions with the Prime Minister," the White House said.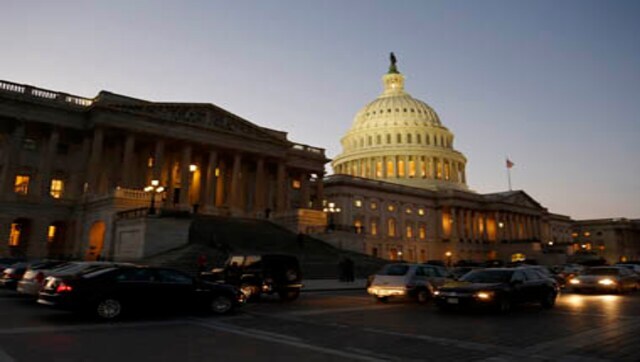 World
The breakthrough — which temporarily defers the crisis by adding another $480 billion to the allowable debt total — came with an estimated 11 days to go until the country would no longer have been able to borrow money or pay off loans for the first time in its history
World
Twitter and other social media banned the former president from their platforms after a mob of pro-Trump supporters assaulted the US Congress building on 6 January.
World
In an apparent continued effort to drive a wedge between Washington and Seoul, Kim also used his speech at a rare exhibition of weapons systems on Monday to stress that his military might isn't targeted at South Korea