Donald Trump announces 'Fake News' awards: US president should claim one for himself given how much he has fabricated
Donald Trump finally unveiled his much-touted 'Fake News' awards, naming media outlets like CNN, The New York Times and The Washington Post in his top-10.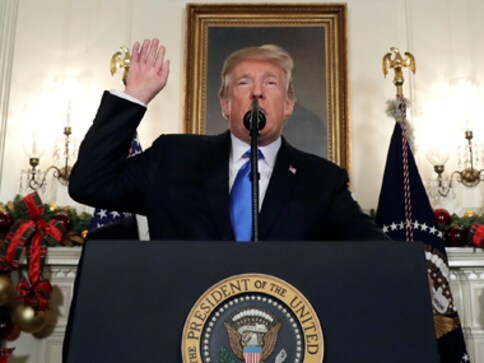 On Wednesday, US president Donald Trump finally unveiled his much-touted 'Fake News' awards, naming media outlets like CNN, The New York Times and The Washington Post — all part of his usual targets on Twitter — in his top-10. He linked to a report on the official Republican Party website, which crashed within minutes.
However, it must be ironic that a president who sarcastically handed out awards to media organisations for reporting fake news is one who has often in the past been too — well, how shall we put this — convenient with the truth. Lies, falsehoods, exaggerations, wrongly claiming credit for things, and deflecting blame away from him: These have all been fair game for Trump.
Britain's Independent has counted all the lies Trump has said since assuming office almost exactly a year ago, and found 1,628 of them, a rate of six every day!
Lies about the size of inauguration crowd: The first Donald Trump lie didn't take long to arrive. Right on day one actually! A few hours after he was sworn in as the 45th President of the United States, he said his inauguration drew 1.5 million people. Except it didn't. In fact, Trump was way off the mark.
Pictures taken from the inauguration show the difference between the size of the crowd for his event as against the crowds that came for his predecessor Barack Obama's inauguration, which did draw 1.5 million people.
Highest taxed country: Trump clearly believes that the greater the frequency with which a lie is said, the more chances it will have of becoming the truth. Why else would he constantly keep calling the US as being the highest taxed country in the world?
Could he genuinely believe that the US is the highest taxed country in the world? We doubt it. In fact, as data released by the Committee for a Responsible Federal Budget (CRFB) has revealed, the US is among the least taxed countries in the world.
Will be going to North Dakota today to discuss tax reform and tax cuts. We are the highest taxed nation in the world - that will change.

— Donald J. Trump (@realDonaldTrump) September 6, 2017
Obamacare: Among Trump's favourite punching bags is Obamacare or the Affordable Care Act. The Independent article wrote that on 60 separate occasions, Trump had said Obamacare is "essentially dead" or a variation to that effect. However, not only is Obamacare far from being dead, but its membership is actually increasing. More than 200,000 Americans signed up on 1 November, double the number of people that enrolled the same day in 2016.
Visitors to healthcare.gov also reached a record one million visitors that day, while 8.8 million people signed up for coverage under Obamacare. Doesn't seem like it's dying anytime soon.
Iraq war: Back in 2002, when a (relatively) young Trump was asked about the Iraq War, he said the US should invade. He even went on to tell interviewer Howard Stern that he wished "the first time it was done correctly". Moreover, as Buzzfeed reported, he even mentioned this in his book The America We Deserve, where he advocated for a "principled and tough" policy toward "outlaw" states like Iraq.
But in April last year, he said he had totally been opposed to the war. "And I was totally opposed to the war in the Middle East which I think finally has been proven, people tried very hard to say I wasn't but you've seen that it is now improving," he said. Inconsistency much?
Accused Obama of wiretapping his phones: Other than Hillary Clinton, who he refers to as 'Crooked Hillary' and by no other name in all his tweets, his predecessor Obama is still Trump's main adversary. But among the more blatant things he has tried to shame Obama was the time he said the former president had his phones wiretapped.
How low has President Obama gone to tapp my phones during the very sacred election process. This is Nixon/Watergate. Bad (or sick) guy! — Donald J. Trump (@realDonaldTrump) March 4, 2017
The FBI itself stepped into the debate and cleared the air about there having never been a shred of credibility to these accusations.
Claiming he has created jobs: After being elected president, Trump had claimed he would be the biggest job creator since God. Clearly, he had to follow up that claim with a bit of braggadocio. But, as reported by Washington Post in April, Trump claims credit when little or no credit is due to his policies. Moreover, he counts jobs as jobs in the bank, though corporate plans frequently change according to market or economic forces.
Steve Bannon: After firing former aide Steve Bannon, Trump said he had "nothing to do with me or my presidency". Bannon, he said, was a "staffer who worked for me after I had already won the nomination". Again, not quite true. As mentioned by The New York Times soon after Trump made these remarks, the two go back a long way.
Bannon himself claimed as long ago as August 2015 that he was Trump's hidden "campaign manager", and that he hosted Trump on his radio show in November 2015. Trump himself claimed in August 2016 that he had "known Steve for many years" when he introduced Bannon as his campaign's chief executive and Kellyanne Conway as his campaign manager. "They are extremely capable, highly qualified people who love to win and know how to win," he had said.
Time Magazine: In November last year, Trump said he had passed on the chance to be named Person of the Year by Time Magazine since they required him to do a "major photo shoot".
Time Magazine called to say that I was PROBABLY going to be named "Man (Person) of the Year," like last year, but I would have to agree to an interview and a major photo shoot. I said probably is no good and took a pass. Thanks anyway!

— Donald J. Trump (@realDonaldTrump) November 24, 2017
Again, the truth was slightly different. The magazine's chief content officer Alan Murray said there was "not a speck of truth" to what Trump claimed, while the magazine also said the president was not only incorrect about the news but also about the process of choosing its person of the year.
"The president is incorrect about how we choose Person of the Year. Time does not comment on our choice until publication, which is 6 December," it tweeted back at Trump.
World
The House select committee investigating the 6 January attack on the US Capitol continues to reveal its findings of a year-long investigation
World
Three Trump-era Justice Department officials recounted persistent badgering from the president, including day after day of directives to chase baseless allegations that the election won by Democrat Joe Biden had been stolen
World
The hearing will bring attention to a memorably turbulent stretch at the department as Trump in his final days in office sought to bend to his will a law enforcement agency that has long cherished its independence from the White House