Donald Trump accuses Iran of destabilising West Asia; Iran says US is attempting to create 'Iranphobic narrative'
Donald Trump accused Iran of destabilising West Asia, as his UN ambassador sought to bolster that argument by showing fellow envoys what she said was debris from an Iranian missile fired at Saudi Arabia
Washington: President Donald Trump on Tuesday accused Iran of destabilising West Asia, as his United Nations ambassador sought to bolster that argument by showing fellow envoys what she said was debris from an Iranian missile fired at Saudi Arabia.
Meeting at the White House with members of the UN Security Council and his own national security team, Trump said the group had "much work" to do. He drew up a daunting list of objectives, including countering "Iran's destabilisation activities," ending the Syrian conflict, combating terrorism and denuclearising North Korea.
Earlier, UN Ambassador Nikki Haley took her fellow Security Council members to Joint Base Anacostia-Bolling in Washington to show them the missile debris.
"The evidence continues to grow that Iran is blatantly ignoring its international obligations," Haley said afterward. "Iran's aggression is a threat not just to its neighbours but to the entire world."
Haley is seeking to persuade the Security Council to take action against Iran, possibly by imposing sanctions, but will likely face opposition from Russia, which has friendly ties with Tehran.
US officials say the twisted metal fragments on display at the base come from an Iranian-made short-range ballistic missile provided to Houthi rebels in Yemen, who fired it in November at an international airport near the Saudi capital of Riyadh.
The missile was shot down and caused no casualties.
But Iran's foreign minister Javad Zarif took to Twitter today to dismiss the missile display as "fake news," calling it a "Trump & Co attempt to create an Iranphobic narrative at the UN Security Council ... (using) fake 'evidence.'"
Iran has denied arming the Houthis.
US relations with Iran have deteriorated under Trump, who has threatened to leave the nuclear agreement with Tehran unless it is amended to permanently prevent Iran from building long-range missiles and nuclear weapons.
Trump has notably criticised Tehran for backing the Houthi rebels in Yemen, who have been locked in a grinding conflict with Saudi-led forces supporting the Yemeni government.
Saudi Arabia is a close regional ally of the US.
World
The US Treasury said the morality police were 'responsible' for Amini's death, as it announced the sanctions 'for abuse and violence against Iranian women and the violation of the rights of peaceful Iranian protestors'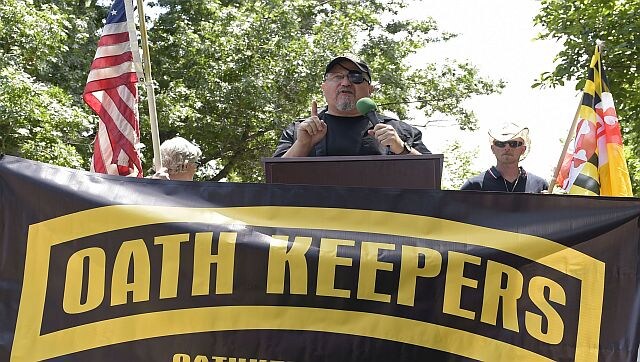 World
Members of the anti-government group, founded in 2009, have been charged with seditious conspiracy in the 6 January riot at the US Capitol. Prosecutors say the members spent weeks amassing weapons, and readying armed teams outside Washington to stop Joe Biden from becoming president
World
Malpass was nominated to the position by former President Donald Trump in 2019. His five-year term ends in April 2024