Doctors in northern Greece warn hospitals at breaking point
By Alexandros Avramidis THESSALONIKI (Reuters) - A surge in coronavirus infections in Greece's northern city of Thessaloniki is pushing the hospital system to its limits, doctors at a medical facility say, as the second wave of the pandemic takes a toll. Last week Greece ordered a nationwide three-week lockdown, its second this year, in a bid to stop the spread of COVID-19 and the resulting burden on hospitals, particularly in Thessaloniki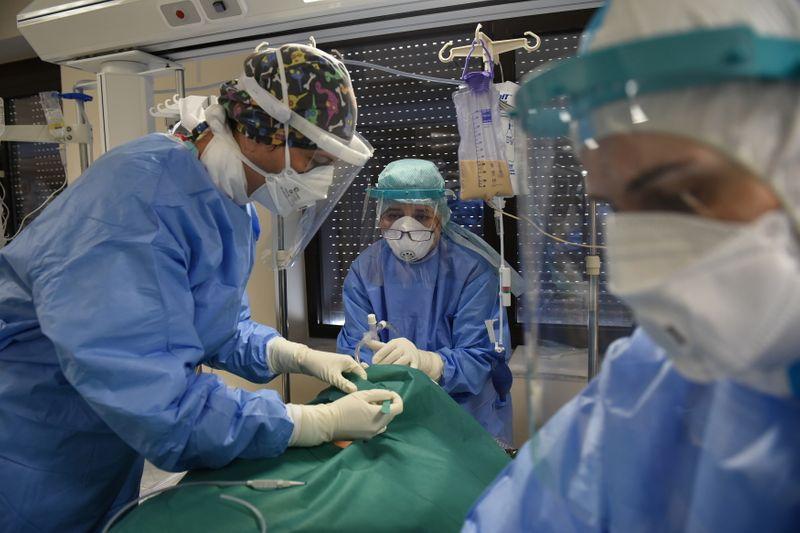 By Alexandros Avramidis
THESSALONIKI (Reuters) - A surge in coronavirus
infections in Greece's northern city of Thessaloniki is pushing the hospital system to its limits, doctors at a medical facility say, as the second wave of the pandemic takes a toll.
Last week Greece ordered a nationwide three-week lockdown, its second this year, in a bid to stop the spread of COVID-19
and the resulting burden on hospitals, particularly in Thessaloniki.
The city appeared to have contained the virus but in just one month, its success story has turned into a serious crisis. Thessaloniki's mayor has blamed the surge on complacency among the population, with almost every family having one infected person.
"The hospital system is already at its limits," said Vassilis Voutsas, 50, a medical doctor who works at the COVID intensive care unit at Thessaloniki's Papanikolaou Hospital, operating almost at full capacity.
"My fear is that the number of patients will be so big that we won't be able to treat them all."
On Wednesday Greece registered 2,752 new cases, bringing the total since the start of the pandemic to 63,321. There were 43 COVID-related deaths, raising the total to 909.
Greece has fared substantially better during the pandemic than other European countries, including neighbouring Italy where more than 40,000 people have died of COVID-19
.
Despite having roughly half the population of metropolitan Athens, Thessaloniki has in recent days been recording more new cases than the Greek capital. On Thursday, Thessaloniki confirmed 777 new coronavirus
cases, compared to 635 in Athens.
Doctor Georgia Vassiliadou, who works in the intensive care unit of the same hospital, says the number of patients has increased fivefold.
"We hope that it won't get worse but we are prepared: We will not be leaving from here, we won't be going home," she told Reuters.
Prime Minister Kyriakos Mitsotakis told parliament on Thursday that a vaccine may be available in Greece as early as January. But both doctors were guardedly optimistic on the vaccines front.
"I am cautious as to when it will get here, how effective it will be and what part of the population will be vaccinated in time," Voutsas said.
(Reporting by Alexandros Avramidis, Writing by George Georgiopoulos; Editing by Raissa Kasolowsky)
This story has not been edited by Firstpost staff and is generated by auto-feed.
Find latest and upcoming tech gadgets online on Tech2 Gadgets. Get technology news, gadgets reviews & ratings. Popular gadgets including laptop, tablet and mobile specifications, features, prices, comparison.
World
By Daniel Ramos LA PAZ (Reuters) - Bolivia's Luis Arce was sworn in as president on Sunday, ushering the country's powerful socialist party back into power a year after long-term leftist leader Evo Morales was ousted amid angry protests that sparked off a political crisis. Arce, 57, was inaugurated in a ceremony in the highland city of La Paz, in front of heads of state from Argentina, Paraguay, Colombia and Spain, as well as senior officials from Chile, Iran and the government of Venezuela's Nicolas Maduro. The unassuming and bespectacled former economy minister, feted as the architect of Bolivia's rapid growth under Morales, comes into office facing the huge task of healing the divisions of a political crisis and the coronavirus pandemic
World
By Trevor Hunnicutt WILMINGTON, Del.
World
By Elizabeth Culliford (Reuters) - U.S.