Dismissed Catalan president Carles Puigdemont refuses to depose to Spanish judge till reassured of unbiased proceedings
Dismissed Catalonia president Carles Puigdemont, who is in Brussels, is refusing to come according to his lawyer.
Madrid: Spain is set for another day of high drama in the Catalonia crisis on Thursday with a judge in Madrid to grill the deposed leaders of the region's separatist government.
Notable by his likely absence, however, will be the dismissed Catalan president Carles Puigdemont, who is in Brussels and according to his lawyer refusing to come.
"He will not go to Madrid and I have suggested that he be questioned here in Belgium," Paul Bekaert told Spain's TV3 television on Wednesday.
The hearing at the National Court in Madrid, which deals with major criminal cases, was to start at 9 am (0800 GMT) and to continue on Friday.
The judge wants to question Puigdemont and 13 others over their efforts to spearhead Catalonia's independence drive, which has plunged Spain into its biggest crisis in decades.
An independence referendum on 1 October — that heavy-handed Spanish police tried and failed to stop — was followed by a declaration of independence by the Catalan parliament last Friday.
Later that day Spanish prime minister Mariano Rajoy's government dismissed the regional government and moved to impose direct rule on the wealthy northeastern region.
Rebellion and sedition 
On Monday, Spain's chief prosecutor said he was seeking charges of rebellion — punishable by up to 30 years behind bars — sedition and misuse of public funds against the 14.
The speaker of the Catalan parliament, Carme Forcadell, and five parliamentary deputies will also be grilled over the same alleged offences, but by a judge at the Supreme Court.
It was unclear how many of them will show up.
Puigdemont, 54, has dismissed the accusations as politically motivated and on Tuesday said he would remain in Brussels until he had guarantees that any proceedings would be impartial.
In a statement, he said there was a concerted effort to divide his government.
Some will go before a national audience "to denounce the drive of Spanish justice to pursue political ideas," while others "will stay in Brussels to decry this political process to the international community," he wrote.
Puigdemont has retained the support of many in Catalonia, whose people are fiercely proud of their language and culture.
Maria Angels Selgas, a 60-year-old sales manager in Barcelona, said that for her, Puigdemont was still the Catalan president.
"If they humiliate him then they humiliate also the more than two million Catalans who voted 'yes' in the referendum," she told AFP.
On Wednesday several hundred separatist supporters accompanied some of those due to appear in the Madrid court to Barcelona's main train station, chanting "liberty" and "you are not alone".
Spanish flags
But Catalans remain deeply divided about independence, polls indicate.
The international community has swung firmly behind Rajoy, and uncertainty about Catalonia's future has prompted companies to move their legal headquarters outside the region in droves.
In addition, there are signs of growing divisions in the separatist camp, with many unhappy with Puigdemont and his handling of the situation.
Joan Josep Nuet, a Catalan parliamentary deputy due to go before the Supreme Court, said Wednesday that a now-show by Puigdemont raised the risk that those that do come will be put in preventive custody.
"The attitude of the (Catalan) president and the government in recent days has been really absurd, managing only to create yet more bewilderment," Nuet told Catalunya Radio.
Fernando Vallespin, a political scientist in Madrid, said he believed that Puigdemont, a former journalist, "is more interested in obtaining media attention than escaping justice."
"It's a media war. The aim of (the Catalan executive) has been to try and present the Spanish state as an oppressor state and Puigdemont needs to feed this narrative," he said.
Rajoy has called snap elections for 21 December to replace the Catalan parliament. Puigdemont said he would "respect" the result - and appealed to Madrid to do the same.
Sports
The trio risks being banned from the Champions League as UEFA pursues a disciplinary process against them for not disavowing the Super League and being reintegrated into the existing system.
Sports
Koeman will be banned from the bench for Barca's matches at Valencia on Sunday and at home to lead leaders Atletico Madrid the following weekend as the Catalan giants try to snatch the title from current champions Real Madrid.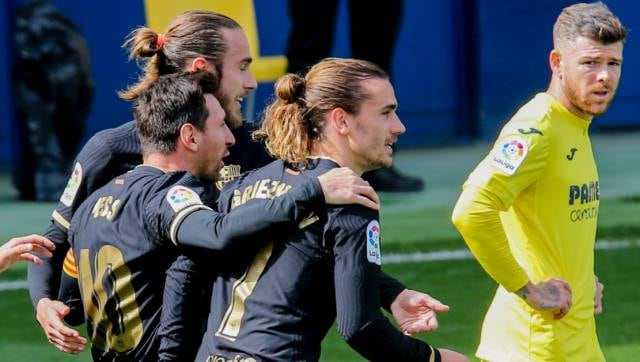 Sports
Barcelona held on for a win that puts them level on points with Real Madrid, having a played a game less than the reigning champions.