Dip in Iran's oil supply gets China to buy from Saudi, Russia
China is scouring the world for alternative oil supplies to replace a fall in its imports from Iran, as it seeks to negotiate lower prices from Tehran, and has been drawing heavily on Saudi Arabia.
Beijing/London: China is scouring the world for alternative oil supplies to replace a fall in its imports from Iran, as it seeks to negotiate lower prices from Tehran, and has been drawing heavily on Saudi Arabia.
Industry sources told Reuters that Beijing had bought the bulk of an increase in crude oil supplies from top oil exporter Saudi Arabia in the last few months.
The world's second-largest oil consumer is also importing more cargoes from West Africa, Russia and Australia to replace reduced supplies from Iran.
China is the top buyer of Iranian oil, taking around 20 percent of its total exports, but since January it has cut purchases by around 285,000 barrels per day (bpd), or just over half of the total daily amount it imported in 2011.
Saudi Arabian output reached 9.76 million barrels per day (bpd) in December, up 360,000 bpd from October, OPEC data show, and has remained near that level in January, according to a Reuters survey. Several sources in the oil industry said China has bought a good part of the extra oil.
"On average, Saudi exports went up by 200,000 barrels per day and this went to the East, overwhelmingly to China," said one of the sources, a senior executive with the trading arm of a US oil company.
A source familiar with the matter, who declined to be identified by name, also said the kingdom had been supplying about an extra 200,000 bpd to China since November.
Oil traders believe Unipec, the trading arm of China's top refiner Sinopec Corp., has been using a flexibility clause in deals, known as tolerance, to buy more oil under term contracts, especially as Saudi official selling prices in the past two months have been attractive.
"Under the current circumstances, it is necessary to use the tolerance to adjust lifting volumes," a Chinese oil trader said.
Unipec declined to comment.
Official Chinese data also show an increase in crude oil imports from Saudi Arabia in the last few months, but on a smaller scale than the rise given by the industry sources.
China imported 1.12 million bpd of crude from Saudi Arabia in December, customs data show, down from 1.17 million bpd in November. That is still up from October's 1.07 million bpd.
GAMBLING
Industry sources were unsure if the trend towards higher supplies from Saudi and others would continue, once China finishes negotiations with Iran over term purchasing contracts.
Some traders suspect China's increased buying of alternatives may be a ploy to bolster its bargaining position in the supply talks with Tehran. Iran is keen to secure customers as new EU sanctions banning its oil, designed to discourage the country's nuclear programme, add to US measures.
Officials from the two countries were expected to hold talks as early as this week in Beijing.
"Unipec is gambling now," said a Beijing-based oil trader. "If the Iranian side can compromise and reach a term deal, Unipec will get a large volume of crude at favourable prices, offsetting the premiums it paid to buy alternative oil over the past months."
Those alternatives include Unipec's purchase of five Russian ESPO cargoes, or 3.65 million barrels, for March loading at a premium of around $6.00 a barrel to Dubai quotes, traders said. Unipec also bought a cargo of Russian Urals crude, which will arrive in China around March.
"ESPO are all spot cargoes and are close to China. Buying ESPO is practical and easy to handle," a trader said.
As well as crude, Unipec has bought four shipments of Australian North West Shelf (NWS) condensate and Bayu Undan condensate from the Timor Sea for March to fill in for lower Iranian supplies.
A Reuters survey of oil flows from West Africa on Monday suggested Asia's imports of crude from the region are at a record high.
Even so, China still needs Iranian oil and even Saudi Arabia and the rest of the Organization of the Petroleum Exporting Countries do not have the capacity to replace it.
With production believed to be around 9.75 million bpd in January, Saudi Arabia holds about 2.75 million bpd of idle production capacity to meet any sudden shortages — less than Iran's output of 3.5 million bpd. Saudi holds the world's only significant unused capacity.
"Iranian crude is important," said an official at a Chinese state oil firm, who declined to be identified. "It is not very easy to replace all Iranian crude."
Reuters
First Cricket News
"They have travelled there privately. This wasn't part of an Australian tour. They're under their own resources and they'll be using those resources too, I'm sure, to see them return to Australia in accordance with their own arrangements," Morrison said.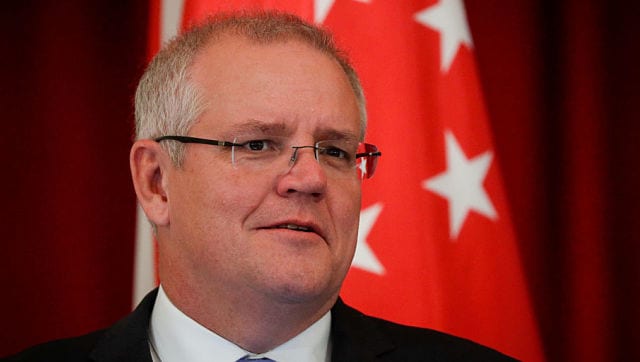 World
Australia will send 500 ventilators, one million surgical masks, 5,00,000 protective masks, goggles and face shields to India
Sports
The International Judo Federation imposed a four-year ban after the Court of Arbitration for Sport (CAS) ordered a disciplinary review last month which said a previous indefinite ban was not allowed.