Destitute Rohingya refugees turn to drug trade; fuel influx of illegal substances into Bangladesh
On a messy bed in a hut within the Kutupalong refugee camp, Cox's Bazar, sits Munira, 30, with her two children. Munira is a Rohingya refugee; she has also acted as a drug carrier on three different occasions over the past few months.
On a messy bed in a hut within the Kutupalong refugee camp, Cox's Bazar, sits Munira, 30, with her two children. Munira is a registered refugee; her Rohingya family fled Myanmar when she was just three.
This windowless shack, lit up by a single bulb, isn't hers. Neither is Munira her real name. Munira perfers to remain anonymous because she has done something illegal.
"I used to carry Yaba tablets," she tells us, chewing betel nut, voice not rising above above a whisper.
Yaba is known as 'Baba' among Bangladesh's drug addicts. It is known also as 'the madness drug' or 'Nazi speed'. A blend of many stimulants, it has a high proportion of caffeine and methamphetamine (aka crystal meth). According to a 2015 report from the United Nations Office of Drugs and Crime (UNODC), the pills typically weigh about 90 mg and are available in many different shapes and colours.
Methamphetamine is categorised as a Schedule II substance and is illegal under the Controlled Substances Act. (Other Schedule II substances include cocaine and PCP (Phencyclidine, or angel dust).
Over the past few months, Munira has acted as a drug carrier on three occasions. "I have three children, my husband is in jail and I don't have any source of income," she says, of why she chose to carry drugs.
Previously, Munira worked at a soap centre run by the UNHCR for refugees in camps. She earned 2,300 Taka a month, making laundry soap. But that was not sufficient for a family of four.
"I heard from my friends that one could earn a lot more by transporting drugs," she says.
The drug trade offers a way for the refugees — who are not allowed to work legally in Bangladesh — to earn money.
Munira would collect the drugs from Palungkhali camp — a 25-minute tuktuk ride from Kutupalong camp. There, under a bridge, she'd meet a peddler whose face she has never seen.
"The people involved in the drug trade follow me from the point of collection to delivery. They would find me; I don't know who they are," she explains.
After collecting the package from the peddler, she would return to Kutupalong, repack it, and deliver it at Cox's Bazar bus terminal.
"For every trip from Palungkhali to Kutupalong, I would get 500 Taka, and 1,000 Taka to go from Kutupalong to Cox's Bazar," Munira says. That's half a month's salary she earned at the soap factory — made in one ride.
From negligible Yaba sales a decade ago, Bangladesh has become a big market for traffickers who source the drug from factories in northeastern Myanmar, according to the UNODC's 2015 report. Available in bright hues — pink, red, green, yellow — the pills have added to the explosion of illegal drugs in Bangladesh, delivering a second setback after the refugee influx last year from Myanmar.
"The same Myanmar army which has persecuted the Rohingya, uses them as carriers to send drugs into Bangladesh," alleges Didarul Alam Rashed, the executive director of Non-Governmental Organisation for National Goals to be Obtained and Retained (NONGOR), a Bangladeshi non-profit outfit which runs rehabilitation centers for addicts in Cox's Bazar.
"Today 80 percent of drug users in Bangladesh are on Yaba. In 2002, very few people were affected by Yaba, maybe 100. But now, around 60,000 people are using Yaba in Cox's Bazar on a daily basis. Film stars, doctors, teachers, house-wives, students are all taking Yaba pills," Rashed says.
Yaba pills can be taken orally, or inhaled. The pills elevate mood, heighten alertness, and make the user feel energetic. The pills are also promoted as libido enhancers, though there is no proof that Yaba actually influences the sex drive. Another myth that many women users buy into, is Yaba's power as a slimmer. Students think Yaba will help them concentrate better. Once favoured by Dhaka's elites and entertainment industry, its consumption has become mainstream, and skyrocketed, over the past few years. "Yaba is destroying the young generation," Rashed rues.
Over time, Yaba use leads to hallucinations, insomnia, anxiety, depression, liver and kidney disorders, suicidal tendencies; an overdose could lead to death.
Between January and March 2018, the Border Guard Bangladesh (BGB) and coast guards seized nearly nine million methamphetamine pills.  According to Cox's Bazar District additional superintendent of police Afrazul Haque Tutul, the size and weight of the pill make it easier to smuggle in from the border areas.
"Smugglers hide the pills inside watermelon, jackfruit, tyres, petrol containers, and inside the battery shafts of mobile phones," Tutul told this corespondent.
"When I arrest carriers, I ask them — 'why you are doing this?' They say, 'we don't have money'. Most of the people are locals, and the Rohingya, who came 20-30 years ago. Women are also involved in the smuggling," Tutul said.
Harun (a pseudonym) — one of the many peddlers who uses Rohingya people as drug mules — confirms Tutul's information.
"I had many suppliers, some were in Myanmar and some in camps. At least 50 refugees from Kutupalong, Balukhali, Tengkhali camps often called me to sell Yaba," Harun says.
Harun not only sells Yaba, he also consumes it. The refugee wave post-August 2017 has changed his business model. Previously, he had to row over the River Naf, which divides the Burmese countryside from Bangladesh.
"(Previously) One boat from Myanmar and one from Bangladesh would meet in the middle of the river. We'd give them Taka, and they would give us Yaba," he explains. But now Harun doesn't need to go to the river, he can buy Yaba from the refugee camps. "At the time of last year's influx, the Yaba trade increased. The refugees brought Yaba with them and sold it to us at cheaper rates," he says.
It's a profitable business for the lanky Bangladeshi teen. He dropped out of school after finishing Class Eight, and worked as  a salesman and security guard in Malaysia for three years before returning home, and peddling drugs at Cox's Bazar.
"If I buy Yaba for 45 Taka in Teknaf, I can sell it for 55 Taka; in Cox's Bazar, it's 80 Taka; in Chittagong, it's 120 Taka. And in Dhaka, I could sell it for 180 Taka," he says. The further the Yaba goes, the more Harun earns.
Yaba is available in various qualities — R7 is considered the best and purest type of Yaba.
"In Dhaka, one pill of R7 may cost up to 300 Taka," says NONGOR's Didarul Alam Rashed, who lists corruption as one of the reasons for mass availability of illegal drugs in Bangladesh. "A few of our law and order agency members are involved in the trade," he says.
Harun describes how local police can be bribed to ignore the Yaba trade. "The police won't go to the river, but once Yaba arrives in the country, the cops say — 'you brought Yaba, you have to pay something'. If the trader is big and the quantity of Yaba (he's dealing in) is large, then the police take between 50,000-1 lakh Taka. Smaller businessmen pay around 5,000 to 10,000 Taka per consignment," Harun says.
Cox's Bazar District additional superintendent of police Afrazul Haque Tutul told us that two local cops with connections to carriers were recently sacked, but denies that the law enforcement has anything to do with the drug trade.
Back at the Kutupalong camp, Munira is determined not to work as a carrier again. She isn't aware of what Yaba does, but she knows that it is a bad thing. The fear of repercussions, and what that will do to her family, is very real too.
"If I got caught and thrown into jail, there would be no one to rescue me," she says, before taking her children and disappearing down one of the camp's many lanes. Behind her, a sea of tarpaulin and bamboo closes in, enveloping many other stories like Munira's — of poverty and destitution, and the hope of rising above it.
World
Foreign Minister AK Abdul Momen said that Bangladesh would continue to maintain a balanced foreign policy with 'powerful countries' - India, the United States and China
World
Australia imposed additional sanctions on Iranian individuals and entities over 'abhorrent abuses of human rights'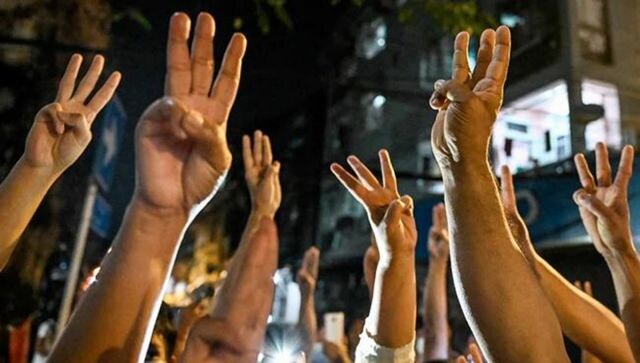 World
With the political opposition in Myanmar now decimated, and the junta buttressed by tacit backing from close allies Russia and China, the military is expected to hold a new election later this year -- no later than August