Desi professionals love Hillary, but Trump has solid Hindu backing
The US election is proof that the 3.2 million Indians in America are becoming more vocal in the American conversation about politics.
New York: The US election is proof that the 3.2 million Indians in America are becoming more vocal in the American conversation about politics. They are attracting the attention of both Republicans and Democrats because of their tendency to register in high numbers and actually vote on Election Day.
Unlike black and Latino voters, Indians don't have a long history with either party, but many Indians especially professionals traditionally support the Democrats. According to political pundits, Asian Americans, dominated by large numbers of Indian and Chinese people, "are the quintessential swing vote." They form about 6 percent of the US population, according to the Census Bureau.
Mira Kamdar, a fellow at the World Policy Institute, and author of "Planet India" said that with growing numbers, clout and self-confidence, the Indian American community was coming into its own as a political force. She said they enjoyed "disproportionate influence" in getting their voice heard as Indian Americans were significant donors to campaign war chests.
"There are a host of issues that differentiate along party lines. You have a lot of Indian American small business owners. They would tend to support Republican policies like lower taxes. On the other hand, you have a lot of Indian Americans who are concerned about immigration issues. They would more naturally fall on the Democratic side," said Kamdar.
Hillary's Hillblazers and Diehards
Minority communities which include Indians, Chinese, Koreans and Japanese have been key voting blocs for Democratic front-runner Hillary Clinton, helping her rack up strong wins over Bernie Sanders, the US senator from Vermont who is her main rival for the Democratic nomination to the 8 November presidential election.
Bill and Hillary Clinton wrapped up an extended weekend-long campaign swing through California on Saturday, to drum up support ahead of the June 7 primary. They courted Asian Americans who make up about 15 percent of the population of California.
"It is profoundly important to me and to Hillary that she receive overwhelming support in the primary from the Asian-American community," Bill Clinton said. "I'd also like to say that this community above all should be leading the US to an integrated, shared future, where we accept our diversity and embrace it as a strength."
In a veiled dig at Trump, Bill Clinton said that Hillary has "vociferously opposed this effort in our country to demonize Muslim Americans."
"Even if Trump and other Republican candidates say they are only after Muslims, which is bad enough, a lot of people who are brown are going to be misidentified as Muslims," Clinton supporter and author Sujata Massey told US media.
"I have Indian American children and they are frequently called Muslims by other students, and they are not," said Massey.
Bernie supporters have lauded the breadth of his ideas, but Clinton diehards rooting for "Madame President" call her more pragmatic, experienced, intelligent and electable in the fall.
"Hillary Clinton is a seasoned foreign policy professional. This is someone who is knowledgeable about the world who can reason rather than Trump who is a demagogue," said South Asia expert Sumit Ganguly, who holds the Rabindranath Tagore Chair in Indian Cultures and Civilizations, at Indiana University, in Bloomington.
"Hillary Clinton for the world would mean an emphasis on free trade. It would probably mean an interventionist U.S foreign policy, an activist American foreign policy," added Ganguly.
As the former secretary of state, Clinton's signature initiative become known as the Obama administration's "pivot to Asia." While the U.S was bogged down in Iraq and Afghanistan, China had the headroom to expand its influence in the region with allies like North Korea, Pakistan, Myanmar and Sri Lanka. Rising China spurred Clinton to consolidate America's ties with regional powers like India, Japan, Australia, Indonesia and the Philippines in a policy pivot towards Asia.
There were many reasons Clinton was missed by India as she made room for Senator John Kerry to replace her as secretary of state for President Obama's second term, not the least because she maturely accepted that India and the US will not see eye-to-eye on all issues, nor will their interests always concur. Yet, she was a good friend to India and ensured the relationship was not cantankerous.
According to Indian diplomats, Clinton understood the glue that bound India and Iran which other Washington elites found so hard to fathom. She tamped down concern in Washington about India's oil trade with Iran. Her efforts ensured India was exempted from financial sanctions in 2012 along with six other countries. Instead of being an alarmist she saw India's traditional ties with Iran as part of India's smart eco-diplomacy.
In percentage terms, 43 percent of Asian Americans support Clinton, 28 percent Trump, 7 percent Sanders with 22 percent undecided, according to political pundits who base their findings on telephone surveys.
"Donald Trump is the ugly face of America, which the world doesn't want to see," said Indian American investor and philanthropist Frank Islam who is on Clinton's "Hillblazer List," a who's who of big donors.
There are at least 10 prominent Indians on Clinton's "Hillblazer List" supporters from Wall Street to Hollywood who have raised at least $100,000 for her campaign by hosting events.
Planet Trump
Donald Trump's ascent to the top of the Republican Party, which was capped last week with Ted Cruz's devastating loss in the Indiana primary, happened so fast that even the billionaire's supporters were surprised. Trump, who is building his presidential bid around his business acumen and knowledge of the economy has found a pocket of support among Indian American entrepreneurs and Hindu groups.
Trump's credibility as a businessman has persuaded many Indian American voters that he knows enough about government to fix it. For as many as 40 percent of Americans, work now means a series of part-time, on-call and contract jobs. Life has work instability at its core and Trump is luring voters with promises to restore the American Dream.
"Some voters are put off by Trump's brash style, but he understands that there is a collapse of the blue collar economy," said motel owner Yashwant Patel, who is a member of the Asian American Hotel Owners Association (AAHOA).
The AAHOA draws its membership mainly from Indian-Americans and has 8,000 members who together own 22,000 hotels and motels in the US worth $50 billion. Thirty-five years after the arrival in the US of the first Indian motel keepers, almost all with roots in Gujarat, Indians now own 60 percent of budget properties. By employing family members and doing most chores themselves, Indian motel keepers have been able to expand.
"Hillary and Sanders are tax-and-spend Democrats whose policies will hurt us. Business is already down," added Patel who is also an adviser to the New Jersey Federation of Indian Associations which draws its base from store operators. "South Asian small entrepreneurs are voting for Trump," he added.
Trump has argued that while he supports across-the-board tax cuts, he would likely bargain away cuts for top earners during negotiations with Congress.
A pro-Trump Hindu group has taken their campaign for the real estate mogul to a different level. They have created posters depicting Trump in a fashion synonymic with Hindu deities – Brahma, the creator, and Vishnu, the protector. With the hashtag #HindusforTrump, they have been promoting the Republican candidate on Twitter under their handle @USAHindus4Trump.
Sanders gets the Young Vote
A number of young Indian Americans bordering on cynical about politics have flocked to Sanders' campaign. Sanders has beat Clinton among young people, white voters, political independents and people who most value honesty in a candidate.
"I think Sanders is very relatable and I just agree with his progressive ideas," said Neena Mallick, a 19-year-old student in Indiana, who cast her first ballot for the Vermont senator last Tuesday.
Sanders is poised for additional wins in a string of primaries in Nebraska, West Virginia, Oregon and Kentucky. "The prospect of more Sanders victories echoes the 2008 Democratic primary, where Clinton won several contests late in the calendar but was unable to catch then-Senator Barack Obama, who built an early lead," reported "The Wall Street Journal."
Clinton leads Sanders in the delegate race 1,701 to 1,411 and is generally expected to be the Democrat nominee in the general election. She needs to take just 17 percent of the remaining delegates to win the nomination, according to CBS News.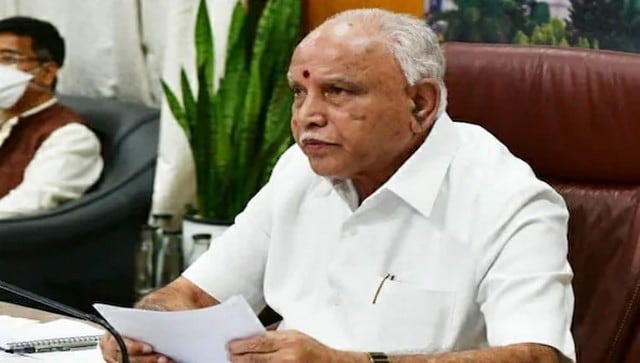 Politics
The 78-year-old Yediyurappa belongs to the older generation of politicians who started their service to the public as a teenager (in his case with the Rashtriya Swayamsevak Sangh) and did not hail from either a political or an affluent family
World
His comments on State television, come as government officials have appeared rudderless in recent months amid a series of crises ranging from the coronavirus pandemic to parching droughts fueling public protests
World
It may signify a vast expansion of China's nuclear arsenal — the cravings of an economic and technological superpower to show that, after decades of restraint, it is ready to wield an arsenal the size of Washington's, or Moscow's