Demonetisation: Jagdish Bhagwati delivers stinging rebuttal to Modi critics. Again
"The mistake economists made is that they don't talk to the people! They just talk to each other and rush in, you know…", Bhagwati, the doyen of trade theorists with a reputation for skewering his enemies, said at Columbia University in New York.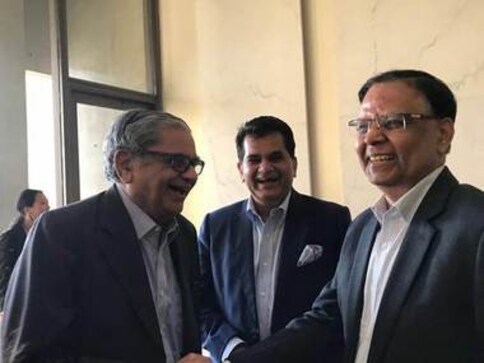 Jagdish Bhagwati, one of the most influential economists of his generation and professor at Columbia Univesrsity has risen, yet again, in stirring defence of Narendra Modi's shock move to demonetise the lion's share of India's Rs 500 and Rs 1,000 notes last November which added up to 86% of the country's currency in circulation at the time.
As the one year mark of demonetization is on us, Bhagwati, known for his sharp witticisms and searing putdowns, has been tearing into critics, casting those who "rushed in" to criticise demonetisation as "foolish".
"The mistake economists made is that they don't talk to the people! They just talk to each other and rush in, you know…", Bhagwati, the doyen of trade theorists with a reputation for skewering his enemies, said at Columbia University in New York.
"The poor man did not have those big notes( Rs 500 and Rs 1,000), he thinks you and I have it ! And they were perfectly happy, you know, screwing them - the 1 %…and they (the poor) belong to the 30 %. The poor man was not complaining! They were saying Hamaare Pradhaan Mantri…they identify with the Prime Minister", Bhagwati said in his most recent remarks on India's hot button topic at the University the last Saturday of October 2017.
Bhagwati's remarks came before and after an hour long talk by Jay Panda on India's economic and political tipping points. Panda also waded into both demonetisation and GST territory, quoting examples from life in his constituency to say how wrong Modi's critics are.
Often chuckling at his own jokes, and mixing layers of knowledge, Jagdish Bhagwati offered his views on Modi the politician and why any pushback (against men or their deeds) must be more than merely the result of beliefs or assumptions: "I'm the kind of liberal who's a person who believes one should not gang up against a person or an ethnicity or nationality just because that's the way you think it should be. You have to be absolutely open to persuasion and evidence and so on," Bhagwati said.
Bhagwati, who openly supported Modi's candidacy for India's top job in 2014, has known Modi from the time he was Gujarat chief minister and met him most recently a year ago when colleague Arvind Panagariya ( now back at Columbia ) was still Niti Aayog Vice Chairman with the rank of Cabinet Minister.
Link to Bhagwati's remarks - "I'm a liberal which means facts persuade me"
Bhagwati has spoken on demonetisation on at least two different occasions in the last 30 days - after the Arun Jaitley talk at the School of International and Public Affairs ahead of the IMF autumn meetings this October and again at the Conference on the Indian Economy, both in Columbia University, New York.
Bhagwati's celebrated students include Prof Arvind Panagariya, the presiding officer of the Jaitley interaction, who until a few weeks back was Vice Chairman, Niti Aayog.
Firstpost was on location at both the meetings.
The most recent one - The Conference on the Indian Economy - a converge of highly rated economists from the finest institutions in the world of academia and policy put forth cutting edge academic research on demonetisation and GST alongwith many in-depth economic models focused on India's growth trajectory.
While India's Opposition parties continue slamming the move to demonetise, economists have moved on to understanding how the corrective phase is likely to pan out.
Vivek Dehejia and Pravin Krishna - Jagdish Bhagwati's co-authors of the Times of India edit page article cited in later paragraphs here also presented at the same conference. Dehejia and Krishna have now launched into ease of doing business indicators and GST effetcs respectively.
Starting from early September, as India's politicians have begun to use Ivy League campuses more frequently to pitch their version of the India story and demonetisation has become a du jour question posed by a cross section of student, hacks and academics.
With the question "Was demonetisation a democratic move?" becoming routine on the India-via-Ivy League circuit, the chasm between America's top two campuses on the East Coast is also split wide open - Celebrated right-wing professor Jagdish M Bhagwati and his ilk on one side versus bete noire Amartya Sen on the other. Earlier this year, Bhagwati also took on Kenneth Rogoff of Harvard, who advocated a slower pace of demonetisation over a seven year period of phasing out high denomination notes.
Speaking to Firstpost in mid-October, Bhagwati fired a fresh salvo against Nobel laureate Amartya Sen who teaches at Harvard.
Link: Our Facebook interview with Professor Bhagwati
"The answer is…it (demonetisation) was a democratic move. There were some people, may be I shouldn't say this, like Prof Sen rushed in to say it was undemocratic and….I was not a fool (to say what I did to support demonetisation) I mean…and rush in and talk without consulting 10 other people. I mean, you make a fool of yourself (if you speak without speaking to public finance experts) like he did! "
"When a (bank) note says, 'I promise to pay the bearer hundred rupees,' and you take it to a bank, he (the teller) will give you another 100 rupee note. There's no obligation to give you gold or silver or something! So, you have to be rather stupid to be rushing in with comments like that, you know…!," Bhagwati said.
Bhagwati has earlier granted an email interview to PTI criticising Sen for rushing in and trying to get even with him and Prime Minister Modi at one go, but had stopped short of calling Sen "stupid" and a "fool."
In a March 30, 2017 op-ed in the Times of India, Bhagwati alongwith economists Pravin Krishna and Vivek Dehejia debunked those who oppose demonetisation on three broad parameters:
-  That the drop in economic growth is not on the scale of a disaster.
- That demonetisation, because of its many spin offs both in terms of money that has come back and the increase in digital payments, could be "expansionary" rather than dampen growth.
- That demonetisation has not hurt the Modi government politically.
"It is a tale/ Told by an idiot, full of sound and fury/ Signifying nothing." The same may be said of much of the commentary on demonetisation", they wrote, in conclusion.
Bhagwati's own defence of demonetisation has been vigorously quoted by its proponents.
Jagdish Bhagwati, who has written on every aspect of international trade with great success and whose not yet winning a Nobel has become a sort of cause celebre on the economists' circuit, believes that India's prime minister Narendra Modi is hitting all the right notes.
India
I hope PM Modi will call me to Delhi this time, said Qamar Mohsin Shaikh
India
'Based on indigenous technology, the project will turn a new chapter in India's waste-to-wealth endeavours by utilising about two lakh tonnes of rice straw (parali) annually to generate around three crore litres of ethanol annually,' a statement by the government said
India
Stalin said that some people have now emerged with the advice that there should be no freebies. He also refrained from talking more on this issue, saying this will become politics