Democrats tie Trump's rhetoric to spate of suspected bombs
By Ginger Gibson (Reuters) - The undercurrent of rage that has been driving U.S. politics for the past few years surfaced on Wednesday in a series of suspected bombs sent to prominent U.S. Democrats and the news outlet CNN less than two weeks before congressional elections.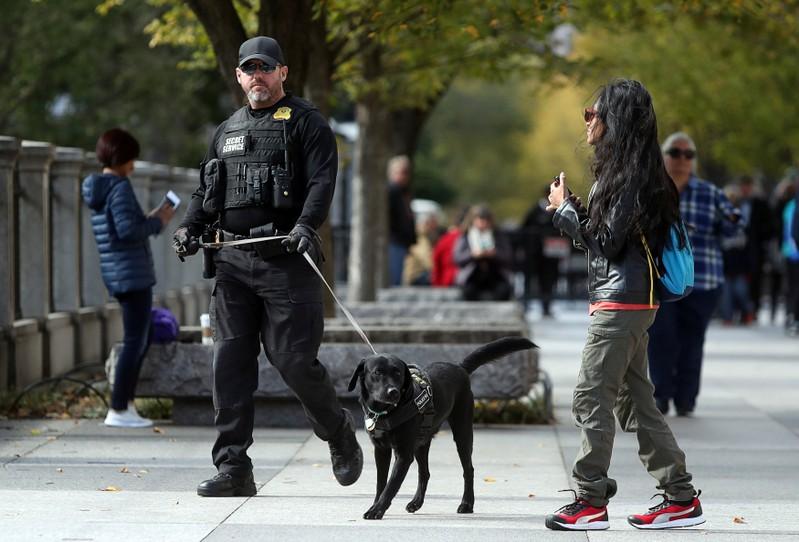 By Ginger Gibson
(Reuters) - The undercurrent of rage that has been driving U.S. politics for the past few years surfaced on Wednesday in a series of suspected bombs sent to prominent U.S. Democrats and the news outlet CNN less than two weeks before congressional elections.
None of the devices went off and no injuries were reported, but a number of top Democrats were quick to label the threats a symptom of a coarsening brand of political rhetoric promoted by President Donald Trump, who also condemned the acts.
"For years now, Donald Trump has been calling for the jailing of his critics and has lauded violence against journalists," said U.S. Representative Bill Pascrell, a New Jersey Democrat. "The danger of right-wing extremism cannot be ignored and more attention must be paid to it before even worse violence occurs."
Police intercepted six suspected bombs sent to targets including Trump's 2016 presidential rival, Hillary Clinton, former President Barack Obama and prominent political donor George Soros. Law enforcement agencies were investigating.
During his presidential campaign, Trump regularly urged his supporters to chant "Lock her up," a threat to jail Clinton, and also supported conspiracy theories that Soros plays an underhanded role in influencing U.S. politics. Trump has also disparaged the mainstream media and criticized CNN as "fake news."
Politicians from both major parties have made condemning the harsh tone of politics part of their everyday stump speeches.
Republicans have criticized Democrats and liberal activists as a "mob," decrying protesters crowding the U.S. Capitol to oppose Trump's Supreme Court nominee Brett Kavanaugh, and confronting and chastising Republican lawmakers in restaurants and other settings. Scenes of small-scale violence also marked Trump's 2017 inauguration.
A recent Reuters/Ipsos poll found rising anger would be a factor driving voters on the Nov. 6 elections when Democrats are seeking to regain control of at least one of the two chambers of Congress.
Republicans, including Trump, condemned the failed attacks.
"Acts or threats of political violence of any kind have no place in the United States of America," Trump said at the White House. "We're extremely angry, upset, unhappy about what we witnessed this morning and we will get to the bottom of it."
Senate Democratic leader Chuck Schumer and House Democratic leader Nancy Pelosi dismissed Trump's words, saying in a statement that they "ring hollow."
"Time and time again, the President has condoned physical violence and divided Americans with his words and his actions," the statement said.
HEATED TONE
Trump sometimes invokes images of violence in remarks to his supporters. Last week, he reiterated his support for a Montana congressman who body-slammed a reporter in 2017. In August, Trump warned that if Democrats gained control of Congress, they would "quickly and violently" overturn his agenda.
Last year, he said there were bad people on both sides of a clash in Charlottesville, Virginia, between white supremacist groups and counter-protesters.
Some of the people who received suspicious packages, including Obama, Clinton and former Attorney General Eric Holder, have been targeted by online groups such as QAnon that push vast conspiracy theories saying Democrats are behind international crime rings.
Posts on online message boards dismissed the cluster of suspected bombs as a "false flag," an allegation that a widely covered news event was a politically motivated hoax.
Paul Achter, a professor of rhetoric at the University of Richmond, said Trump's frequently violent tone increased the likelihood of violent actions.
"Verbal abuse has consequences," Achter said. "Just because Trump did not send a bomb or beat up a reporter or shoot up a newsroom doesn't excuse this kind of speech."
For all Reuters election coverage, click: https://www.reuters.com/politics/election2018
(Reporting by Ginger Gibson in Milwaukee; Editing by Scott Malone and Peter Cooney)
This story has not been edited by Firstpost staff and is generated by auto-feed.
Find latest and upcoming tech gadgets online on Tech2 Gadgets. Get technology news, gadgets reviews & ratings. Popular gadgets including laptop, tablet and mobile specifications, features, prices, comparison.
World
MOSCOW/BELGRADE (Reuters) - Serbia's president accused Moscow on Sunday of stooping to "primitivism and vulgarity" in an attack on him, after Russia's foreign ministry spokeswoman compared him to the actor Sharon Stone in an explicit film scene. Serbia is Moscow's closest ally in the Balkans, but President Aleksandar Vucic has long annoyed Russia by seeking better ties with the West
World
ISTANBUL (Reuters) - Turkish President Tayyip Erdogan and European Council President Charles Michel discussed developments in the Eastern Mediterranean on Sunday, CNN Turk reported. NATO allies Turkey and Greece have been locked in a row over hydrocarbon exploration in the sea's disputed waters and the extent of their continental shelves. There was no official confirmation of the talks.
World
LONDON (Reuters) - The sharp rise in COVID-19 cases in Britain of 2,988 recorded on Sunday, the highest jump since May, was "concerning", Health Secretary Matt Hancock said, although he added that the majority were younger people. "The rise in the number of cases that we've seen today is concerning," he said. "The cases are predominately among younger people, but we've seen in other countries across the world and in Europe this sort of rise in the cases amongst younger people leading to a rise across the population as a whole." He said everybody had to follow social distancing rules to prevent the spread of infections.