Democrats fume as Senate panel sets vote on Trump's court pick
By Richard Cowan, David Morgan and Lawrence Hurley WASHINGTON (Reuters) - Angry Democrats walked out as a Republican-led Senate panel set a vote over their objections for later on Friday on President Donald Trump's nominee to the U.S. Supreme Court, Brett Kavanaugh, who won the support of a key senator, Jeff Flake.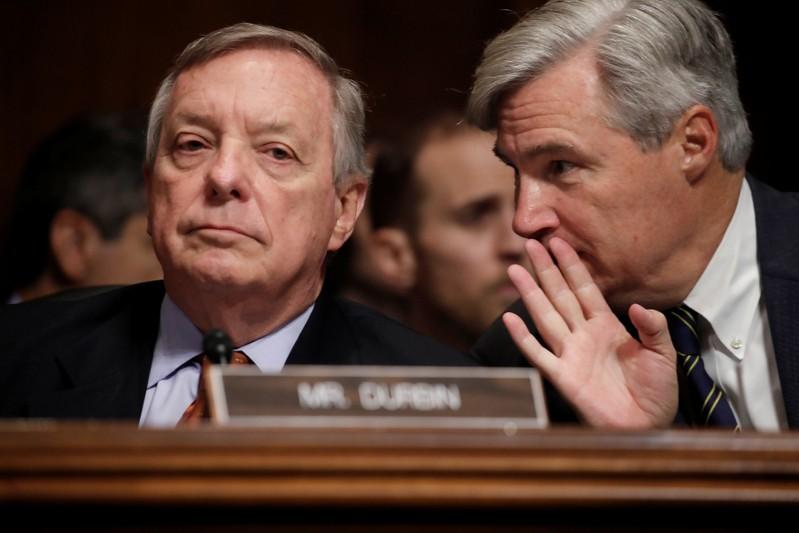 By Richard Cowan, David Morgan and Lawrence Hurley
WASHINGTON (Reuters) - Angry Democrats walked out as a Republican-led Senate panel set a vote over their objections for later on Friday on President Donald Trump's nominee to the U.S. Supreme Court, Brett Kavanaugh, who won the support of a key senator, Jeff Flake.
Trump's fellow Republicans appeared to have the votes to approve Kavanaugh in the sharply divided Judiciary Committee after Flake, a moderate Republican, announced his position. The full Senate must confirm Supreme Court appointments.
The committee, with tempers flaring on both sides, met the morning after a jarring and emotional hearing into sexual misconduct allegations against Kavanaugh that gripped the country, with a university professor named Christine Blasey Ford accusing him of sexual misconduct. He denied the accusation.
As the committee, with 11 Republicans and 10 Democrats, set its vote for 1:30 p.m. (1730 GMT), some Democrats left the room in protest. "What a railroad job," Democratic Senator Mazie Hirono said.
A committee vote to approve Kavanaugh would pave the way for a final debate and vote on the Senate floor in the coming days, perhaps as early as Tuesday.
Republican committee Chairman Chuck Grassley said he found the testimony from both Ford and Kavanaugh "credible," but added, "There's simply no reason to deny Judge Kavanaugh a seat on the Supreme Court on the basis of evidence presented to us."
The timing of the panel's session gave committee members little time to review Thursday's extraordinary testimony from Kavanaugh and Ford, who accused him of sexually assaulting her when they were high school students in 1982. Kavanaugh forcefully denied the accusations and accused Democrats of a "calculated and orchestrated political hit."
Senator Dianne Feinstein, the committee's senior Democrat, called Kavanaugh's remarks unseemly for a judicial nominee.
"This was someone who was aggressive and belligerent. I have never seen someone who wants to be elevated to the highest court in the country behave in that manner. In stark contrast, the person who testified yesterday and demonstrated a balanced temperament was Dr. Ford," Feinstein said.
Another Democrat, Amy Klobuchar, noted that Grassley had thanked Ford for her bravery but nevertheless failed to back any further investigation.
"Where is the bravery in this room?" Klobuchar asked.
'THEY DON'T MATTER'
Flake, who had previously raised concerns about the allegations against Kavanaugh, said Ford gave "compelling testimony" but Kavanaugh provided "a persuasive response."
Soon after Flake made his announcement, he was confronted in an elevator while on his way to the committee meeting by two protesters who said they were sexual assault survivors.
"That's what you're telling all women in America - that they don't matter, they should just keep it to themselves," one of the protesters shouted at Flake in an exchange aired by CNN.
"I need to go to my hearing. I've issued my statement," Flake said.
The controversy has unfolded just weeks ahead of the Nov. 6 congressional elections in which Democrats are trying to seize control of Congress from the Republicans.
If confirmed, Kavanaugh would consolidate conservative control of the nation's highest court and advance Trump's broad effort to shift the American judiciary to the right.
Democrats said Kavanaugh's confirmation could taint the Supreme Court, which prides itself on staying above the political fray.
"Voting to advance and ultimately confirm Judge Kavanaugh while he is under this dark cloud of suspicion will forever change the Senate and our nation's high court. It will politicize the U.S. Supreme Court," Democratic Senator Patrick Leahy said.
Republicans hold a slim Senate 51-49 majority, making the votes of two other so-far undecided Republican moderates crucial: Lisa Murkowski and Susan Collins.
Joe Donnelly, a moderate Democrat who last year voted for Trump's previous Supreme Court nominee Neil Gorsuch, announced he would vote against Kavanaugh.
Democrats have urged a delay in the confirmation process to allow for an FBI investigation. The American Bar Association, which earlier endorsed Kavanaugh, and the dean of Yale Law School, which Kavanaugh attended, also called for an FBI probe, the first indication of the legal profession turning on the nominee.
Kavanaugh could be the deciding vote on contentious legal issues if he is confirmed to the nine-member court, with disputes involving abortion, immigration, gay rights, voting rights and transgender troops possibly heading to the court soon. The court begins its next term on Monday, down one justice after the retirement of conservative Anthony Kennedy effective in July. Trump nominated Kavanaugh to replace Kennedy.
Ford testified on Thursday she was "100 percent certain" Kavanaugh assaulted her in 1982. Kavanaugh said he was innocent and the victim of "grotesque and obvious character assassination."
Questions were raised about Kavanaugh's temperament at the hearing as well as his fiery political accusations and how that could impact his role on the court.
"I believe once he gets to the Supreme Court, he will call the balls and strikes fairly," White House adviser Kellyanne Conway told "CBS This Morning," using a baseball analogy.
Attention to the hearing moved far beyond the world of Washington politics. Ford has emerged in the eyes of many American women as a compelling figure in the #MeToo movement against sexual harassment and assault.
(Reporting by Richard Cowan and David Morgan; Additional reporting by Lawrence Hurley, Amanda Becker, Andrew Chung, Susan Heavey and Bernie Woodall; Editing by Will Dunham)
This story has not been edited by Firstpost staff and is generated by auto-feed.
World
ATHENS (Reuters) - Greek police used teargas and water cannon to disperse people who had gathered in central Athens on Saturday to protest against mandatory COVID-19 vaccinations. More than 4,000 people rallied outside the Greek parliament for a third time this month to oppose mandatory inoculations for some workers, such as healthcare and nursing staff.
World
ISTANBUL (Reuters) - Two Turkish soldiers were killed and two were wounded in an attack on their armoured vehicle in northern Syria, and Turkish forces immediately launched retaliatory fire, Turkey's defence ministry said on Saturday. "Our punitive fire against terrorist positions is continuing," the statement on Twitter on said. It did not specify where the attack occurred, but media reports said it was in the al-Bab area.
World
By Marcelo Rochabrun SAO PAULO (Reuters) - Protesters took to the streets in several Brazilian cities on Saturday to demand the impeachment of far-right President Jair Bolsonaro, whose popularity has fallen in recent weeks amid corruption scandals against the backdrop of the pandemic. This week, news broke that Brazil's defense ministry told congressional leadership that next year's elections would not take place without amending the country's electronic voting system to include a paper trail of each vote. Bolsonaro has suggested several times without evidence that the current system is prone to fraud, allegations that Brazil's government has denied