Democratic U.S. senators sue to challenge Trump's Whitaker appointment
By Sarah N.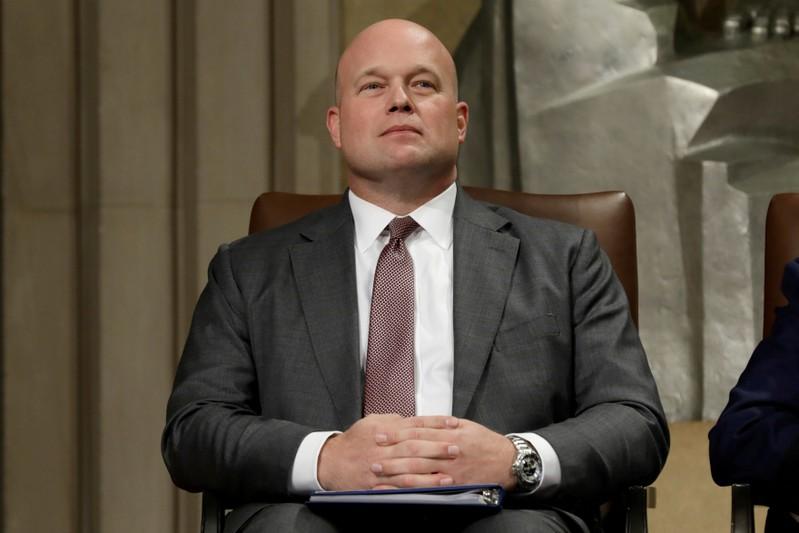 By Sarah N. Lynch
WASHINGTON (Reuters) - Three Democratic senators filed a lawsuit on Monday accusing President Donald Trump of illegally appointing Matthew Whitaker as acting attorney general, saying Trump violated the U.S. Constitution and denied the Senate its right to approve the nomination.
The lawsuit, filed in the U.S. District Court for the District of Columbia by Senators Richard Blumenthal, Sheldon Whitehouse and Senator Mazie Hirono, is the most high-profile litigation so far to be brought challenging Whitaker's appointment.
"Americans prize a system of checks and balances, which President Trump's dictatorial appointment betrays," Blumenthal said in a statement.
Whitaker took over supervision of Special Counsel Robert Mueller's investigation of Russia's role in the 2016 U.S. election after Trump appointed him on Nov. 7 as the chief U.S. law enforcement official to replace Jeff Sessions, who the president ousted. Whitaker in the past criticized the scope of Mueller's probe and brought up the possibility of undermining it by slashing the special counsel's funding.
The attorney general of Maryland last week brought a similar legal challenge, saying Trump violated the so-called Appointments Clause of the U.S. Constitution because the job of attorney general is a "principal officer" who must be appointed by the president and confirmed by the Senate. A hearing on Maryland's legal challenge is slated for Dec. 19.
A challenge to Whitaker's appointment was also made as part of a Supreme Court case on gun rights.
Last week, the Justice Department issued a 20-page legal opinion declaring that Trump's appointment of Whitaker was lawful under a 1998 law called the Federal Vacancies Reform Act even though he was not a Senate-confirmed official. Many legal experts have disagreed with the department's view.
(Reporting by Sarah N. Lynch; Editing by Will Dunham)
This story has not been edited by Firstpost staff and is generated by auto-feed.