Debate gives Trump a last big chance to sway voters before Nov. 8 | Reuters
By Steve Holland and Amanda Becker | LAS VEGAS LAS VEGAS Republican presidential nominee Donald Trump faces a formidable challenge on Wednesday when he and Democrat Hillary Clinton go head to head in a third and final debate as Trump tries to reverse momentum in an election that polls show is tilting away from him.Trump has been damaged by accusations that he made unwanted sexual advances toward women - which he denies - and concerns about his claims that the election will be rigged against him. The debate at the University of Las Vegas Nevada gives the New York businessman perhaps his best remaining chance to sway the dwindling number of Americans who are still undecided about which way to vote at the Nov. 8 election
By Steve Holland and Amanda Becker
| LAS VEGAS
LAS VEGAS Republican presidential nominee Donald Trump faces a formidable challenge on Wednesday when he and Democrat Hillary Clinton go head to head in a third and final debate as Trump tries to reverse momentum in an election that polls show is tilting away from him.Trump has been damaged by accusations that he made unwanted sexual advances toward women - which he denies - and concerns about his claims that the election will be rigged against him. The debate at the University of Las Vegas Nevada gives the New York businessman perhaps his best remaining chance to sway the dwindling number of Americans who are still undecided about which way to vote at the Nov. 8 election. "This one is important if Trump is going to have any chance to get back into this race," said Republican strategist Charlie Black. "He's going to have to talk about issues effectively and not get down in the mud, and he needs to talk about jobs."Trump campaign manager Kellyanne Conway acknowledged that her candidate goes into the debate, which starts at 9 p.m. EDT (0100 GMT Thursday), as the underdog."It's a comeback and he's done it before several times in this campaign," Conway said on Fox News, adding a jibe at Clinton: "Hillary Clinton just has not been able to put him away. What is her problem already?" For Clinton, who leads national polls and in most of the battleground states where the election will likely be decided, the 90-minute debate is a chance to make a closing argument on why she is the best suited to succeed President Barack Obama."I can't imagine what Donald Trump could do positively or a mistake Hillary Clinton could make to change the trajectory of this race," Democratic strategist Steve Elmendorf said.
CHARACTER ISSUES
Both candidates are likely to attack each other's character. Trump's campaign has been marked by personal squabbles and controversial comments about illegal immigration and minorities. Most recently, he has urged supporters to patrol polling places in inner cities to prevent voter fraud, and has tried to fight off several allegations that he groped women.Clinton has struggled to get past concerns about transparency raised over her handling of emails while she was secretary of state from 2009 to 2013.
"She needs to be able to answer the email question," Democratic strategist Bud Jackson said. "She hasn't quite hit that nail on the head yet. She should do better this time. And she should expect the unexpected."But Trump's troubles have loomed the largest after a video from 2005 was released showing him bragging about groping women. That has weighed down the real estate magnate's political run going into the final weeks.This has prompted him to lash out at what he calls a political and media system rigged against him, an apparent bid to discredit the process before the election takes place. Obama said Tuesday that Trump needs to "stop whining" and make his case to voters.Republicans who have watched Trump repeatedly shoot himself in the foot said the debate was a chance to appear presidential.
"Trump needs to make a real closing argument and stop the personal attacks and come across like a commander-in-chief," Republican strategist Scott Reed said.Trump called the event an important opportunity to talk to voters. The debate is to include discussions of debt and entitlements, immigration, the economy, the Supreme Court, foreign hot spots and fitness to be president.Both candidates have invited guests who could be seen as provocative.According to several media reports, Trump asked Obama's half-brother Malik, who supports the Republican, as well as the mother of one of the four Americans killed in the 2012 attacks in Benghazi, Libya, a focus of Republican criticism of Clinton.Clinton's guests include Mark Cuban, the billionaire owner of the Dallas Mavericks basketball team and a frequent Trump antagonist.Cuban wrote on Twitter that he could not wait to give "a big hug to my bestie" Trump in Las Vegas. "I know you miss me!" he added. (Additional reporting by Emily Stephenson in Las Vegas and Patricia Zengerle in Washington; Editing by Leslie Adler and Alistair Bell)
This story has not been edited by Firstpost staff and is generated by auto-feed.
World
The crisis may not be over even when the physical disease has greatly subsided and may continue as the economy recovers and life returns to a semblance of normality.
Business
The projections for 2021-22 fiscal compares to a contraction of 7.3 percent recorded in the last financial year and a four percent growth in 2019-20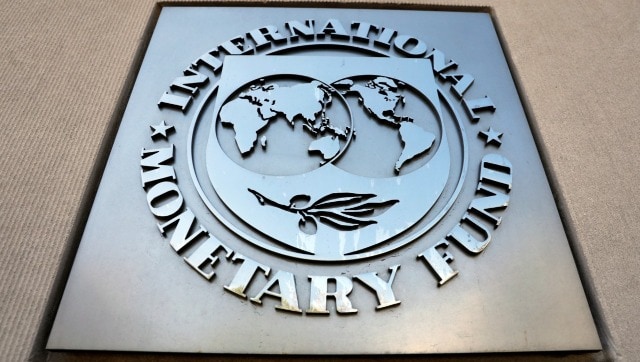 World
The IMF said the emergence of new COVID-19 variants has increased uncertainty, posing downside risks to the green shoots of the global economy which require urgent attention