Death toll from Florida hurricane at least 29, hundreds missing
By Brian Snyder PANAMA CITY BEACH, Fla. (Reuters) - The death toll from Hurricane Michael rose to at least 29 on Tuesday as crews scoured debris for hundreds of people reported missing in the Florida Panhandle, nearly a week after the storm flattened whole communities.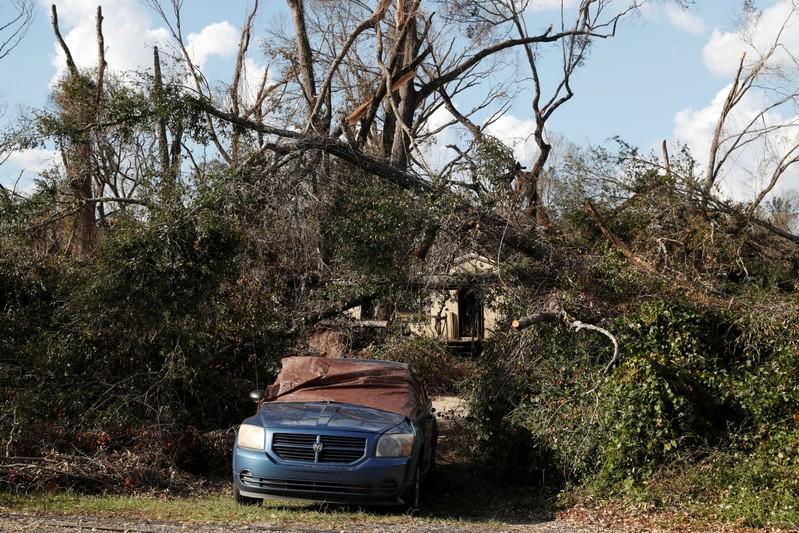 By Brian Snyder
PANAMA CITY BEACH, Fla. (Reuters) - The death toll from Hurricane Michael rose to at least 29 on Tuesday as crews scoured debris for hundreds of people reported missing in the Florida Panhandle, nearly a week after the storm flattened whole communities.
Michael slammed into the northwest coastal strip of Floriday last Wednesday with top sustained winds of 155 miles per hour (250 km per hour), unleashing a surge of seawater that demolished homes.
One of the most powerful storms ever to hit the continental United States, it has killed 20 people in the Florida Panhandle, five in Virginia, three in North Carolina and one in Georgia, according to a Reuters tally of official reports.
Matthew Marchetti, co-founder of Houston-based CrowdSource Rescue, which had hundreds of volunteers on the ground, said he expects the death toll to rise as phone service is restored and roads are cleared.
"For every one person we have made contact with, there are probably three we haven't," Marchetti said.
Teams from the volunteer organization were searching for more than 1,135 people in Florida who lost contact with friends and family.
Debris and downed trees and power lines have hampered access to stranded people but the group has said a number of its missing person reports resulted from widespread phone and power outages.
Most of those missing are from Panama City and many are elderly, disabled, impoverished, or live alone, Marchetti said.
"The hardest hit in disasters are generally our most vulnerable populations," Marchetti said.
In nearby Mexico Beach, another hard-hit coastal town on the Florida Panhandle where rescue workers were using dogs to look for bodies buried in debris, the number of people missing dropped to three on Tuesday, said Rex Putnal, a city councillor. A day earlier, it was more than 30.
The town of 1,200 residents had reported two fatalities as of Monday.
"It's miraculous if all we have is two fatalities," said Mexico Beach Mayor Al Cathey.
Nearly 190,000 homes and businesses remained without power in the U.S. Southeast, with residents of battered coastal towns forced to cook on fires and barbecue grills.
At least 80 percent of customers in three mainly rural Panhandle counties were without electricity on Tuesday. Officials said it could be weeks before power returns to some.
CAMPING OUT
Countless others in the region's backcountry have struggled for days without running water or sanitation, awaiting help from authorities. Some have been camping in tents with the belongings they were able to salvage.
"I'm staying out here to try to keep away looters, to try to save what I can save," said Bernard Sutton, a 64-year-old cancer patient, who has been living out of a tent and broken-down minivan in rural Fountain, Florida.
The state government is distributing ice, water and about 3 million ready-to-eat meals, according to Governor Rick Scott's office.
Water supply was restored to some residents in Panama City on Monday but Bay County officials said it was not yet safe to drink.
"This type of living wears on you," said Putnal, the Mexico Beach city councillor. "This is about my fifth day and I'm just not used to washing clothes in a tub with no washer and dryer and eating only peanut butter and jelly sandwiches."
Cellphone service returned to some storm-damaged areas on Tuesday, but many residents have expressed frustration at the slow recovery of wireless networks.
Federal Communications Commission Chairman Ajit Pai on Tuesday called for wireless carriers to waive bills for customers affected by the storm and allow consumers to switch carriers without penalties.
(Reporting by Brian Snyder; Additional reporting by Terray Sylvester and Bernie Woodall in Florida, Steve Gorman in Los Angeles, Andrew Hay in New Mexico, Brendan O'Brien in Milwaukee, Jonathan Allen and Gabriella Borter in New York and David Shepardson in Washington; Writing by Alex Dobuzinskis; Editing by Lisa Shumaker, Rosalba O'Brien and James Dalgleish)
This story has not been edited by Firstpost staff and is generated by auto-feed.
Find latest and upcoming tech gadgets online on Tech2 Gadgets. Get technology news, gadgets reviews & ratings. Popular gadgets including laptop, tablet and mobile specifications, features, prices, comparison.
Business
By Jessica Resnick-Ault NEW YORK (Reuters) - Oil prices strengthened on Wednesday, as OPEC and its allies were seen complying with a pact to cut oil supply in September, even as concerns loomed that recovery in fuel demand will be stalled by soaring global coronavirus cases. Early in the day crude was boosted by a bullish stock market. Even as equities whipsawed on pandemic worries, oil stayed higher, buoyed by expectations that OPEC could staunch a supply glut
Business
By Tina Bellon and C Nivedita (Reuters) - Tesla Inc will further cut the price of its Model S "Long Range" sedan in the United States to $69,420, the electric carmaker's chief executive, Elon Musk, announced in a tweet https://bit.ly/2H0JCP0 on Wednesday. The anticipated drop marks the second time this week Tesla has cut the price for the high-end sedan, following a 4% cut of the Model S's price in the United States on Tuesday to $71,990.
World
By Jeff Mason DES MOINES, Iowa (Reuters) - Under siege over his handling of the novel coronavirus pandemic, President Donald Trump on Wednesday cited what he said was his son's mild bout of the virus as a reason why American schools should reopen as soon as possible. Trump made the comment about his son, Barron, as the president swept into Iowa on a mission to shore up support in battleground states that he won in 2016 but is in danger of losing to Democrat Joe Biden barely three weeks before the election. First lady Melania Trump announced in a statement earlier in the day that the virus that struck both her and her husband had also infected their 14-year-old son